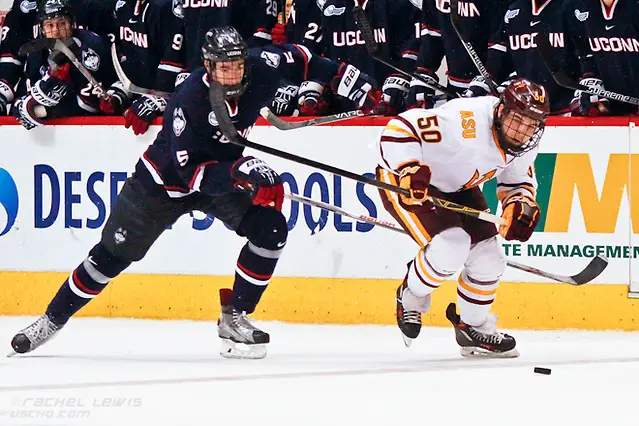 Arizona State, in partnership with the NHL's Arizona Coyotes, announced Monday the return of the Desert Hockey Classic tournament to Gila River Arena in Glendale on Dec. 28-29, 2018.
Gila River Arena is the home rink of the Coyotes.
ASU will host the event for the third time in four years and the tournament will feature 2018 national champion Minnesota Duluth, WCHA regular-season champion Minnesota State and ECAC Hockey runner-up Clarkson.
"Our Desert Hockey Classic returns this year with a bang, featuring the defending national champions and two top-10 teams from a season ago," said Sun Devils coach Greg Powers in a news release. "Hockey and sports fans alike have an opportunity to experience college hockey at the highest level in the desert this season."
The tournament kicks off Friday, Dec. 28 with Minnesota State and Minnesota Duluth squaring off at 4:30 p.m. MST, followed by the Sun Devils and Clarkson at 7:30 p.m.
The consolation game is at 4:30 p.m. on Saturday, Dec. 29, followed by the championship game at 7:30 p.m.
The inaugural tournament was hosted at Gila River Arena in Glendale in 2015-16, followed by an appearance at the Prescott Valley Events Center in 2016-17.