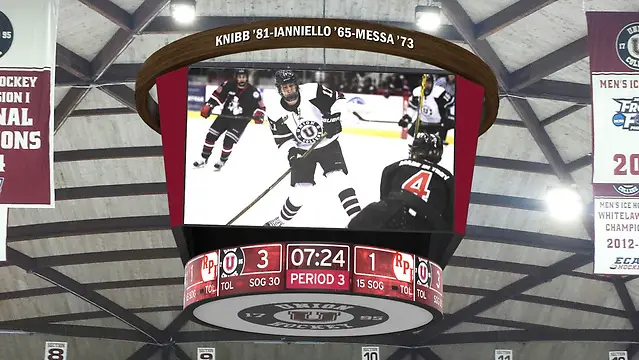 Union has announced the upcoming arrival of a new Daktronics video scoreboard for Union men's and women's hockey teams inside Messa Rink at the Achilles Center.
The new four-sided scoreboard will bring a state-of-the-art experience to Union hockey games, featuring a six-megapixel video display that measures more than 12×19 feet in total area as well as a 10-megapixel ring display to feature score, time, period and other important in-game information. The video board will provide a live video stream with multiple camera angles during the game in addition to replaying key events throughout the contest.
The scoreboard will be named in honor of Union alumni Anthony R. Ianniello, Robert I. Knibb, Jr. and Frank L. Messa, whose generosity helped to make this project a reality.
"We are extremely excited to see the latest upgrade to our facilities coming to fruition," said Union director of athletics Jim McLaughlin in a statement. "This new video board will put our rink on par with some of the top Division I hockey facilities in the country, and is a sign of both our commitment to the hockey programs and the incredible support from our alumni. A special thanks to Tony, Bob and Frank for their leading roles in making this project become a reality."
"When you speak to our student-athletes and their families, they are beyond excited for the new addition to Messa Rink," added head women's coach Josh Sciba. "With the new video board, it will immediately inject a new energy into our home games and make the experience for parents, fans, recruits, and our players much more unique and memorable."
"Our program is extremely excited for the new start-of-the-art technology and top-notch video board that will enhance the Messa Rink experience," said head men's coach Rick Bennett. "Through generous support of Union alumni, this new addition will help provide our student-athletes, administration, friends of Union hockey and the community an even better atmosphere."
The new board is slated to be in place by the end of September, in advance of the home opening weekend, when the women host Lindenwood on Oct. 5-6 and the men host Army West Point on Oct. 6.