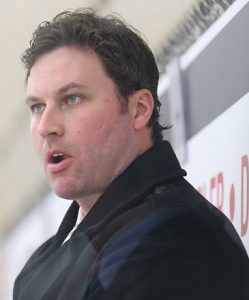 RIT announced Wednesday the hiring of Chad Davis as the new women's hockey coach.
Davis replaces Scott McDonald, who resigned in July after spending the last 12 years as women's hockey coach at the university. He is also the 14th head coach in program history.
Davis arrives at RIT after spending the previous seven seasons at Adrian, turning the Bulldogs into a perennial powerhouse at the Division III level. He led Adrian to three consecutive berths in the NCAA Division III championship, including national runner-up honors in 2016-17. Adrian has won three straight NCHA championships.
In seven seasons at Adrian, Davis compiled a remarkable 150-37-10 record, including a 95-14-6 mark since the start of the 2014-15 season. His .787 winning percentage was second-best among all Division III coaches during that time frame and is third best in Division III history. Davis was named the AHCA/CCM Division III Women's Hockey Coach of the Year in 2017.
"We are very pleased to be able to present Chad Davis to the RIT community as the next Bruce B. Bates women's hockey coach," said RIT executive director of intercollegiate athletics Lou Spiotti in a statement. "Chad comes to us with an array of talents and accomplishments, leading Adrian College to the NCAA championship game in 2017 while being named National Coach of the Year."
A four-time NCHA Coach of the Year, Davis has guided Adrian to a 65-2-5 mark in league play over the last four seasons, with three straight conference championships. Under Davis' leadership, 10 Bulldogs earned AHCA All-American honors and six former student-athletes have moved on to play at the professional level.
"I would like to thank athletic director Lou Spiotti, senior vice president for student affairs Dr. Sandy Johnson and RIT as an institution for the opportunity to lead the women's hockey program," added Davis. "I would also like to thank all the players, president Jeffrey Docking and Adrian College for seven great years. I look forward to meeting my new team and staff and beginning the championship process. My family and I are excited to be a part of the Rochester community."
Prior to his stint at Adrian, Davis spent the 2010-11 season as a volunteer assistant on the men's staff at Robert Morris. He also served as head coach at Eastern Michigan University, guiding the ACHA program from 2008 to 2010.
A former goaltender, Davis played in 52 games over three seasons at American International (2001-04). He earned a bachelor's degree in business administration from AIC in 2004 and went on to play one season professionally with the Laredo Bucks of the Central Hockey League.
"I believe that Coach Davis is the right person for our program at this point in our history," said Spiotti. "I am confident that he will lead us in a positive manner and in the right direction. He is highly regarded as strong leader of student-athletes and a tenacious recruiter. We look forward to welcoming him to the RIT community and working with him to re-establish our program as a premier NCAA Division I women's hockey team."