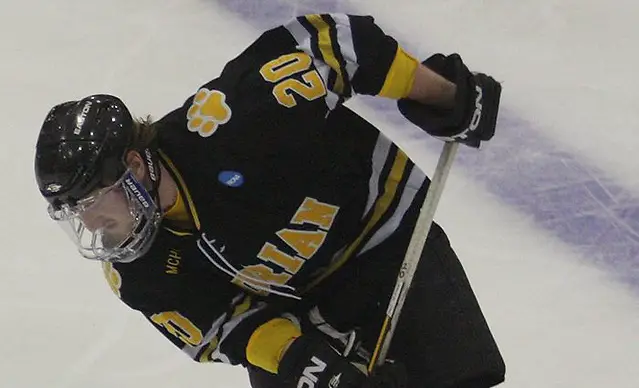 Adrian has announced Shawn Skelly as the new head coach for the Bulldogs' women's program.
The all-time leading scorer in NCHA men's hockey history, Skelly is the fourth coach in the 11-year history of the program, which has won the last four Kronschnabel Trophy cups (regular-season champion) and are the three-time defending Slaats Cup champions.
"I am pleased that Shawn has agreed to become the next head coach of our nationally-successful NCAA women's hockey program," Adrian athletics director Michael Duffy said in a statement. "I have seen Shawn first as a hockey student-athlete in the 2000s and then as an assistant coach under two successful head hockey coaches for the past two seasons. Working with Chad Davis and the 2016-17 women's program, and then Adam Krug on the men's side last season, Shawn has quickly developed his coaching skills.
"His hard work ethic and determination to succeed, plus his knowledge of the Bulldog hockey culture, will certainly help him in this, his first head coaching position. He is well-suited to lead our tradition-rich women's hockey squad at this time, as the Bulldogs continue to strive for NCAA titles, conference championships and producing well-rounded student-athletes for a productive life after college."
"It's tough to put into words how excited I am to have the privilege and honor to become the next head coach of our NCAA women's hockey program," added Skelly. "I'm also excited to join forces with our assistant coach Hannah McGowan this season. She has a lot to bring to the table and has a great hockey mind that will go a long way this season.
"I would like to thank our Adrian College president Dr. Jeffrey R. Docking and (Coach) Duffy for having the confidence in my ability to continue to lead this program in the right direction. I also would like to thank Adam Krug and Chad Davis for everything they have done for me and my development as a coach here at Adrian College over the past two seasons. These two great coaches have prepared me for this opportunity."
One of the most prolific point producers in NCAA Division III history, Skelly was a member of the inaugural Adrian 2007-08 squad to finish his four-year career as the all-time leader in points (230), goals (102), game-winning goals (20), power-play goals (47), assists (128) and shots on goal (593).
In 2016-17, Skelly returned to his alma mater as a women's hockey assistant coach on Davis' staff. He helped Adrian to its first appearance in the NCAA national title game and a sweep of NCHA regular-season and tournament championships en route to a record-breaking 28-3-0 campaign.
Last season, Skelly was the top assistant on the coaching staff of his former linemate Krug. Skelly worked with the AC defensemen and assisted Krug in all facets of the men's program to include recruiting, on-ice coaching, systems play, practice preparation and game planning.
Prior to coming to Adrian for the 2016-17 season, Skelly played professional hockey for five teams in the ECHL and SPHL.
Skelly was a four-time all-conference standout who was named the 2009 MCHA (now NCHA) Player of the Year as a sophomore when he led NCAA Division III in scoring with 69 points en route to USCHO First Team status.
During his junior year, Skelly became the all-time points leader in MCHA history.
His collegiate hockey career culminated with AHCA All-America First Team accolades after a 21-goal, 28-assist campaign and the 2011 Senior Male Athlete of the Year at Adrian. He graduated with a bachelor's degree in business administration in 2011.
"I expect us to not lose a step from previous years," said Skelly. "With our program being in the national championship two seasons ago and the NCAA quarterfinals this past season, we have plenty of work to do in order to get back there and look to bring home our first national title.
"Taking over the program as one of the elite in the country is something again I'm very honored to be a part of and ready to lead our student-athletes to the top. It's going to take a lot of hard work and sacrifice but at the end of the day, it will be worth all the blood, sweat, and tears."