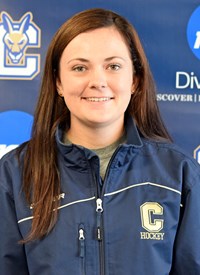 Elmira has announced the appointment of Mandy Montgomery as assistant coach of the Soaring Eagles' women's hockey program.
Montgomery joins the Soaring Eagles with a wealth of experience as both a coach and student-athlete at the Division I and III levels, most recently as an assistant coach at Canton. Her responsibilities with the Kangaroos included recruiting, creating practice plans, analyzing game film, and organizing the team's strength and conditioning program, in addition to assisting students in the classroom as a tutor.
"First of all, I want to thank (VP of athletics) Pat Thompson and (head coach) Tim Crowley for the opportunity to join such a supportive and well-established athletic department," Montgomery said in a statement. "Elmira College is a dream destination for student-athletes, and I am grateful to be a part of the championship culture founded in women's hockey. I am excited to work with high-caliber hockey players who are motivated to compete on the national stage. It is an honor to accept this position, and I look forward to my career as a Soaring Eagle."
"Right away Mandy demonstrated she'd be a great fit for our program," added Crowley. "Her background shows she's an established recruiter and someone who will be a tremendous asset not only to our D-core but our goalies, too. We're excited to have Coach Montgomery on board, and we look forward to having her help continue our trend of success."
In 2014-15, Montgomery joined the coaching staff at her alma mater, Sacred Heart, where she worked primarily with the team's goaltenders and defense. In 2016-17, she worked alongside former Elmira head coach Greg Fargo at Colgate.
During her playing days, Montgomery spent the first two years of her collegiate career as a member of the inaugural St. Norbert women's teams in 2010-11 and 2011-12. She then transferred to Sacred Heart and played her final two seasons with the Pioneers.