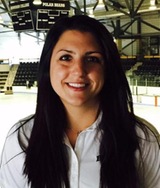 UMass Boston has announced the appointment of Dom Lozzi as the interim head women's coach.
Lozzi will take over for Lindsay Berman, who stepped down after three seasons behind the Beacons bench and recently accepted the position as an assistant coach at her alma mater, Northeastern.
"I want to thank Coach Berman for everything she did while at UMass Boston," said UMass Boston vice chancellor of athletics and recreation Charlie Titus in a statement. "Coach Berman elevated the women's ice hockey program to new heights during her three seasons, and we are all very grateful and wish her the best of luck at Northeastern."
Lozzi spent the last three seasons at her alma mater, Bowdoin. A standout player with the Polar Bears, Lozzi graduated from Bowdoin in 2012 where she was named the NESCAC Rookie of the Year and was named the team captain as a senior. She played in 101 games and totaled 85 career points.
Following her graduation, Lozzi joined the coaching staff at Trinity and while with the Bantams, helped the program win the NESCAC tournament championship in 2015.
"I am really happy to welcome coach Lozzi to UMass Boston," added Titus. "She is a dedicated young coach who I know will make an immediate impact this season. I know she will keep the Beacons on a successful path."