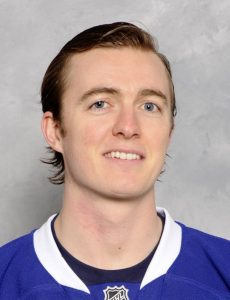 Denver has named Ben Scrivens the Pioneers' team manager.
Scrivens is recently retired after having played eight seasons, including parts of five in the NHL with the Toronto Maple Leafs, Los Angeles Kings, Edmonton Oilers and Montreal Canadiens.
During his tenure as an NHL goaltender, Scrivens posted a 47-64-17 record with a 2.92 GAA and a .905 save percentage.
"We are excited to add someone to our staff with the playing pedigree that Ben has," DU coach David Carle said in a statement. "While he pursues his master's at DU, he will be able to add a valuable perspective to our staff."
Prior to starting his professional career, Scrivens played four years at Cornell where he averaged a 2.00 GAA and a .927 SV% in 117 games. Scrivens was named a second-team All-American in 2009 and a first-team All-American in 2010, the same year in which he was recognized as ECAC Goaltender of the Year and tabbed a Hobey Baker Award finalist.