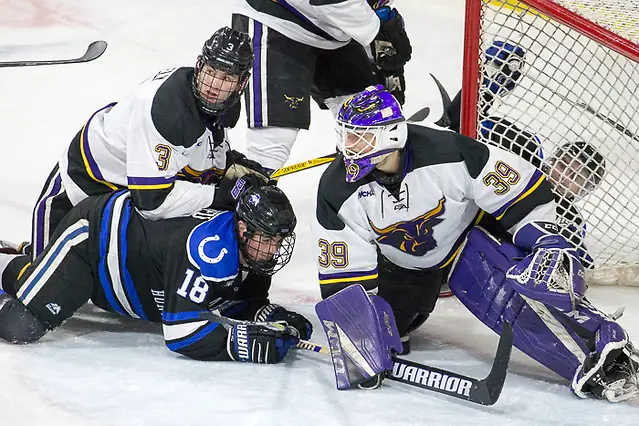 Editor's Note: This is the sixth of six in a series looking at each conference's schedule for the upcoming 2018-19 season.
The WCHA underwent more drastic realignment than any other league when changes shifted the landscape.
The genesis of the Big Ten and NCHC forced the remaining CCHA and WCHA teams to merge, creating a new configuration stretching from Alaska to Alabama in one of the most amazing pieces of the entire college universe.
"A lot of our scheduling goes to a geographical balance," WCHA associate commissioner Matt Hodson said. "We start with a set of goals and guidelines that aren't hard and fast due to the complexities we have. They help us come up with a best possible solution in an imperfect world."
The WCHA has to tackle a more expansive geographic footprint than any other arguably in all of sports. The Alaska schools are more than 3,000 miles away from both Bemidji State and Minnesota State. The Minnesota schools are another 1,200 miles away from Alabama Huntsville, which is 600 miles and three states away from Bowling Green, its nearest opponent.
So the league developed a set of guidelines to help navigate some incredibly murky waters. The result was a league schedule designed to provide the best experience for its student athletes while minimizing travel expenses and maintaining competitive balance for its member schools.
"We discovered the need to refine our guidelines and refine them a little bit," Hodson said. "We have done that with collaboration with the head coaches and athletic directors. Everybody understands what we're trying to do. That said, we've had times where the first draft (of the schedule) is universally panned or six to seven schools say it absolutely won't work. But we also have times where we get unanimous or near-unanimous approval."
It's a system that's simply working. An unbalanced schedule features assigned travel partners against whom teams are guaranteed four games. They then rotate the remaining games by playing four teams in four games and four schools in two games on a rotational basis.
The partners are protected largely against geography, with the Alaska and Minnesota schools pairing. Northern Michigan and Michigan Tech are paired together on the Upper Peninsula, while Lake Superior pairs with Ferris State, the only school in Michigan's "oven mitt." Bowling Green and Alabama-Huntsville pair together as the final, easternmost matchup.
It's something that's just sort of a way of life. Alaska head coach Erik Largen served as a Nanooks assistant for the past two seasons but grew up in Fairbanks and played for his hometown university. He remembers when the team played in the CCHA and understands how to make the challenge of playing in Alaska more of an opportunity.
"Maybe I don't know any better, but everyone who plays hockey here has to travel by plane," he laughed. "Anchorage is the shortest trip, and it's a six-hour bus ride that we've been able to do early on in the year. It's become part of the culture. It's not odd or strange to us, and it's just something we have to handle the arrangements for every year."
That Alaska "challenge" happened when the WCHA brought Anchorage and Fairbanks together in 2013. It was the first time in over 20 years the two schools were in the same league, necessitating creative scheduling for the Lower 48 teams and the two teams in the Last Frontier.
"We usually play Anchorage at the end of the year," Largen said. "So we potentially could have a long trip before that weekend, then go on the road to Anchorage and potentially be on a long road trip for the playoffs. That might be a little bit tough of a draw, but at the same time, if we get home ice (in the postseason), it becomes a huge advantage for us."
The league's taken it in stride and has, whether by intention or accident, been able to avoid excruciatingly long, back-to-back road. Alaska Anchorage played only one back-to-back road trip this past season, though it included a trip to Huntsville on the second weekend. Four series wound up on two different back-to-backs in each of the three years before that, but the Seawolves never actually played consecutive road series in 2013-2014, the first year of the reconfigured WCHA.
The Nanooks traveled back-to-back twice in 2013-2014 and 2015-2016, but it's happened only once or less in the other three seasons since realignment. Like Anchorage, there's been a season (2014-2015) where it simply never happened.
"It's exciting (to be in a league with Anchorage)," Largen said. "There were some years where we ended each other's seasons, and we have the Governor's Cup rivalry. It's especially nice for me as a first-year head coach to have known (new Alaska Anchorage head coach) Matt Curley for a little bit, and we run things off of each other. It's nice to have an opponent that can help you with opponents or with Canadian schools coming up at the beginning of the year. It shows how we have a really good working relationship. We might be rivals on the ice, but it shows how we really do need each other."
The realigning waters in college hockey created a challenge for the schools that found a home in the WCHA. Travel is now more of a conversation piece than ever before and with good reason. The league is navigating its ship as best as possible, however, and it's doing so in a new era where its biggest challenge may become its biggest opportunistic advantage.
"I'm not taking anything away from what it was (before realignment)," Hodson said. "It was a magical time. It's different now, but it doesn't make it any less special. Because of our geographic locations, a fan might not drive to see an opponent like they did in the past. But the way people view games has changed, and we see it all the time. People are watching the games and interacting more on social media. We're seeing rivalries strike up in that avenue. It's still the same.
"It's just manifested itself differently."