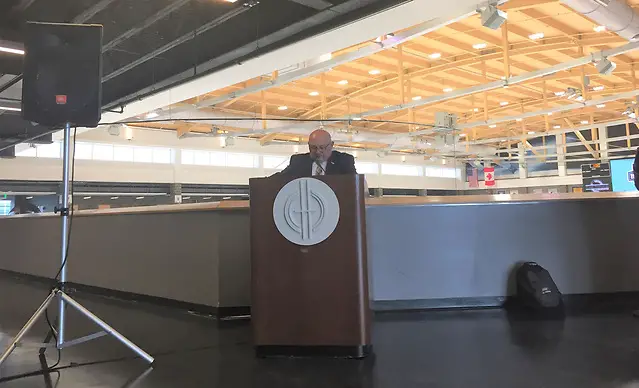 BUFFALO, N.Y. –- Atlantic Hockey is moving its conference tournament to Buffalo's Harborcenter, effective with the upcoming 2018-19 season.
Atlantic Hockey commissioner Bob DeGregorio and Harborcenter general manager Michael Gilbert made the announcement Friday.
Harborcenter is managed by Pegula Sports & Entertainment, which owns the Buffalo Sabres, Buffalo Bills, and the AHL's Rochester Americans.
DeGregorio said that the improved amenities at Harborcenter were key to selecting it as the host arena. All four teams will have their own locker rooms for the duration of the tournament, and all teams will stay at the attached Marriott hotel.
The 2019 Atlantic Hockey tournament will be held March 22-23, with the same format as in past years — the top four remaining seeds will meet in semifinal games on Friday and in the championship on Saturday.
Harborcenter's KeyBank rink has a seating capacity of approximately 1,800 on bleacher-style seats and is the home to Canisius hockey.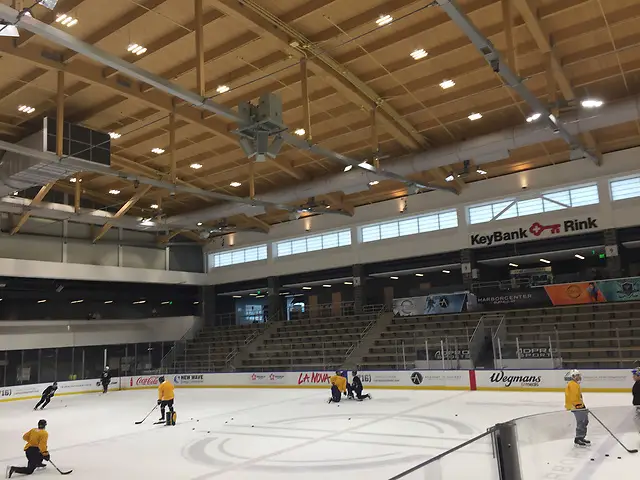 The conference had been renewing its contract at Blue Cross Arena in Rochester, N.Y., on a year-to-year basis for several seasons and exercised its out during the summer, according to DeGregorio. In June, the city of Rochester ended its contract with SMG to manage Blue Cross Arena, where the tournament had been hosted since the 2006-07 season.
The tournament had a low profile in the Rochester area, with attendance in the 10,000-seat Blue Cross Arena an issue when nearby Rochester Institute of Technology was not there.
"We are already working on things to make a major improvement," said DeGregorio. "We are hoping that everything we do here is going make it a bigger event than it was in Rochester."
College Hockey America, which also has DeGregorio as commissioner, has held its tournament at Harborcenter for the past two seasons.
"The people of Buffalo love the sport of hockey and support it wholeheartedly," said DeGregorio. "We know (Harborcenter VP and director of hockey) Nik (Fattey) and his staff at Harborcenter well and we believe that moving to Buffalo and Harborcenter will enhance the experience for student-athletes, coaches, and fans."
"Our facility is ideally suited to host an event like the Atlantic Hockey championships," added Fattey. "We have a very convenient location for players and fans of the competing schools, and are able offer amenities that are unsurpassed, maximizing the tournament experience the way we do for all Harborcenter events."