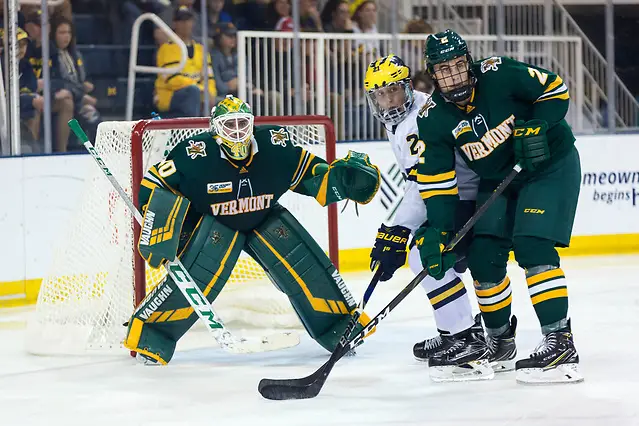 Vermont 5, No. 4 Michigan 2
Goaltender Stefanos Lekkas made a career high 48 saves while Vermont goal two goals apiece from Alex Esposito and Max Kaufman as Vermont upset fourth-ranked Michigan, 5-2, at Yost Arena.
It's quite an impressive start for Vermont, which a season ago won just 10 games total and scored five-or-more goals just once.
Esposito gave the Catamounts a fast start, scoring twice in a minute before the game was six minutes old. Michigan, though, responded quickly potting two power play goals in a span of 58 seconds midway through the first.
When Kaufman scored his first of the night with 4:24 remaining in the opening frame, no one would believe that would stand for the game winner.
Martin Frechette scored his first career goal with 2:21 left in regulation and Kaufman added an empty-net goal at 19:32 to earn the road victory.
No. 13 Minnesota 1, No. 1 Minnesota-Duluth 1 (OT)
After unfurling their national championship banner, top-ranked Minnesota-Duluth rallied from a 1-0 third-period deficit to earn a 1-1 tie against 13th-ranked Minnesota.
The Gophers scored early on a goal by highly-touted rookie Sampo Ranta at 12:07 of the opening frame.
After a scoreless second, Peter Krieger netted the equalizer on the power play at 3:38 of the third.
The host Bulldogs finished the game with a 32-28 shot advantage, including a 12-5 edge over the final period and overtime.
The two teams will rematch Sunday evening in the Twin Cities in the USCHO Game of the Week.
Lake Superior State 5, Merrimack 4
Anthony Nellis scored on a penalty shot with 4:06 remaining in regulation as the visiting Lakers pulled off a 5-4 road win over Merrimack, spoiling the first game for Warriors head coach Scott Borek.
This was a night of offense and special teams, as each team tallied two goals each in both the first and second periods. Including Nellis' penalty shot goal, six of the nine goals came in special teams situations.
No. 5 Providence 3, American International 1
Host Providence jumped to a 3-0 lead on goals by Scott Conway, Greg Printz and Jacob Bryson in a span of 2 minutes, 48 seconds late in the first period, skating to a 3-1 victory over American International.
Tobias Fladeby scored the only goal for the Yellow Jackets as goaltender Hayden Hawkey earned a victory by making 18 saves for the Friars.
Bowling Green 8, Mercyhurst 2
Stephen Baylis netted a hat trick and Max Johnson posted a two-goal night as Bowling Green rolled over host Mercyhurst, 8-2.
The Falcons jumped out to a 6-0 lead leveraging special teams play. Bowling Green finished 3-for-5 on the power play while stopping Mercyhurst four times with the man advantage.
Union 4, Army West Point 1
The host Dutchmen got out to a 3-0 lead early in the second and traded goals from that point on to defeat Army West Point, 4-1.
Cole Maier scored twice for Union, and Jack Adams added a goal and assist. Adams brother, Mark, a member of the Providence 2015 national championship team, lost his life on September 18.
After the game, each member of the Army West Point team hugged Adams to express their sympathy.
Miami 5, Alabama-Huntsville 1
Five different players for the RedHawks scored goals and goaltender Jordan Uhelski stopped 17 of 18 shots, as host Miami opened the season with a 5-1 win over the Chargers.
After UAH's Austin Beaulieu knotted the score a 1 early in the first, Miami ran off the final four goals of the game. Miami scored twice on the power play while keep the Chargers off the board with the man advantage.
Late Games
Alaska at Arizona State
Colorado College at Alaska-Anchorage
For full scores, click here.