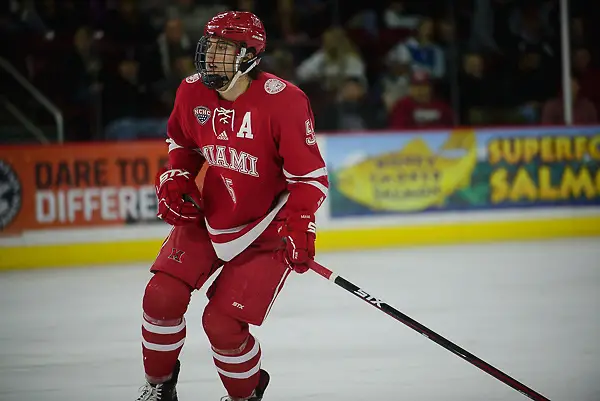 The last two seasons have not gone well for the Miami RedHawks, who finished last in the NCHC last season and seventh two seasons ago.
In both seasons, they were eliminated in the first round of the NCHC playoffs. In each of the last three years, Miami has started slowly, so perhaps it is a positive sign for them that they opened their season last weekend with a sweep of Alabama-Huntsville.
"I think anytime you start the season with a couple of wins it's a good thing," said RedHawks coach Enrico Blasi. "I feel like it's something to build on as we move forward in the early part of the season."
Miami saw balanced scoring in its 5-1 and 4-0 wins, with eight players racking up multiple points, including junior Karch Bachman, who had three, and seniors and captains Grant Hutton and Josh Melnick, who spurned pro offers over the summer to return and, hopefully, lead Miami back to prominence.
"Well, I think Karch and our junior class, our senior class, those guys need to lead the way," said Blasi. "For any program to be successful, you have to have your upperclassmen taking steps in the right direction.
"First and foremost is I think the job that [Hutton and Melnick] have done in just making sure that our team was ready and creating an environment where our new guys were welcomed and understood the standards that we have to get to in order for us to be successful. So I think just the way they've handled that situation has been real positive for our program, and I think as now we're starting to play games it will be real important for our leadership to continue to remind everybody of the process and what we're trying to accomplish from a day-to-day perspective."
It also has to be nice for the RedHawks to get quality contributions from freshmen. Three first-year players each notched two points in the weekend, and another, Noah Jordan, had an assist while only playing one game.
"I think, obviously, if you're in the lineup, you're expected to perform and play your role," said Blasi. "Sometimes that means points, sometimes that doesn't mean points. All our guys there in the lineup, young or old, we expect them to contribute one way or another. So to have everybody focused on the team game I think is real important. In the team game, individuals will look good, but it doesn't work the other way around."
One interesting sub-story last weekend was goaltender Jordan Uhelski, a senior, playing his first game for Miami. Uhelski graduated from Alabama Huntsville last season and is playing a graduate transfer year at Miami, so his first game for Miami was against his former team, and he made 17 saves in Friday's 5-1 win.
"I thought he handled himself real well," said Blasi. "It's probably not an easy situation to play your first game with a new team against your old team. I thought he handled himself with a lot of things going around, a lot of noise around him, but I thought he handled himself really well, and I was really proud of him. He played pretty good actually. I think at this point in our season both Ryan (Larkin) and Jordan are pushing themselves to be better every day, and we will make a decision on the weekends."
This weekend, the RedHawks travel to Erie, Pa., to participate in the IceBreaker Tournament. The RedHawks open Friday against a familiar foe, Providence, a team that has been the RedHawks' nemesis of late. The last time Miami made the NCAA tournament in 2015, they lost 7-5 in the opening round to the Friars in Providence. Since then, the RedHawks have opened each of the last three seasons with a pair against Providence, and have gone 1-4-1 in those games, including getting swept at home last season, losing 3-1 and 3-2.
"Well, they were close games last year, but last year was last year," said Blasi. "This is a new year, and we're looking forward to the challenge. We play the best in our conference, and playing Providence helps us prepare for that, for our league play. They've been one of the best programs in the country for the last five years, and it's an opportunity for us to go and see where we're at, and we'll go from there."