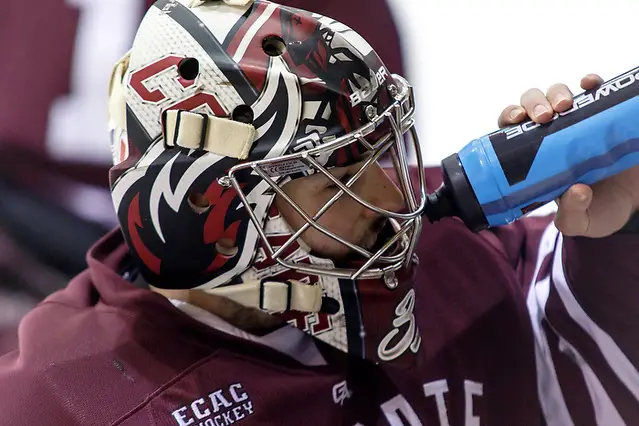 Early departures are part of college hockey.
But they've hit some ECAC Hockey teams especially hard entering the new season.
Clarkson lost leading scorer Sheldon Rempal and talented forward Josh Dickinson from last year's NCAA tournament team. Rempal, a sophomore, signed with Los Angeles, while Dickinson, who finished second on the Golden Knights with 15 goals, left after his freshman year for a deal with Colorado. Both players were free agents.
"I think we're going to bring a little bit younger of a team along than we expected this year," Clarkson coach Casey Jones said. "But that's part of the process with college hockey."
Jones said he and his staff recruit knowing that it's a possibility players will leave early.
"We use the term all the time — you're 'managing your assets' on the recruiting trail," said Jones. "You have ongoing discussions with your players."
The Golden Knights were prepared for Rempal to leave early, although Jones said that Dickinson departing after one year caught Clarkson's staff by surprise.
"If you do a good job recruiting, you have people that are in the process that are open to playing another year or are ready to come in," Jones said. "It's part of the recruiting process now that you have to be prepared for. We're a little younger up front than we thought we'd be, but we've got an influx of young guys with energy and we're going to take advantage of it."
Colgate only had one player leave early, but it was a big one – both in terms of the impact and the timing of the departure.
"The 800-pound gorilla in the room is the fact that we don't have our goalie back and that's a big blow for us," Colgate coach Don Vaughan said. "We weren't expecting that, quite frankly. It came as a bit of a surprise to us."
Sophomore goalie Colton Point signed with the Dallas Stars on July 1 after the organization did not sign Boston University goalie and 2017 first-round draft pick Jake Oettinger to a deal.
Point, who was drafted by the Stars in the fifth round of the 2016 draft, was one of the best goalies in college hockey last season and a major reason why the Raiders finished in a tie for fifth place after they ended the 2016-17 season in tenth.
Vaughan said that he and his coaching staff had a lot of conversations with Point throughout the season to avoid being blindsided by a potential signing. As of early June, they believed he was coming back, but that changed once Oettinger decided to return to the Terriers.
"In fairness to Colton, things changed as the summer progressed," Vaughan said. "At that point, we had some real frank conversations. It wasn't an easy decision for him; I could tell he was laboring over it. He's a real team guy and he loved Colgate. In the end, we supported him like we have other guys who have left. He and his family felt he was ready for the next phase of his development."
Colgate was 16-12-5 in games started by Point last season, compared to 1-5-1 in games started by backups Bruce Racine and Zac Hamilton. Both of those players graduated last spring, meaning that the Raiders are the only team in Division I to enter the season without any goalie with collegiate playing experience.
"It's tough to replace a guy like Colton, but we feel there's enough there to make a run at a top-four spot," Vaughan said.
Colgate will rely on incoming freshmen Mitch Benson and Andrew Farrier to fill the void. The two will also be joined by newcomer Will Friend. All three will be helped by what should be a deep and talented defensive group.
"They were going to be the future," Vaughan said of Benson and Farrier. "The difference is the future is now."
Two other ECAC Hockey teams lost their leading scorers to early signings. Harvard junior Ryan Donato signed with Boston in March, while defending regular season champion Cornell lost junior Anthony Angello to Pittsburgh in April. However, the Big Red return its enter defensive group after leading the country in team defensive group after leading the nation in team defense last year. The last team to do that was Michigan State in 2001-02.