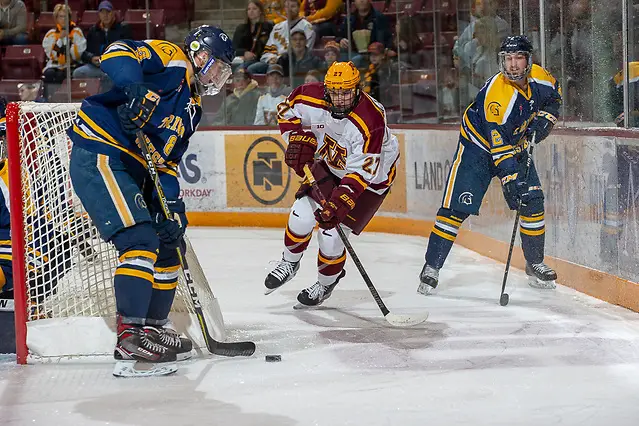 Each week, USCHO.com will pick the top 10 moments from the past weekend in our brand-new Monday 10 feature.
1. Minutemen make a statement
It's early in the season, but Massachusetts is already starting to show signs of being a contender in Hockey East this season.
The Minutemen went on the road and beat No.1 Ohio State 6-3 Friday night before falling 3-1 to the Buckeyes on Saturday.
Coach Greg Carvel has brought in a number of intriguing players to Amherst, including defenseman Cale Makar, the fourth overall pick in the 2017 NHL Draft. The sophomore is Massachusetts' leading scorer. Also making an impact is graduate transfer Jacob Pritchard, who Carvel recruited at his first college head coaching job with St. Lawrence.
Overall, Massachusetts tied or led the No.1 in the country for all but 1:22 over the two games on the weekend, as Ohio State scored twice late in the third period Saturday to break a 1-1 tie.
Keeping pace with the top-ranked team in the country for much of Saturday was of little solace for the Minutemen, perhaps a sign of higher expectations within the program.
"It's unacceptable to lose that way tonight. That's the bottom line," captain Niko Hildenbrand told the Daily Collegian.
2. Minnesota State and North Dakota
A matchup of two top-20 teams didn't disappoint last weekend, as Minnesota State and North Dakota split a two-game series in Grand Forks.
Max Coatta recorded a hat trick Friday to help Minnesota State to a 7-4 win over the Fighting Hawks. On Saturday, Cole Smith's goal midway through the third period helped North Dakota to its first win of the young season.
It was the first time the teams played each other since the 2012-13 season.
3. New-look Bobcats off to a good start
Once an annual contender not only in ECAC Hockey, but on the national level as well, the results have tailed off a bit over the last several years for Quinnipiac.
The Bobcats made the national title game in 2016 and then failed to make the NCAA tournament the following year before finishing last season with the program's first losing overall record since the 1995-96 season.
QU added 12 freshmen this year, the program's largest recruiting class since the 2009 season. But it's been a good start for the Bobcats, who beat Boston College 1-0 Friday to move to 3-0 this season.
The loss extended the Eagles' nonconference woes. Boston College has not won a nonconference regular-season game since Nov. 13, 2016, when it beat Arizona State.
4. Fighting Irish offense on a roll
Goalie Cale Morris was the catalyst behind Notre Dame's appearance in national title game last season.
The Fighting Irish are off to 3-0-1 start despite was could be considered ordinary numbers from Morris (.907, 2.59) thus far. Those numbers are skewed somewhat from a 6-6 tie with Mercyhurst in the season opener, but Notre Dame's offense has been carrying the load so far.
The Fighting Irish have scored at least three goals in every game, including eight on Saturday to finish off a sweep of Omaha. Cal Burke and Bobby Nardella each had five-point nights to lead Notre Dame. The offense likely won't continue to average more than five goals per game, but the eventual dropoff should be more than compensated by Morris' presence in goal.
5. Offenses explode
With nearly a quarter of the games played last weekend resulted in a shutout, there was bound to be some regression this weekend.
Overall on the weekend, 15 games saw at least one team score at least five goals. Notre Dame, Penn State, and Minnesota Duluth all had eight-goal games on the weekend.
6. Dutchmen sweep in Boston
USCHO's Game of the Week lived up to its billing, as Union beat Northeastern 4-3 in overtime and 3-1 to earn a weekend sweep in Boston.
The Dutchmen move to 4-0-1 to begin the year after starting last season 0-5.
The loss meant that all three Boston Hockey East teams failed to win last weekend. Boston College and Boston University are a combined 0-7 this season.
7. Denver, Penn State continue hot starts
Two of the nation's remaining unbeaten teams continued their streaks last weekend. Lester Lancaster's extra-attacker goal in the final minute of the third period helped Denver salvage a 3-3 tie against Alaska Saturday, while Penn State blasted home a combined 12 goals in a weekend sweep of Niagara.
Junior goalie Peyton Jones is off to a hot start for the Nittany Lions, as he has a .973 save percentage in the early going. That number should drop substantially, but it might not matter much given Penn State's high-scoring offense.
8. RIT gets win, honors former championship team
RIT beat Colgate 6-1 in front of a sellout crowd of 10,556 Saturday night at Blue Cross Arena in downtown Rochester. The Tigers played at the arena as part of Brick City Homecoming and Family Weekend.
It was also a notable weekend off the ice for RIT, as the school inducted the 1982-83 Division II national championship team into the RIT Sports Hall of Fame.
9. Golden Knights happy to be home
After opening the season getting swept at Penn State, Clarkson returned home in a big way last weekend, beating No. 13 Wisconsin Friday before taking down Holy Cross on Saturday.
It was also a good week for former Clarkson players, as last year's leading scorer Sheldon Rempal made his NHL debut with Los Angeles on Thursday.
10. Ivies almost underway
The six Ivy League teams are set to begin their regular-season schedules next weekend.
Every team with the exception of Dartmouth took part in either a scrimmage or exhibition game over the weekend. However, there was a good reason the Big Green weren't on the ice.
Bob Gaudet, who is entering his 22nd season as the head coach at his alma mater, was inducted into the New Hampshire Legends Hockey Hall of Fame on Sunday.
"One of the proudest days of my life was putting on that Dartmouth jersey for the first time and one of the saddest days was taking it off for the final time," Gaudet said. "Representing this program and institution is one of the greatest and most rewarding experiences of my life and I have spent the last two decades trying to instill that same sense of pride in the players who I have coached."