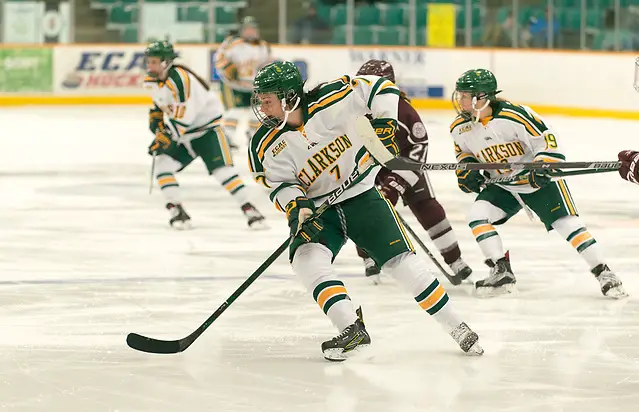 Nicole and I went an identical 21-7-3 (.725) last weekend, and no, we didn't pick the same games. On the year, I am 59-18-8 (.741) while Nicole is 56-21-8 (.705).
Thursday, Nov. 1
Connecticut at Boston College
Candace: I have to go with the depth of BC and home ice. Boston College 3-1
Nicole: I expect BC wins this at home. Boston College 3-1
Friday, Nov. 2
Colgate at Brown
Candace: Brown has looked better this year, but I think the Raiders are too strong. Colgate 3-1
Nicole: Colgate takes this one. Colgate 4-1
Union at Clarkson
Candace: As much as I'd like to see Union challenge the Golden Knights, I don't see it. Clarkson 4-0
Nicole: Clarkson wins. Clarkson 4-0
Dartmouth at Princeton
Candace: Princeton has looked good early, and Dartmouth hasn't. Princeton 4-1
Nicole: The Tigers take this one at home. Princeton 4-1
Harvard at Quinnipiac
Candace: Quinnipiac's stifling defense might lead to a tie. I'm going with Harvard. Harvard 3-2
Nicole: I'll take the home team to win. Quinnipiac 3-2
Rensselaer at St. Lawrence
Candace: The Saints have enough depth to overcome Lovisa Selander. St. Lawrence 2-1
Nicole: The Saints take this one. St. Lawrence 3-1
Cornell at Yale
Candace: Cornell will be a solid team this season, and isn't likely to lose to a team lower in the standings. Cornell 3-0
Nicole: I expect the Big Red will win this one. Cornell 3-1
Merrimack at Maine
Candace: A big test for Maine against a tough Merrimack squad. This is a game Maine can't afford to lose. Maine 2-1
Nicole: I expect this is a win at home for the Black Bears. Maine 3-1
Northeastern at Holy Cross
Candace: Northeastern's explosive offense could make this ugly. Northeastern 5-1
Nicole: The Huskies win this one. Northeastern 4-0
Friday-Saturday, Nov. 2-3
Robert Morris at RIT
Candace: Robert Morris has shown signs of being able to defend its CHA crown. Robert Morris 3-1, 3-0
Nicole: This should be a sweep for the Colonials. Robert Morris 2-0, 3-1
New Hampshire at Vermont
Candace: I could flip a coin and predict this series better. They played two weeks ago and Vermont won by a goal. Vermont 2-1, New Hampshire 2-1
Nicole: These seem like similar teams this season, so I think they'll split. Vermont 2-1, New Hampshire 3-2
Wisconsin at Minnesota State
Candace: Minnesota State has gotten a couple of good wins, but they won't beat Wisconsin. Wisconsin 3-0, 4-1
Nicole: The Badgers should sweep this. Wisconsin 4-1, 4-0
Bemidji State at Minnesota
Candace: This is a series Minnesota hates, especially coming off Wisconsin, but I'm going with home ice. Minnesota 3-1, 3-2
Nicole: The Beavers have historically given Minnesota trouble, but I think the Gophers sweep this one. Minnesota 3-0, 3-1.
St. Cloud State at Ohio State
Candace: Can St. Cloud get another upset after knocking off Minnesota Duluth. Possibly, but I like the Buckeyes. Ohio State 2-1, 4-1
Nicole: I'll pick the Buckeyes to sweep, but there is definitely a chance for an upset win by the Huskies here. Ohio State 3-1, 4-2
Saturday, Nov. 3
Cornell at Brown
Candace: I like Cornell to continue its strong start. Cornell 3-1
Nicole: I'll take the Big Red to win. Cornell 2-0
Rensselaer at Clarkson
Candace: The Golden Knights have been up and down, but even if they are they'll win this. Clarkson 3-1
Nicole: Clarkson should take this one. Clarkson 4-1
Harvard at Princeton
Candace: A big test for the Tigers. I like home ice. Princeton 3-2
Nicole: This could be one of the more interesting games of the weekend, but I'll take Princeton at home. Princeton 3-1
Dartmouth at Quinnipiac
Candace: I don't see any way the Big Green win this. Quinnipiac 2-1
Nicole: The Bobcats win. Quinnipiac 3-0
Union at St. Lawrence
Candace: St. Lawrence has been one of the big surprises so far. St. Lawrence 4-1
Nicole: St. Lawrence takes this one. St Lawrence 4-1
Colgate at Yale
Candace: Has Colgate gotten over its Frozen Four hangover? I think so. Colgate 3-1
Nicole: I expect the Raiders will win. Colgate 3-0
Boston College at Providence
Candace: Providence is improved but the Eagles should take this. Boston College 4-2
Nicole: Another great matchup, this one should be close but I'll give the edge to BC. Boston College 4-3
Saturday-Sunday, Nov. 3-4
Syracuse at Penn State
Candace: Syracuse played Clarkson pretty tough, falling in OT. Aside from Lindenwood though, the Orange have struggled. Syracuse 3-2, Penn State 3-2,
Nicole: Picking a split since I don't feel like I have a clue how this will play out. Syracuse 2-1, Penn State 3-1
Mercyhurst at Lindenwood
Candace: I think Mercyhurst will get the sweep. Mercyhurst 3-2, 3-2
Nicole: This should be a sweep for the Lakers. Mercyhurst 3-0, 4-1
Sunday, Nov. 4
Holy Cross at Maine
Candace: At this point, I don't know if the Crusaders will win a Hockey East game this year. Maine 4-1
Nicole: Maine wins easy. Maine 4-0
Tuesday, Nov. 6
Vermont at Dartmouth
Candace: I like Vermont in a close contest. Vermont 2-1
Nicole: The Catamounts take this one. Vermont 2-0