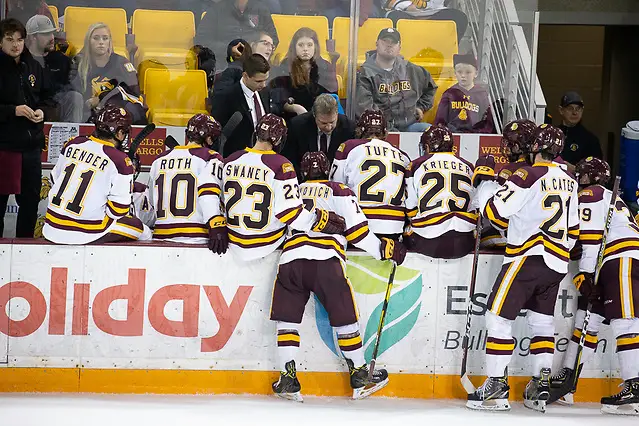 When the puck drops at 7:07 p.m. MST Friday in Denver for the first of a two-game series between No. 7 Denver and No. 1 Minnesota Duluth, the Bulldogs will be looking to reverse their recent record against Denver.
Last season, the Bulldogs went 0-4. The season before that, they were 1-2 against the Pioneers. The season before that, 0-3-1.
Since the beginning of the NCHC, Denver has bedeviled Minnesota Duluth perhaps more than any other team in the conference. The Bulldogs' record against Denver in the first five years of the NCHC is 3-14-2 and includes getting swept in Denver in the opening round of the NCHC tournament in 2015 and also falling to the Pioneers in the national championship in 2017.
"I'm going to go back to our lack of success, and we've gone up against some pretty damn good hockey teams over the last four, five, six years," said Bulldogs coach Scott Sandelin. "They've been pretty good, and those games have been some really good games, a lot of one-goal games, too."
While it remains to be seen if the Pioneers still have the Bulldogs' number, no one else has this season. Since losing to Minnesota on the opening weekend of the season, the Bulldogs have gone 8-0, including sweeping then-No. 1 Notre Dame and, this past weekend, sweeping Colorado College when they were coming off a bye week. Hunter Shepard was strong in net, giving up only one goal on the weekend.
"Well, you never know coming out of those bye weeks, right?" said Sandelin. "I thought Friday early it looked like we hadn't played, but we kind of got our legs going as the game went on. I wasn't as pleased with our overall performance Friday as I was Saturday. 'Shep' had to make some some real good saves; he wasn't tested a lot of the weekend, but Friday he did a real good job, especially at the start of the second period where they outshot us like 7-1. Our penalty kill did a good job, held the fort there on Friday.
"I thought Saturday we had a real strong 60-minute game. We outshot them 20-3 (in the first period), but the most important thing is we got the first goal, and then we were able to get the second goal and kind of go from there. I thought we'd tightened up and played with the puck a lot at the weekend."
The Bulldogs have also been getting more balanced scoring this year. Last year's rookie of the year, Scott Perunovich, has been even stronger as a sophomore, averaging 1.40 points per game, and senior Parker Mackay has also led the way with 11 points in the first 10 games. One player who has stepped up significantly is sophomore Justin Richards, who only had nine points as a rookie, and no goals. This season, he's already beaten that with 10 points, including three goals.
"I think he's been one of our best players," said Sandelin. "I think he had a really good summer. He came back, he looked obviously more confident, probably from going through last year, as he had a good freshman year. He looks quicker. He's good in the faceoff circle. He just plays the game the right way. That line for us has been really good. They've really meshed well together with him and Parker and (Cole) Koepke. We're real excited for him. I think our guys were super excited when he got his first goal. I think they were probably more excited than when we won the game.
The other thing that has helped the Bulldogs' strong start has been the special teams, particularly the penalty kill, which has often struggled in recent years. The penalty kill is sixth nationally, succeeding 88.57 percent of the time.
"I think with the penalty kill the last couple of years, especially early in the year, we had one or two bad weekends which really threw that number into a lower percentage, and then we kind of worked our way out of it and it got better as the year went on," said Sandelin. "This year, it's been a little bit more consistent. One thing to do with that is obviously Shep's been good in net. We've got some guys that killed last year, so they have some of that experience.
"You guys look at numbers, I look at overall, and coaches are never happy. I think it's still a work in progress, but we've had a good start. That's a big part to winning hockey games, is having those go the right way."
Of course, Sandelin knows that Denver will present a tough test, and like some other coaches in the league, he thinks the Pioneers are playing the same way they have in recent years.
"The names have changed, but they play the same way," Sandelin said. "Obviously, we know it's going to be an extremely difficult test. I think they're going to be one of the best teams we've seen so far in all areas of the game, and it's a great challenge for us. We've got to go on the road against a real good team, and we've got to play good hockey to win. I look at it as a real good challenge for our guys. Coming off last weekend, I think our guys played really well on Saturday, and we need to do that again over the course of 120 minutes at least to win a hockey game there.
"Again, it's another weekend, and I don't know what to expect. I like what I saw of our team last weekend, and hopefully we can carry that forward."