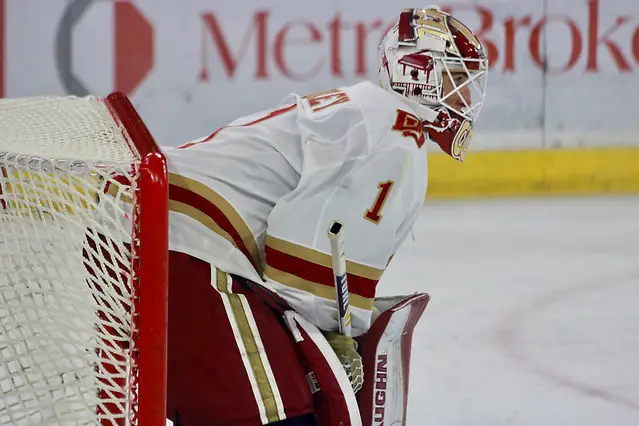 Devin Cooley posted 38 saves to lead No. 7 Denver over No. 1 Minnesota Duluth in a 2-0 shutout Friday night in Denver.
After a scoreless first period, Ian Mitchell scored a power-play goal at 9:49 of the second period before Jarid Lukosevicius iced the game with an empty-netter in the final minute of regulation.
COOLEY, COOLEY, COOLEY #PioneerTogether pic.twitter.com/mBectn5PtP

— Denver Hockey (@DU_Hockey) November 17, 2018
Minnesota Duluth outshot DU 38-14.
Hunter Shepard stopped 12 shots for the Bulldogs.
"I really liked the way we finished the game," Pioneers coach David Carle said. "The last 12 minutes I would say you saw us start to take over the game with our feet and our puck pressure. You don't draw it up that way and they don't happen that way very often, but we're certainly happy with the win."
The two teams rematch Saturday night at 7:07 p.m. MST.
St. Cloud State 2, Bemidji State 0
Easton Brodzinski and Kevin Fitzgerald scored and Jeff Smith made 32 saves as the No. 2 Huskies blanked Bemidji State 2-0 at the Herb Brooks National Hockey Center.
Henry Johnson registered 19 saves for the Beavers.
Minnesota State 7, Ferris State 1
Marc Michaelis had two goals and an assist, Parker Tuomie a goal and two assists and Connor Mackey three assists as third-ranked Minnesota State defeated Ferris State 7-1 in Mankato, Minn.
Jared Spooner added a goal and an assist in the win.
Mathias Israelsson stopped 17 shots for the Mavericks, while Roni Salmenkangas turned aside 27 for the Bulldogs.
Lake Superior State 5, Bowling Green 0
Five different players scored – Anthony Nellis, Lukas Kaelble, Collin Saccoman, Ashton Calder, William Riedell – as the Lakers upset the No. 10 Falcons in Bowling Green, Ohio.
In goal, Nick Kossoff pitched a 30-save shutout for LSSU.
Ryan Bednard made 12 saves for Bowling Green.
Massachusetts 3, Holy Cross 1
Mitchell Chaffee, Bobby Kaiser and Cale Makar scored as the Minutemen won 3-1 on home ice.
Filip Lindberg had 20 saves for UMass, while Erik Gordon stopped 39 for Holy Cross.
Michigan 6, Penn State 4
The No. 16 Wolverines used two goals and an assist from Jake Slaker and four assists from Will Lockwood to knock off No. 5 Penn State at the Pegula Ice Arena.
CLIP: @JakeSlaker_ on the power play to give U-M a 5-4 lead! #GoBlue pic.twitter.com/FFKVvfkUei

— Michigan Hockey (@umichhockey) November 17, 2018
Strauss Mann made 31 saves for Michigan.
Western Michigan 2, North Dakota 0
A whitewash from Gorsuch and a late goal from Passolt powered @WMUHockey past @UNDmhockey in their #NCHCHockey series opener#WeWillReign 👀🏒 pic.twitter.com/jPogvFIxX3

— The NCHC (@TheNCHC) November 17, 2018

Trevor Gorsuch registered 32 saves for the unranked Broncos, while Josh Passolt and Colt Conrad scored as WMU shut out No. 11 North Dakota for the first time in program history.
Colorado College 2, Miami 1
Unranked Colorado College defeated No. 20 Miami 2-1 at home as Erik Middendorf notched the game-winning goal and Alex Leclerc stopped 29 shots.
Harvard 4, Arizona State 1
Jack Drury, Lewis Zerter-Gossage and Adam Fox all recorded a goal and an assist to lead unranked Harvard over No. 18 Arizona State in Cambridge, Mass.
Harvard goalie Michael Lackey finished with 30 saves and Joey Daccord turned aside 26 for the Sun Devils.