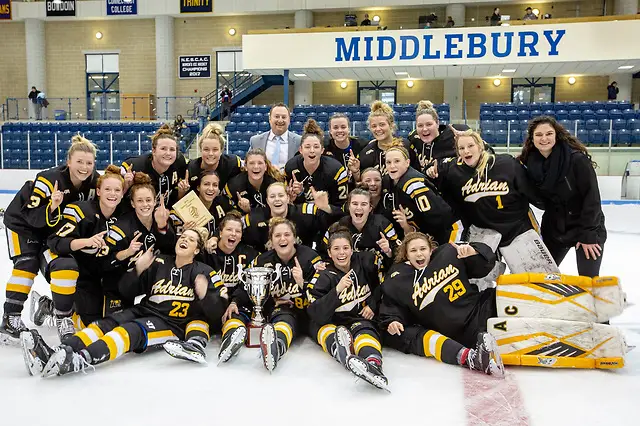 No. 5 Adrian captured the Panther/Cardinal Classic Championship by defeating No. 2 Plattsburgh and No. 4 Middlebury, while Manhatanville captured the Codfish Bowl championship. Let's look at the weekend's action.
St. Scholastica vs. Gustavus Adolphus: Gustavus Adolphus 4-1
The game on Tuesday was only the second game for Gustavus Adolphus where they have scored more than two goals in a contest. The offense had to have been happy with the outcome, but goaltender Amanda DiNella must have been thrilled. DiNella has had to keep opponents to one goal or less due to the lack of scoring from her teammates. However, this weekend her team came up big with some scoring. As long as Gustavus continues to find the back of their opponents' net, they should stay ranked at ninth overall.
Morrisville vs. Hamilton: Hamilton 2-1
Hamilton is off to a great start to their season with wins over Williams and, this weekend, Morrisville. This momentum could carry more conference victories for Hamilton in the future. As for Morrisville, they are not having a bad season, although I bet the women wish they could have taken back a few losses on their schedule that they should have won. The Colonial Hockey Conference lead is truly up for grabs this season.
Panther/Cardinal Classic Tournament
Semifinal Round
No. 4 Middlebury versus No. 1 Elmira: Tied 1-1, Middlebury shootout winner
No. 5 Adrian versus No. 2 Plattsburgh: Adrian 1-0
Championship Game — No. 5 Adrian versus No. 4 Middlebury: Adrian 4-1
Third Place Game — No. 2 Plattsburgh versus No. 1 Elmira: Plattsburgh 4-1
Adrian College
Defeating No. 2 Plattsburgh is a tremendous accomplishment for Adrian. This victory is huge not only because Plattsburgh is highly ranked, but because they had yet to lose a game and be scored on. Handing Middlebury a loss was just the icing on the cake for the Bulldogs in a tournament they were expected to go 0-2. Adrian deserves to be ranked in the top two, and maybe even first.
Elmira College
Coming out with the tie against Middlebury hurts Elmira. Middlebury had played two games and Elmira had played five games before this matchup. Losing to Plattsburgh by an unfavorable margin can't help the Soaring Eagles' case at being ranked in first either. This weekend's results have determined that Elmira should not be ranked first anymore. The only question is, who will take their spot?
Middlebury College
Taking a top-ranked opponent to a draw with a young roster is fantastic. Future competitors of Middlebury should be concerned, as this team will only gain more experience and skill as the season continues. The loss to Adrian is disappointing, but it won't hurt their ranking too terribly. I expect Middlebury to stay ranked at fourth or fall to fifth.
Plattsburgh State
The loss Plattsburgh endured against Adrian has their spot in the rankings uncertain. Defeating Elmira is a great way to end the tournament and rebound back into conference play. Will Plattsburgh be ranked first? Their ranking will be very hard to determine due to the fact that they lost to a fifth-ranked team, yet beat the first-ranked team.
Codfish Bowl
Semifinal Round
Manhatanville versus Bowdoin: Manhatanville 4-0
Wesleyan versus Massachusetts-Boston: Wesleyan 2-1
Championship Game — Manhatanville versus Wesleyan: Manhatanville 2-1
Third Place Game — UMass-Boston versus Bowdoin: UMass-Boston 2-0
Bowdoin College
Losing both games while not scoring a goal is not how the Polar Bears wanted to this weekend to end. Hopefully, they can have a good week of practice and come back strong on Friday to get their first win of the season against Endicott.
Manhatanville
Manhatanville capturing the Codfish Bowl championship is a great momentum builder for the team as they enter conference games next weekend. The UCHC is proving to be a tough conference to grab points in, and every team needs to find strength where they can.
UMass-Boston
The Beacons are not off to a great start, and this tournament sums up their season so far. This team is very sporadic with their level of play in each game. They beat teams by a large margin where it is expected to be close, then lose to opponents where UMass-Boston should have won easily. The Beacons need to become more consistent for future contests.
Wesleyan
Wesleyan is a better team than they were last year, and beating UMass-Boston confirms that. The victory is great not only for the team, but the program. Losing to Manhatanville puts a damper on the victory; however, Wesleyan's program is moving in the right direction.