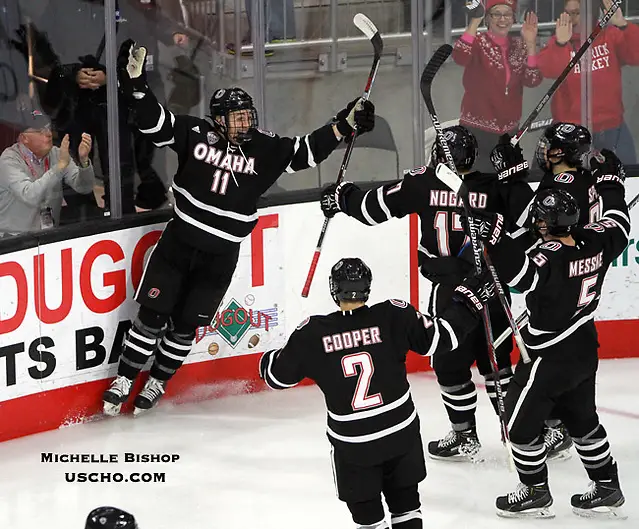 More and more, Mason Morelli is making up for lost time.
Omaha's senior captain played just 16 games last season before suffering a knee injury during the team's holiday break. Now wearing a letter for the first time in his Maverick career, the Minot, N.D., native whose father and grandfather both played for North Dakota seeks to end his stay at his own school with a bang.
The Mavericks (6-10-2) are stronger now than they were in their 0-6-1 start, which set a new low in the program's 22-year history. Morelli has played a key role in the turnaround, as he boasts a career-best 12 goals to go with nine assists. His two goals in a 4-0 home win Monday against Alaska Anchorage made him the NCHC's new top scorer with 21 points from 18 games.
He bagged three goals in Omaha's second weekend sweep of the season and was unlucky not to score more. He grabbed an empty-netter in the Mavericks' 3-0 win Saturday, but he put a shot off the crossbar earlier in the third period and would have had an assist off a 2-on-1 if an open shot hadn't sailed over the net.
Nine of Morelli's goals this season came after Omaha's bad start, the gravity of which couldn't have been easy to ignore.
"You try not to look at that," Morelli said. "There's a lot of statistics you can bury yourself in, but at the end of the day, you just try to wipe them under the rug and kind of just focus on the task at hand and what's going on right now."
Morelli recently returned from a 12-day trip home. Since then, he has resumed the level of work second-year coach Mike Gabinet has come to expect.
"Another guy where he earns what he gets," Gabinet said after Saturday's win over UAA. "If you need guys to shoot on goalie practice, he's always on the ice. If you need a guy to tip pucks, he's always on the ice. You need a guy to work hard in the weight room, and he's always in the weight room, and if I'm a young guy and I want to be a good hockey player, you should see how much time and effort he puts into becoming a good hockey player.
"I always joke about, on one shootout goal (against Colorado College on Nov. 30, a game in which Morelli scored in regulation), he said, 'I'm not really a skill guy,' and yet he's probably near the top in the NCHC conference, and he gets that because of the way he plays the game."
Morelli has room for improvement, especially defensively as he holds a minus-nine rating on the season.
If he shores that up, he will have continued to set a good example against Omaha's remaining schedule made entirely of currently-ranked opponents.
UAA (2-15-1) isn't as formidable as what lies ahead for Omaha, but the Mavericks proved in that series that their determination didn't drop over the holiday break.
"We have a lot of young guys playing big minutes, but as those guys get more comfortable and get settled into their roles a bit and we get on the same page and play the hockey we want to play," Morelli said. "Everyone went home for Christmas break and had a little recharge of the batteries, so I'm excited.
"I think we're all going to be ready to go and win some more games in the second half."