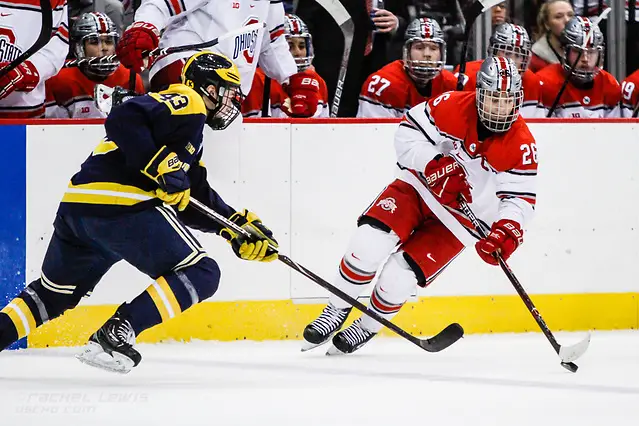 The past three seasons have seen Ohio State move from a middle-of-the-road team to Frozen Four participant.
One player that has produced for the Buckeyes since stepping on campus has been senior Mason Jobst.
The Speedway, Ind., has racked up 63 goals and 81 assists as he enters the final semester of his collegiate career.
"Through my career, I've definitely seen my role change," Jobst said. "My first couple years when I was playing with Nick Schilkey, I was the passer and these past couple years, I've kind of seen my way into a goal-scoring role."
Jobst and the Buckeyes jumped back into action after an extended break last weekend and swept Mercyhurst at home. They will get back into Big Ten play this weekend and travel to Michigan State.
"We knew it wasn't going to be pretty the first couple games, but we played pretty well and shook the rust," Jobst said of the games against Mercyhurst. "There were definitely some breakdowns that we weren't doing before the break that led to some goals. We watched some video this week and we've corrected some things, so hopefully we're back on track."
Jobst currently leads the team with 10 goals. Carson Meyer and Ronnie Hein have six, Tanner Laczynski has five and Dakota Joshua and Brendon Kearney have four. The Buckeyes had six players score 10 or more goals last season and Jobst said that balanced scoring was the key to their success and hoped for more of the same this year.
"I think that's what makes our team so great," he said. "Down the center, you've got me, Tanner Laczynski and Dakota Joshua on different lines, so to stop our team is pretty tough. Then there's guys like Brendon Kearney who's put the puck in the next these past couple weeks and really helped our team out."
Jobst has spent most of the season centering the top line with freshman Gustaf Westlund to his left. Westlund hasn't lit the lamp yet this season but he is tied for the team lead with 11 assists.
"It was kind of a connection right away," Jobst said of playing with Westlund. "He's a very skilled player and very good with the puck. He has the puck on his stick quite a bit, so I've learned to get away from him and let him do his thing and try and find that soft spot and he's done a good job of finding me there."
As a freshman Jobst had a solid year, scoring 12 goals and adding 18 assists, but he really burst into the national picture during his sophomore year when he scored 19 goals and had 36 assists.
"I was surrounded by some unbelievable players — Nick Schilkey had like 27 goals which helped and our power play was clicking at like 30 percent — so when things are going your way, those are the kind of numbers you'll see," Jobst said of his sophomore campaign.
He followed up his sophomore year with a 43-point effort last season, but said that there wasn't any added pressure from having such a solid season before.
"Obviously, I want to be successful as an individual, but the older you get, it seems to matter more that you want to see the success of your team," Jobst said.
Jobst was named a captain for the second consecutive season this year. He shares the role with Sasha Larocque. Jobst said that both players prefer to lead by example, but both are also capable of speaking up should the situation require that.
"Going into my second year, you definitely feel more comfortable," Jobst said. "I was also a captain in junior for a couple years, so it's not really new to me, but I try not to change too much about who I am or my game. The reason I'm a leader is from my first couple years and I'm trying to stick with what I did then."
The Buckeyes went 15-18-4 during Jobst's freshman year. They made the NCAA tournament and were bounced in the first game by Minnesota Duluth during his sophomore year and fell to the same Bulldogs last year in the Frozen Four semifinals. Jobst said that the team seems to have gained confidence each year he's been on campus.
"My freshman year, we actually started off 0-7, and it was a pretty rough time," he said. "So to see us come back and make the tournament the next year was really special. We've talked about it like we're taking stair steps. We didn't make the tournament and then sophomore year, we did make the tournament and then the following year made the Frozen Four.
"We've gained a little confidence each year in one another and hopefully this year is the year we make it to the top."
Jobst gave a lot of credit to the team's success to the coaching staff of Steve Rohlik, Steve Miller and JB Bittner.
"Rohlik is great coach — he's got a lot of energy and he brings it to the rink each and every day," he said. "These last couple years, he's brought in Bittner and [Miller] and those two have been great additions to our staff. They all bring different aspects to our team. Bittner's a young guy with a lot of energy and then you've got [Miller] who's been around the game for a long time and is one of the best hockey minds that I've ever been around. The combination together with Rohlik has made the team better each year."
There has been a lot of improvement over the past couple seasons, but Jobst said that the team is still looking for something to hang its hat on.
"It has been a successful career for myself and my senior class but one thing that we talk about is that, although it's been great and we've set some records here at Ohio State, we don't have a lot to show for it," he said. "We don't have any hardware, we haven't won tournaments or anything like that, although we are a great team.
"There's still a lot of fuel in the fire to get the job done."