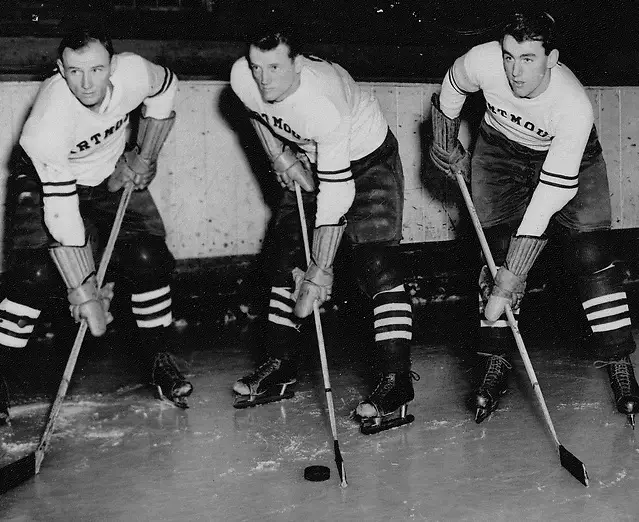 Dartmouth once again hosted the Ledyard Bank Classic for the 30th time over the weekend.
The three teams Dartmouth invited to take part this season were Army West Point, Providence and Brown, and all have a special connection to the school or head coach Bob Gaudet.
The biggest connection of them all is the Riley family. Jack, the U.S. Hockey Hall of Famer, coach of Team USA that won gold at the 1960 Olympics and longtime Army coach who had 542 wins, played at Dartmouth along with two brothers, Bill and Joe, in the 1940s.
Bill is the Big Green's all-time leading scorer with 228 points.
Jack's son, Brian, who is in his 15th season as the Army coach, said when the Black Knights were offered to return to Hanover for the second-longest in-season holiday tournament for a third time in the past 10 seasons, it was a no-brainer for him
"Coming here, now since my dad has passed away, makes it that more special," Brian Riley said after Saturday's loss to Dartmouth. "When I walk around and look at some of the pictures up there of my dada, my uncle Joey and my uncle Billy, Coach Gaudet has been unbelievably allowing my dad's legacy to live on. Myself and the rest of the family certainly appreciates it."
Army had to move some games around that they previously scheduled to attend this year's tournament.
Brian also appreciated Gaudet allowing Jack to be around the Dartmouth team in his final years before he passed away at the age of 95 on Feb. 3, 2016.
Gaudet was pleased he was able to spend some time with Riley family this past weekend.
"It was fun to see Brian Riley, the Riley family," Gaudet said Sunday. "I saw Jimmy Riley, Jack's brother, he's here and he's 86. I saw Rob, Mark and obviously Brian."
When asked to share a story about his family's time at Dartmouth, Brian quickly responded.
"Well, there's probably some I can't tell," Riley chuckled. "Just listening to my dad talk about those teams and (Dick) Rondeau and (William) Harrison, the Riley-Rondeau-Harrison line. I wish there were some video to kind of see them, but I did see pictures. Like I said, my dad had a lot of success as a college coach, but if you wanted to see a twinkle in his eye, I tell people it's when he talked about his family. It's when he talked about serving his country and it's when he talked about playing up here at Dartmouth."
According to eliteprospects.com, the Riley-Rondeau-Harrison line combined 190 points during the 1941-42 season where the Big Green went 21-2. Rondeau recorded 45 goals, which is tied for a school record, while Bill Riley and 31 assists. Harrison had 38 goals and 36 assists while Riley had 18 goals and 22 assists.
Jack also helped lead the Big Green to a share of the North American title with the University of Toronto in 1947 as Dartmouth went 16-2-2.
With three trips to the Ledyard Classic in the past 10 seasons, is another trip in the works for Army in the near future?
"Hopefully, Bob will have us back," Riley said. "We haven't beat him, so I am sure he would love to have us back."
Leaman, Whittet consider Gaudet a mentor, friend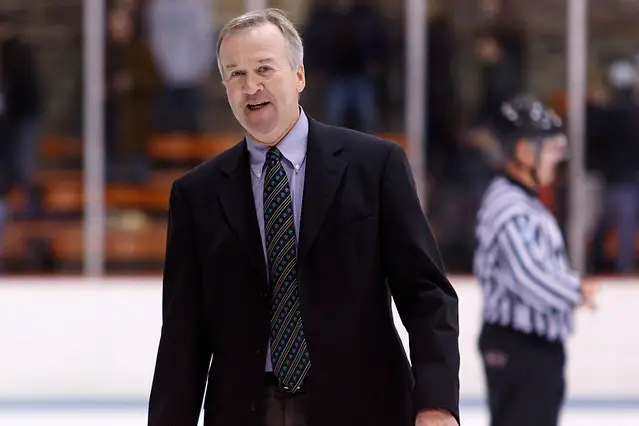 The two bench bosses for the two Providence-based schools consider Gaudet a mentor.
Brown coach Brendan Whittet played for Gaudet from 1990 to 1994 when Gaudet was coaching the Bears. He later joined Gaudet's staff at Dartmouth from 1998 to 2009 as an assistant coach before returning to Brown as the team's head coach for the 2009-10 season.
"It's a great tournament — I love it up here, I coached 11 years and played for Coach Gaudet," Whittet said after Sunday's victory over Army. "He gave me the opportunity to get into coaching and for me, it's a homecoming. I love every part of how they run this thing, how professional it is and how well they treat you."
The Ledyard Classic has a banquet leading up to the tournament where the four teams have dinner, the four coaches give a speech and the players take part in a social hour.
Gaudet and Leaman built a friendship when Leaman was the head coach of Union from 2003 to 2012. They also share a common interest away from the rink in which they caught up on at the banquet.
"We have a social afterwards, and it's really neat to hang around with the other coaches," Gaudet said after the loss to Providence on Saturday. "Talk some hockey, talk fishing with Nate Leaman."