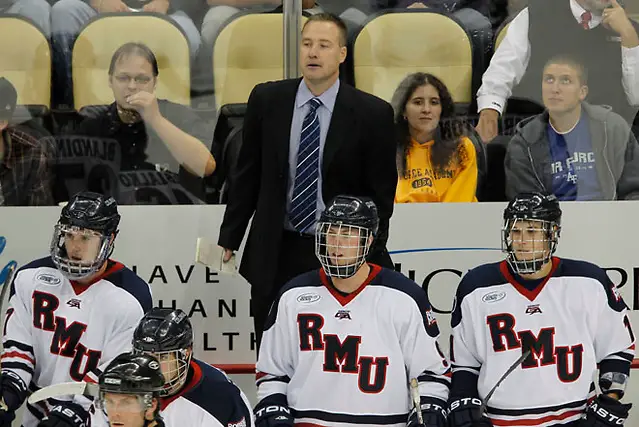 Coaches don't usually have time to reflect upon their past.
The hockey calendar is rapid enough that it keeps them in constant motion, hurdling into the future at a blistering pace. They don't have an opportunity to reflect upon what they accomplish until the future starts becoming shorter, which in turn would signal the end of their careers.
So having an opportunity to ask about the past is something that ultimately brought identical reactions of equal, incredulous parts of surprise and satisfaction.
"You don't know how long 30 years really sounds until you actually say it out loud," Mercyhurst head coach Rick Gotkin said. "It goes fast. The year I came into Mercyhurst (in 1988), they had played club hockey the year before. (But) they started varsity hockey and I was fortunate enough to get the job here."
"I had played and was an assistant at a Division I school prior to the RIT job, so I had experienced hockey at a high level with Bowling Green," RIT's Wayne Wilson added. "RIT was a very successful Division III program, but unbeknownst to us, we were going Division I. It wasn't anything that I was pushing for, but it had been suggested a couple of times (behind the scenes)."
This weekend, Bentley's Ryan Soderquist will helm his 600th game for the Falcons. It makes him the fourth coach in Atlantic Hockey to reach the mark, joining Gotkin, Wilson and Air Force's Frank Serratore.
"I never look at games overall whatsoever, but it's obviously gone quick," Soderquist said. "It doesn't seem to me that I've been at the bench for 600 games at all."
To Atlantic Hockey outsiders, the conference is an uphill battle against college hockey's blue-blood programs. The public often perceived the league's member programs (which, at times, rapidly changed or fluctuated) as the sport's "have-nots" because they lacked glittery history and played in small barns without amenities. Those inside the league, though, know that the programs are built by the sweat equity of dedicated coaches who often needed to lay foundations with long-term vision.
In addition to the four aforementioned coaches, two more – Robert Morris' Derek Schooley and Army West Point's Brian Riley – have more than 500 games coached, and Sacred Heart's CJ Marottolo joins them in another club with over 350 games in his career.
In total, the 11 Atlantic Hockey coaches have more than 5,000 games under their collective belt, of which more than 95 percent were for their current programs. Nine of those head coaches are at their first official head coaching job in a league that's been around for less than two decades.
"Everyone welcomes you to Division I when you're a new head coach, and then everyone turns on you pretty darn quick," Wilson said with a laugh. "Everyone had different steps, and I'm sure there are different steps everywhere that have helped along the way. For us, for example, the (game hosted at Blue Cross Arena) got teams like Boston College to travel to us, and we were the first team in Atlantic Hockey to start getting a lot of those big names. They weren't traveling at the time, so getting them in our building helped solidify or justify us as Division I, and it showed RIT and the Rochester community what (being Division I) looked like."
The numbers hold up against criticizing analysis. It can be noted that Serratore advanced Air Force from independence into College Hockey America before joining the AHA in 2006. Additionally, Niagara and Robert Morris were both part of the CHA before it folded, which in turn led them to the league.
But Serratore's been at Air Force for 30 games more than any of his predecessors combined, and Schooley is the only head coach Robert Morris has ever known. Lammers took over the Niagara job last year, meaning he only coached the Purple Eagles under the AHA flag, and his only previous head college experience was at Division III Geneseo.
It's also offset by David Berard, who has never finished below .500 in Atlantic Hockey play with over 160 games coached at Holy Cross. He is in his fifth official year but coached 32 games as the interim at Connecticut in 2012-13. Those games aren't on the official record, but he was behind the bench for 19 wins that year while the Huskies were still in the conference.
"I can't speak for the other teams in the league, but for me personally, it keeps me excited about my position at Mercyhurst," Gotkin said. "Being able to get in at that ground level and build something, then to watch it grow through both the good and the bad is really an exciting thing. To be part of an institution and community, I'm humbled and honored to say that I'm a part of it.
It's been a commitment by head coaches who had to undertake visions, and each program has its own story. RIT, for example, was a two-time national champion at the Division III level, and Mercyhurst made the national tournament at both the Division III and Division II levels. But both Wilson and Gotkin had to undertake their own brand of growth that resonates with the greater mission of the AHA schools.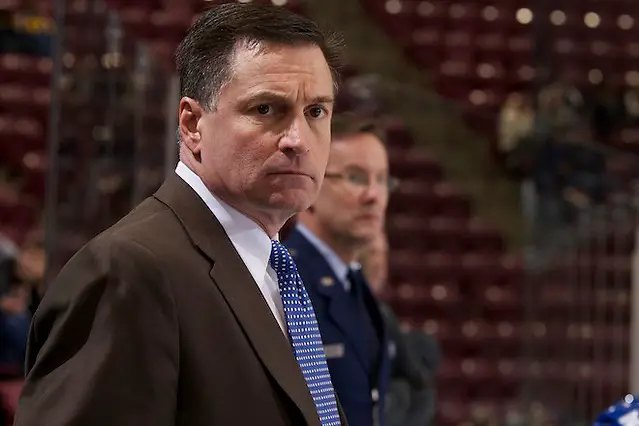 "We had already been to the tournament as a Division III program and a Division II program," Gotkin said. "(At the time), Division II was basically drying up. The (Minnesota States) and Bemidjis and Alabama- Huntsvilles were all making decisions on where they would go, so for us, to be a Division I program and be with Holy Cross, Connecticut and Canisius, was really appealing. Being a Division I sport at a small school like Mercyhurst is monumental. It doesn't happen all the time, but it's really cool."
That stands both in stride and in contrast to Soderquist and Bentley. The Falcons moved to Division I but needed to pour the foundation that would create a true hockey culture. It's a process that took nearly 20 years but culminated with the launch of the Bentley Arena last season.
"When I took the program over, in the Bentley hockey program, I knew it was going to be a long haul of a building process," Soderquist said. "It would take us year after year to prove to our institution to invest. We did it over time. We knew it was going to be a long process.
"At Bentley, it's a tremendous honor to be the head coach of my alma mater," he continued. "Maybe that's been the driving force specifically over the last seven or eight years to continue to press forward to get the arena built. One of the greatest moments I've ever had, maybe the greatest moment, was the Saturday night win (over Army West Point last year) with all of our alumni in the building. We did it with the hard work and sweat equity of all of them."
The vision didn't end there, though. With the new arena built, Bentley fell in line with the rest of Atlantic Hockey programs who have challenged for national supremacy. There are breakthroughs everywhere, from Canisius' sweep of North Dakota to the Falcons' recent dominance of Hockey East. AIC is in first place for the first time in program history, and both the Yellow Jackets and Sacred Heart are at home in American Hockey League buildings.
"We had consistency (when we came to Division I)," Wilson said. "That first year, we suffered a lot of one-goal losses and were on the road more than we care to think about, but then we won the league in the first year in Atlantic Hockey. It wasn't easy, but we wanted to get the best possible player we could get. In Division III, we had a smaller and limited budget that was limited to a particular area. You could recruit video, but you couldn't go see anyone (outside of your area). When we went to Division I, we could cast a way bigger net to catch our fish. It changed dramatically, but the workload didn't diminish."
The present success is the product of those coaches' work. But the future success ultimately hinges on the "sweat equity" of coaches who are builders instead of stewards. Atlantic Hockey programs lack the same history, tradition or pageantry of college hockey's bigger conferences, but the teams in the league aren't trying to add chapters into their books. They create where something didn't exist, something that always seemed to require work that other coaches might not have experienced.
"It's not atypical for coaches in our league to have to go do laundry, pick up snacks, figure out travel or figure out the budget," Gotkin said. "It's not to take away from the other leagues, but I don't think a lot of those guys had to do it every single day. All of us in Atlantic Hockey, at one time or another or are still doing it today, had to do those things. So much more is involved.
"You have some of the best coaches and assistant coaches, I believe, in the country," he said. "Our on-ice product is getting better and better and better every year, and it's hard to win every night. It doesn't matter who you're playing. It starts at the top. From my perspective, watching the conference evolve over the years really starts with the vision of the head coaches and the assistants. It gets passed onto the players, and everyone realizes what a product Atlantic Hockey has."
Recent history supports that theory. Wins over "power conference teams" are becoming more common during the regular season, and Canisius' sweep of North Dakota stands as the most recent example. An Atlantic Hockey program has a victory in three of the last four NCAA Tournaments, including the last two behind Air Force. RIT remains the only program with a Frozen Four team, having advanced in 2010, but those walls are starting to crumble as the league continues to crack its glass ceiling.
"We all have a tremendous amount of pride in our league and in each other when you see the growth," Soderquist said. "Watching the teams across the league win non-conference games, we take a lot of pride in that success. We know that as we continue to grow as a whole, our individual programs will grow. And as we grow as individual programs, the league gets better as a whole.
"My drive now has changed where we need to win a championship and be the first Bentley team to go to the NCAA Tournament," he said. "It's a feather in the cap to get where we are, but new goals are set to where we need to go."