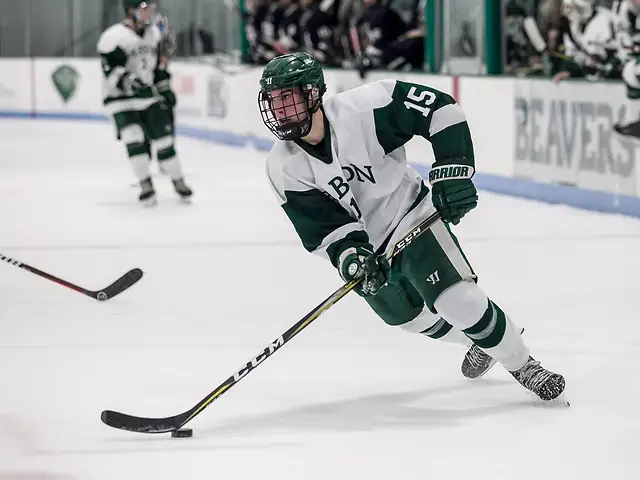 "We don't know what we don't know."
When looking at a roster that includes 13 freshmen among the 26 players and noting that 10 have a 1999 birth year, it is obvious that this year's edition of the hockey team at Babson is remarkably young. What may not register fully is their 11-3-1 record, which includes being 6-0-0 on the road and having a no. 15 national ranking in the most recent USCHO poll.
"I really mean we don't know what we don't know with this group," said coach Jamie Rice. "It seems like every four years, we have a really big freshman class, but this group is the youngest to date. I believe we are the third-youngest roster in D-III hockey, which includes a Wilkes team that is all freshmen. They are a very talented group and have made it a very fun year so far, but there is a lot of hockey to be played in the next five weeks and that will tell us a lot about this team."
An unbalanced schedule may also have helped the Beavers in their maturation process. Through quirks of needed changes in scheduling nonconference opponents like Amherst and Williams to the layout of the NEHC schedule, Babson saw nine home games in the first half, including two road games with Suffolk and Johnson & Wales that didn't require any overnight stay. The second half sees the Beavers with just three home games and 10 on the road, including their recently completed first trip out of the region since 1999.
"I think the trip out west was one of the best things we have done in my time here at Babson," noted Rice. "It was during our winter session where the players have a lot more time away from classes, and we were together as a group for five full days, including the two games against unfamiliar opponents. It was 30 players and coaches doing everything together. We had the chance to practice at senior goaltender Bryan Botcher's home rink before our game in Milwaukee, and his parents were delighted to host a dinner for the team, which is something they don't get to do based on their location very often.
"In Lake Forest, Josh Casper, a defenseman who graduated last year, was our host, and it was great to have our Midwest families from the Babson hockey community so excited and engaged with the trip. It was a great time, and we played two very good teams that we don't normally play against and found ways to come from behind to win both contests. It was a terrific trip, and I definitely think it helped this team come together starting the final stretch of the season."
The resilience of the team was tested again last weekend when Babson entered the third period trailing Curry, 2-0. The Beavers scored four unanswered goals to take a 4-2 win, and freshman Maz Torrez in his first game returning from injury scored the game-winning goal for his first collegiate goal.
"Maz is a great example of the skill we have in this young group," stated Rice. "He made a terrific hockey move to score that goal in his very first game of the season having been injured. The whole group is similar in skill and enthusiasm. We don't have a 20-point guy (Nick Rosa leads team with 10-8-18), but we have great skill and depth across our four lines, and this group just doesn't get rattled when they get behind in a game. So far, they have been unflappable."
While the team by their own admission has not had great starts to games overall this season, their ability to rally consistently in the third period has their coach excited about the remaining sprint to the finish.
"Every year we set the same goal to finish as high as we can in the conference and set ourselves up for a playoff run," said Rice. "This has been a fun group to coach, and I think they make all of us on the staff more attentive to details, more prepared, and more focused on games, particularly the upcoming second time around in conference that are like single-game seasons. I know we have 10 conference games left, and come Monday there will be eight. Everyone is trying to move up or keep positive things going, so while we don't know what we don't know yet with this group, I know it will be a fun stretch right through February 9th."
This weekend, the Beavers continue their travels with games at Southern Maine and New England College in their return to NEHC play.