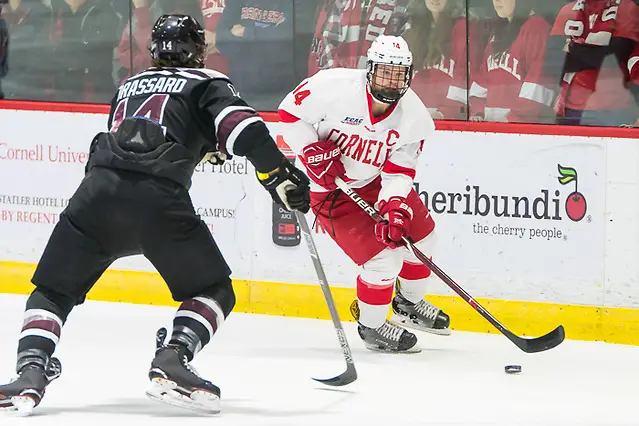 The longest winter break in program history came at a good time for Cornell.
The Big Red ended the first semester with a 2-1 win over Harvard on Dec. 1 and then didn't start the second half until last Friday at Princeton.
Typically, a stretch that long between competitive games might make a coach nervous about a team losing its edge. But it hasn't been a typical start for the reigning ECAC Hockey regular-season champions, as the Big Red were decimated by injuries throughout the opening months of the season.
Forwards Brenden Locke, Max Andreev and Jeff Malott, defensemen Brendan Smith and Alex Green, along with goalie Matthew Galajda, all missed time with injuries over the first half.
That's a stark contrast to last season, when Cornell led the country in team defense, thanks in part to staying healthy on the blue line. The Big Red lost just 10 man-games to injury from its top seven defensemen, but have already lost 18 so far this year, in addition to losing Galajda for four games.
With all that taken into consideration, it hasn't been a terrible stretch for Cornell. The Big Red finished last weekend with three points on the road, and are third in ECAC Hockey despite having played fewer games than the two teams ahead of them.
"You always want to get the four [points] but at the same token, the way that our guys competed the whole weekend was very good," said Big Red associate coach Ben Syer following Cornell's 2-2 tie with Quinnipiac Saturday. "We weren't maybe as clean as we were going into the break. But to walk away with three points … these are tough buildings to play in."
Syer filled in for head coach Mike Schafer last weekend after the latter missed the Big Red's road trip with an illness. He is expected back for this weekend's games.
Malott returned to the lineup prior to the break, while Locke, Smith and Andreev all returned last weekend. Galajda and Green are "day-to-day," according to Syer.
Locke and Smith had been out since November, while Andreev missed Cornell's final game of the first half against Harvard.
"It's huge," Syer said of those three players returning. "'Smitty' is able to break pucks out and move pucks for us on a consistent basis. Locke is an offensive player and showed a great deal of poise, whether it's with himself or setting up other guys. Max has some gifts offensively as well that adds to that depth."
The injuries have given Cornell's underclassmen a chance in different roles. Even when healthy, the Big Red have gotten plenty of contributions from its freshman and sophomores, as underclassman have scored 22 of the team's 35 goals this season.
"We're fortunate that our younger guys our really good at [adjusting to new role]," Cornell senior captain Mitch Vanderlaan said. "That's the biggest thing. You can do as much as you can as an older guy, but at the end of the day, everyone has got to buy in, and they have. It's been a bit of an up and down with all the injuries, but they've down well and we just keep trying to push the pace in practice and lead by example and they've been buying in from the start."
One of those underclassman was sophomore goalie Austin McGrath, who made his first collegiate start Nov. 30 against Dartmouth and has started four consecutive games for Cornell. The Big Red are 2-1-1 in that span, and McCrath was named ECAC Hockey goalie of the week after stopping 65 of 69 shots against Princeton and Quinnipiac last weekend.
McGrath's chance comes after spending last year stuck behind senior Hayden Stewart and Galajda, the league's 2017-18 goalie of the year.
"He was almost the odd man out but he worked every day," Vanderlaan said. "He's been improving all the time and now that he gets the chance, he's run with it. It's been awesome to see."
Vanderlaan was almost another addition to the tally of injured Cornell players, as he left the first period against the Big Green with an injury but returned for the final game before the break against Harvard.
Being at full strength again in the coming weeks should be a boost for a Cornell team that is currently in a tie for 16th in the PairWise. The Big Red play five of their next six games at home, including a two-game series with nonconference opponent Arizona State this weekend. It's the first time the two teams will face each other.