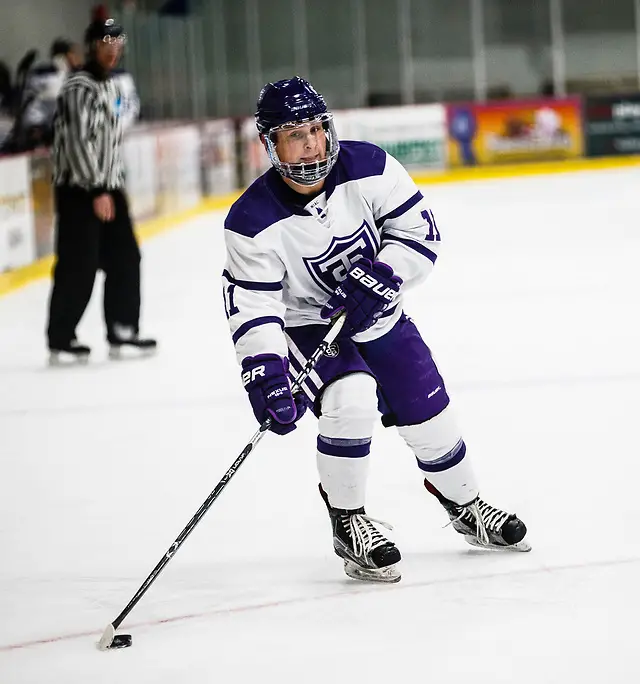 Johnny Panvica spent his off season doing everything he could overcome surgery related to an injury he suffered near the end of last season. If you look at his statistics through the first 13 games of the year, it's safe to say the junior forward at St. Thomas is getting back to his usual self.
He's up to four goals and 12 assists, including three in a 6-2 win over Wisconsin-Superior over the weekend. He also scored a goal in that victory, which catapulted the Tommies to their third consecutive win and stretched their unbeaten streak to four.
"I had a great game that night," Panvica said. "Sometimes, you just have those nights where everything goes well, and that was one of them. But I have great linemates; I owe them a lot of credit for the success."
Panvica has been an impact player for St. Thomas since his freshman season, when he shook off being scratched the first five games to tally 10 goals and 11 assists. He followed that up with a stellar sophomore year, scoring 14 goals and dishing out 16 assists, helping to guide the Tommies to a sixth MIAC title in the last seven seasons.
"My time at St. Thomas has been amazing," Panvica said. "I got off to a rough start to my freshman year, but went on to have a great season. I had a good year the next season, too. I just keep trying to get better every year."
This season started a little slowly, but it appears as if Panvica has found his stride, scoring three goals and dishing out seven assists in the last four games. He's thrilled to see all of that time and effort in rehab pay off.
"It was frustrating because it wasn't like you can get done with surgery and come out ready to go," Panvica said. "In the back of my mind I had to get over the mental block of the injury. I feel good about the way things are going now."
When it comes to making plays, Panvica takes a lot of pride in it.
"I've always been a big hockey fan and love watching the fun players who get a lot of assists," Panvica said. "Everyone wants to talk about scoring goals, but I love making plays. It just comes from good awareness on the ice and having great teammates to get the puck to."
Panvica is a native of Minnesota and played junior hockey in the NAHL for the Minnesota Magicians before coming to St. Thomas. There are a lot of other players from the state as well, and that adds an extra layer of excitement and intensity to playing in the always competitive MIAC.
"There are a lot of Minnesota boys in the conference, and it's fun playing against guys you played with and against growing up," Panvica said. "We're all competitive, but still friends off the ice."
Playing in the MIAC, of course, is competitive night in and night out. The Tommies know that as well as anyone after winning the regular season conference title last season before losing in the semifinals of the conference tournament to Gustavus Adolphus.
"You know you have to play a full game every night. Any team can win a game. We saw that last year. You can't take anyone for granted," Panvica said.
The Tommies go into the weekend with a 7-4-2 overall record and a 1-1-2 mark in conference play, good enough for fourth place. Their hoping to keep their momentum rolling as the take aim at winning a MIAC championship.
"It all comes down to focus and executing our game plan," Panvica said. "The big thing is we are as healthy as we've ever been in my time here. If we can stay healthy, we can make a run."
Five things to know about the West Region
The best winning percentage for a goalie in the MIAC belongs to Cam Buggrabe, who has won 91 percent of his games. He is 4-0-1 on the year and has a goals-against average of 1.98.
Tyler Bossert of Concordia leads the MIAC in assists with 21. He has also scored seven goals.
Three of the five teams in the WIAC are on a win streak. Wisconsin-Stevens Point has the longest streak at nine games. Wisconsin-Stout has won five in a row, while Wisconsin-Eau Claire has won its last two.
Wis.-Stevens Point is the only team in NCAA Division III hockey without a loss. The Pointers are 15-0-2 and are ranked No. 1 in the nation.
Lake Forest goalie George Argiropoulos has allowed just three goals in the last two games and has 57 saves during the stretch. He came through with 29 of those saves in a 1-1 tie with St. Norbert. He has 156 saves on the season.
In the Poll
Three of the top five teams in the country are from the West Region. Wis.-Stevens Point is No. 1 and Wis.-Eau Claire is third in the country. Augsburg is fifth. St. Norbert and Adrian sit in sixth and seventh, respectively.