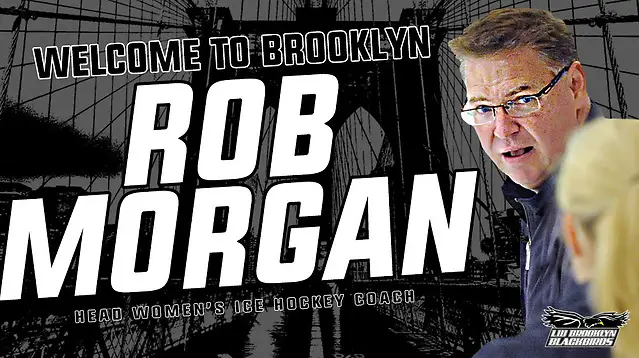 When the LIU-Brooklyn women's hockey team takes the ice next season, it will be as the 36th Division I program in the country. The Blackbirds announced their intention of adding women's ice hockey on September 10. On September 26th, the formation of the New England Women's Hockey Alliance (NEWHA) Conference was announced. LIU-Brooklyn will join Division I Sacred Heart as well as Division II programs Franklin Pierce University, Post University (Conn.), Saint Anselm College, and Saint Michael's College.
Per NCAA guidelines, the women's ice hockey National Collegiate Championship is a combined championship opportunity open to all Division I and Division II programs that sponsor the sport. With LIU-Brooklyn becoming the sixth member of the conference next season, NEWHA will also be eligible for an autobid into the NCAA tournament.
When the Blackbirds announced the formation of their women's hockey program, they also announced that Rob Morgan would take the helm as the first coach in program history. Morgan brings a wealth of women's hockey knowledge and experience. Most recently, he coached in the CWHL in China before becoming the sports director of HC Shenzhen Kunlun Red Star combined team, though that role was short-lived. Just a month after it was announced, he was being introduced in Brooklyn.
Morgan has nine combined years of associate head coaching experience in women's Division I hockey with Yale and Dartmouth, but what likely made him very attractive in this role for LIU-Brooklyn is that he's built a program from scratch before — albeit at the Division III level. Morgan was the inaugural coach at St. Norbert College in Green Bay, Wisconsin, where he amassed a 78-49-12 record in five seasons. The Green Knights won their conference in just their third year of competition and made an NCAA tournament appearance the following year. It's a lofty precedent, but Morgan doesn't shy away from the fact that he hopes to exceed it.
"We're going to be good. I really believe that. Some people go at starting programs as 'Well, we're going build towards something.' (That's not me.) We're going to want to win a championship from year one. We want to win a conference championship. And that's going to be how we approach every practice — getting better each day, focusing our process to peak at the right time. That's going to be our goal, make sure that we position ourselves so we're going to be in the conference tournament, and once you're in anything can happen," he said.
There are a number of difficulties that come with building a program from the ground up to begin playing essentially 13 months after the day the team is announced. The first priority has been recruiting, and Morgan said he has all but five roster slots filled.
In this, his past experience at Yale has been invaluable. Recruiting in women's hockey in recent years has trended younger, meaning the players that were first on this radar three or four years ago in Yale are now of the right age to be recruited for LIU-Brooklyn.
"You have those kids now that are seniors and the ones that are still available or still undecided, I had a pretty good idea who was out there, and not just here in North America, but over in Europe as well," he said.
Morgan has indeed been signing players from Europe, including two players from Sweden and one from Denmark, though he said he did not set out with a focus across the pond.
"First and foremost, it's about finding the best athletes that are available that would be a great fit here at LIU," he said. "I want to recruit the best prospective student-athletes who are out there. I've been involved with programs where you have great diversity within the locker room. And it's amazing because there's so much that is learned from each other. From the different programs that they come from to the cultural differences, it just all part of the whole student-athlete experience, and then when they graduate, they have friends all over the world."
In Morgan's time with the CWHL, he worked with quite a few players who had spent time with their respective national teams, including a few that had expected to play for their country in the Pyeongchang Olympics, but did not make the team. The experience those players brought to the team is one of the big lessons he'll be bringing from the pros back to the college game.
"When your program is surrounded by athletes that are involved with their national teams, it takes the competitive atmosphere to a whole other level, because not only are they representing your school, they're also representing their country. They want to play in the World Championships, want to continue to make their national team, so they bring a whole other level of compete and preparation towards reaching their full potential," he said. "I think that can be leveraged because it raises the bar of expectations amongst everyone in the locker room."
In addition to filling out his initial roster, Morgan said next on his to-do list is finalizing a staff — something he said he hopes to do by mid-March. Not only is that important for future recruiting and for the staff to start working to build and create a culture, but it will also help distribute some of the many things currently on Morgan's plate. He's working to create a schedule, but with most everyone else having already finalized their 2019-20 slate, he is doubtful the Blackbirds will be able to completely fill their nonconference openings. The schedule is much more complete for their second and third years of competition, however.
The inaugural class of LIU-Brooklyn Blackbirds women's hockey players have a unique opportunity to create something that will long outlast them. While Morgan has been recruiting the best hockey players, possible, he's also been on the lookout for the kinds of players that are excited to do something monumental.
"When you're a good person, and you want to be a part of something, and you want to contribute in your own special way. (As a coach, then you know that) regardless of what their role is on the team, they're going to be a star. And that's what's really exciting about this here. We get to do this together, and everyone's going to be a part of it. So regardless of how many minutes are played, everyone within the locker room knows that they're contributing to something special here."
There's still a long way to go where Morgan and his not-yet-hired staff have to take care of everything from buying equipment to designing jerseys. There's still plenty of work to do, but Morgan has spent his entire career working toward this ultimate goal of head coach of a Division I program.
"What I look forward to the most is just being able to create a culture that I believe is one that leads to very successful programs, and I can't wait for student-athletes to be on campus and be immersed in this community. It's real special place here," he said. "(LIU-Brooklyn is) the first-ever Division I program, men's or women's, here in New York City. I mean, I can't think of a better place to do it."