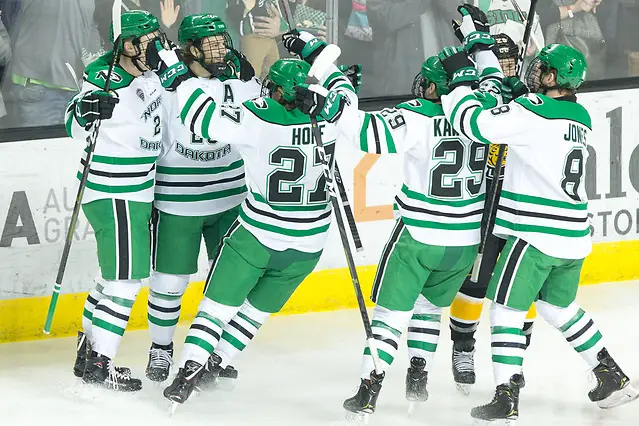 Each week, USCHO.com will pick the top 10 moments from the past weekend in our Monday 10 feature.
1. The Broncos keep on keepin' on
With a sweep of visiting Miami, Western Michigan extended its nation-leading unbeaten streak to 10 games (9-0-1). During this stretch, the Broncos are scoring 3.8 goals per game on average while allowing 1.7. Sophomore Josh Passolt netted three goals against the RedHawks, including Friday's game-winning goal. Passolt has 14 goals in 20 games this season, six more than he had in 35 games his freshman year. Passolt is now third nationally in goals per game.
2. Upsets are the new normal
Seven of the top 10 teams in the country lost at least a game this past weekend.
No. 1 St. Cloud State split with No. 5 Minnesota Duluth. No. 4 Ohio State split with unranked Michigan. No. 6 Quinnipiac lost to unranked Harvard. No. 7 Providence lost to two unranked teams, Boston College and Boston University. No. 9 Notre Dame was swept at home by unranked Minnesota. No. 10 Bowling Green split with unranked Michigan Tech.
Among the top 10 teams in the nation, only No. 2 Massachusetts, No. 3 Denver and No. 8 Minnesota State escaped the weekend unscathed. The Minutemen swept Vermont soundly, 4-1 and 5-1. Denver beat Omaha in a pair of close games, 1-0 in regulation and 3-2 in overtime. The Mavericks also had a pair of close wins, beating Ferris 3-2 in overtime and 2-1.
3. Some things end, some continue
With those upsets, there were bound to be streaks broken – and there were. Ohio State's seven-game unbeaten streak (4-0-3) ended with the loss to Michigan Friday night. Providence's eight-game unbeaten streak (5-0-3) ended with Friday's loss to Boston College.
With its sweep of Omaha, Denver extends its win streak to seven games.
4. Minnesota buys a new broom
With 5-1 and 2-1 wins over Notre Dame, Minnesota completed its first weekend sweep over a single opponent this season. Minnesota's last sweep of a Big Ten opponent was its two-game set against Wisconsin last season, Feb. 9-10. In 2017-18, the Golden Gophers had five sweeps against single opponents in single weekends.
Incidentally, the Golden Gophers had something to say about that sweep.
We have an incredible amount of respect for @paulacweston.

That being said, we encourage the fine folks at @USCHO to pick against the #Gophers for the rest of the season. pic.twitter.com/EGyl5HaYuu

— Minnesota Men's Hockey (@GopherHockey) January 13, 2019
5. Northeastern buys a new broom, too
Northeastern moved into second place in the Hockey East standings with 3-2 and 4-0 wins over Maine, the Huskies' first road sweep of the Black Bears since 2008. Sophomore Cayden Primeau had 33 saves in Saturday's shutout, his ninth career shutout and third of this season. The Huskies have just one loss in their last 11 games.
6. The Armed Forces force two OT games
Air Force and Army West Point registered two 2-2 overtime games, with the Black Knights scoring twice in the third period Friday to tie and Air Force scoring in the third period Saturday to knot that contest.
The series accounted for two of three overtime contests in Atlantic Hockey, where three points separate first-place Air Force from Army and Niagara, each with 17. In between, though, American International and Mercyhurst are tied with 19 points and RIT has 18.
7. The first in his class
Denver freshman Cole Guttman had the overtime game-winning goal for the Pioneers against Omaha Saturday, making Guttman the first freshman in the country to reach the 10-goal mark this season.
8. A career high for Harvard's Lackey
Harvard senior goaltender Michael Lackey is putting up career numbers this season. Lackey (2.32 GAA, .920 SV%) had a career-high 46 saves in the Crimson's 2-1 win over Quinnipiac Saturday night, including this beauty on Michael Lombardi's breakaway.
What a save by Lackey! https://t.co/rWplvmHuB1 #GoCrimson pic.twitter.com/STOVTBKrgg

— Harvard Men's Hockey (@HarvardMHockey) January 13, 2019
9. Alabama Huntsville kills it – again
It's been a tough season for Alabama Huntsville, but the Chargers have begun the second half of the campaign with some success. On the road this past weekend, Huntsville lost to and tied Lake Superior State and picked up a shootout point Saturday night.
In their last four games, all since the start of the calendar year and all in conference play, the Chargers are 1-2-1-1.
And the Chargers' penalty kill continues to be, well, killer. Against Lake Superior, Alabama Huntsville extended its PK streak to 21 straight successes, and the Chargers have the sixth-best penalty kill in the country (88.0).
10. Penn State scores eight goals, splits anyway
Penn State is a team that can find the net. The Nittany Lions scored four goals in each of their home games against Michigan State this weekend. They also gave up six in Saturday, losing to the Spartans 6-4. Penn State leads the nation in scoring, averaging 4.86 goals per game, but the Nittany Lions are 55th nationally in scoring defense, giving up 3.86 goals per game. Six different Nittany Lions scored in the split.
Michigan State goaltender John Lethemon made 40 saves in his fifth win of the season Saturday.