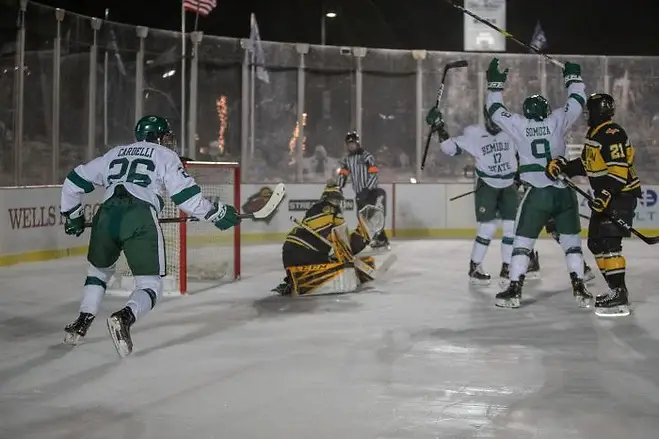 Dillon Eichstadt scored a power-play goal with 1:55 left in overtime to give Bemidji State a 4-3 victory over Michigan Tech Friday outdoors to kick off Hockey Day Minnesota 2019 in front of a sold-out crowd at Lake Bemidji.Bemidji State evens its record to 11-11-3 overall while it moves to 9-7-1-0 in WCHA play.Ethan Somoza, Dan Billett and Jay Dickman also scored for the Beavers, while Zach Driscoll made 33 saves for the win in goal.Brian Halonen, Todd Kiilunen and Gavin Gould scored for the Huskies and Robbie Beydoun finished with 39 stops between the pipes.BSU will go for just its second sweep of the season Saturday when it moves indoors to the Sanford Center to host MTU.
No. 1 UMass 6, No. 8 Northeastern 1
No. 1 UMass opened Friday night's game against No. 8 Northeastern with a 3-0 lead and never looked back, rolling to a 6-1 victory at the Mullins Center for the squad's tenth Hockey East win of the season (10-1-0).The Minutemen improve to 18-3-0 overall, while the Huskies drop to 14-5-1 and 8-3-1 in league action.https://twitter.com/UMassHockey/status/1086425092261695489"Tonight was obviously a marquee game with two top-10 teams and a lot of attention," said UMass coach Greg Carvel. "I could tell my team was going to be ready to play and I thought that was as well as we've played all year. We made the game extremely difficult on Northeastern with our positioning and I thought we dominated the game. It got a little unraveled there at the end there when they took the five-minute penalty and we did some foolish stuff. But outside of that, we executed our game plan very well, we played very disciplined and we scored a lot of goals around the net, which is a great sign."In a game that a lot of people were focusing on us to see what we would do, we were extremely good."
No. 4 Ohio State 4, No. 13 Penn State 1
Fourth-ranked Ohio State posted a 4-1 victory over Penn State Friday at Pegula Ice Arena.The teams were tied at one after the first period, but the Buckeyes scored twice in the second and added a late goal in the third while shutting out the Nittany Lions for the final 41:06 for the conference win."We always preach team defense," said Ohio State coach Steve Rohlik. "It's staying five-man connected and playing a 200-foot game. When our team is at its best, we play responsible with five guys. You saw it tonight. You have to against a team like this. If you've going to be lazy and play separated, you're going to get beat – they're just too dangerous."https://twitter.com/OhioStateMHKY/status/1086464374485803008The Buckeyes improve to 14-5-4 overall and 7-3-3-2 in Big Ten play, while Penn State falls to 13-8-2 and 5-7-1-1 in league action.Sean Romeo made 24 stops for OSU.
No. 15 Cornell 2, Harvard 0
Brenden Locke and Morgan Barron scored second-period goals to keep their line's hot streak going, and then Cornell cracked down defensively in the third period for a 2-0 victory over rival Harvard on Friday night in front of a sold-out crowd at Lynah Rink.In just his second game back after an injury-related absence, Matthew Galajda made 25 saves for his first shutout of the season and the tenth of his career. It also gives the Big Red a shutout in each of the 24 seasons — matching the tenure of coach Mike Schafer at Cornell."Something we, as a coaching staff, want is competition at that position," Schafer said. "Every time (Galajda) has had competition, he's risen to the challenge and gotten better and better and better."
No. 20 North Dakota 4, Omaha 3
Jackson Keane's goal at 18:10 of the third period snapped a 3-3 tie and the Fighting Hawks held on to down Omaha 4-3.https://twitter.com/undinsider/status/1086466357774798849Adam Scheel finished with 17 saves for UND, while Evan Weninger stopped 33 for the Mavericks."The good thing about it is that we found a way to get a third straight," UND coach Brad Berry said. "We've been there and done that with this group, from dominating the first two periods with shots and then not scoring on some of our opportunities. After they scored their third goal, it didn't take us long to get back on the rails again and playing on their end of the rink and I think that shows a sign of a team that's calloused and has been there before. But tonight means nothing if we don't get after it again tomorrow."
Robert Morris 7, Canisius 2
Robert Morris handed Canisius a 7-2 defeat in the opener of a two-game Atlantic Hockey set at the HarborCenter.Nick Lalonde and Daniel Mantenuto each scored twice, three other teammates had multi-point nights and RMU matched a season-high in offense while ending a four-game losing streak.https://twitter.com/RMUMHockey/status/1086449987163250688
No. 5 Minnesota State 5, Lake Superior State 3
Minnesota State extended its unbeaten streak to six games with a 5-3 win tonight over LSSU.During one of the intermissions, a fan won $30,000 by shooting the puck into a small slot in front of the net.https://twitter.com/msumavericks/status/1086456720992423936The Mavericks are now 19-5-1 on the year.