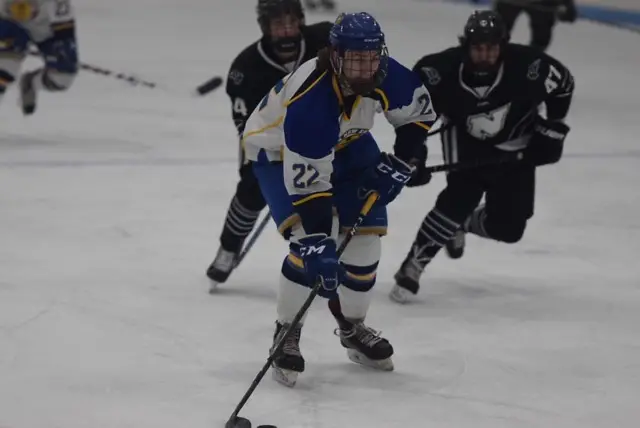 The hunters and the hunted continue to create drama in very tight conference races. While teams like Geneseo, Wesleyan, and Massachusetts-Boston continued their strong play with four-point weekends, other league leaders like Nichols, Fitchburg State, St. Michael's, and Wilkes lost ground to key competitors in league play. Some individual records are being set as well, including Geneseo goaltender Devin McDonald recording his 10th shutout on the season, tying the single-season record set by St. Norbert's Kyle Jones in 2007-08. Here is this weekend's recap around the conferences in the East.
CCC
Nichols entered a weekend series with Curry with a slim lead in the league standings, and the combined league results now find five teams within three points of the top spot. After Friday night's 2-2 overtime tie with the Colonels, the Bison again found themselves in a tight one on Saturday at home. Vincent Crivello and Justin Perron staked the home team to a 2-0 first-period lead, but Curry came right back to tie things in the second period on goals from Michael Snow and Billy Rizzo. The third period went scoreless, so for the second straight night overtime was required. This night, Curry found victory on a goal from Alex Ochterbeck in the final minute of the extra session to give the Colonels three of four points on the weekend.
Endicott picked up a pair of lopsided wins over Becker by scores of 9-1 and 8-0. On Friday, Jake Simon's hat trick led the Gulls, while Saturday's win showcased Daniel Kucerovy and Luke Rodgers, who finished with three points each.
Salve Regina was stunned by Western New England on Friday, as forward Steve Beck's hat trick led the Golden Bears to their first league win, 7-4. On Saturday, the Seahawks again found themselves in a battle and needed overtime to split the weekend series with a 4-3 win. J.J. Layton's first goal of the season in the first minute of overtime was the game-winner for Salve Regina in a game they outshot WNE by a 48-15 margin.
The University of New England also split their weekend series with Wentworth. Following a 9-3 win at home on Friday night where Tyler Seltenreich and Austin Morgan both scored a pair of goals, UNE found a determined Leopards squad on Saturday. After falling behind 5-2 early in the second period, Wentworth rallied back to a one-goal deficit in the second period to set the stage for another crazy third period. Goals from Jake McKennelly and Connor Busch gave Wentworth the lead, and defenseman Ethan Weiss, who had a five-point night, sealed the 7-5 win with an empty-net goal.
Independents
Bryn Athyn and Canton played a two-game series hosted by the Lions. On Friday night both teams exchanged a pair of power-play goals for a 2-2 tie after 40 minutes of action. The visiting Kangaroos took the win on Joe Deveny's goal in the final period for a 3-2 final. On Saturday, both power plays were again responsible for all the early scoring as each team scored three times with the man advantage. Like Friday night, Canton found some even-strength offense late in the final period on goals from Zach Pease and Tyler Bullard for the 5-3 win and weekend sweep. The two wins move Canton's record to 10-8-2 on the season.
MASCAC
Fitchburg State came into the weekend sitting atop the standings and now find themselves sitting in fourth place, two points behind league leading Plymouth State. Thursday night, the Hawks lost to an up-and-coming Westfield State team 3-2 as the Owls raced to a 3-0 lead and held off the Falcons, who tried to rally behind goals from Sascha Figi and Nick DiNicola. Saturday at home FSU dropped a 5-2 decision to Worcester State, which sealed the win with a pair of empty-net goals from Tim Drevitch and Matthew Manning in the final minute to break open a close 3-2 game.
Westfield State continued its hot play with another "upset" win over Plymouth State on Saturday. The Owls raced to a 2-0 lead in the first period on goals by Pearce Vance and Aaron Clancy, and that was all goaltender Thierry Messervier would need as he stopped 52 of 53 shots in the 3-1 win that moved the Owls into a tie for second, just a point behind the Panthers in the MASCAC race.
NE-10
Southern New Hampshire faced St. Michael's in a critical road series over the weekend and skated away with a tie and a win that moved them to the top of the NE-10 leaderboard. On Friday night, Chris Moquin's power-play goal in the third period earned the Penmen a 2-2 overtime tie. On Saturday, SNHU received two goals from D.J. Goldstein in the third period that broke open a 1-1 game and gave the visitors a 3-1 win and top spot in the standings.
NEHC
Massachusetts-Boston took a pair of wins from Suffolk and Johnson & Wales over the weekend by 4-1 and 5-2 scores. The Beacons were led by forward Chris Peters, who tallied three goals in the two games.
Babson matched its travel partner with a pair of wins over the same opponents by scores of 5-1 and 8-3. In Saturday's win over Suffolk, forward Stevie DeForge scored three goals and added an assist for a four-point night.
Norwich has found some momentum in their current five-game win streak. Following Tuesday's dramatic come-from-behind, last-minute win over in-state rival Middlebury, the Cadets took a pair of wins from their travel partner, Castleton. Friday saw the Cadets win 4-2 at home as Brett Ouderkirk and Noah Williams scored to keep a two-goal margin over the Spartans. On Saturday, Norwich needed a third-period goal from Jack Griffin and two from Ryan Boucher to rally past Castleton, 6-5. The Cadets have now moved up to a third-place tie in the NEHC standings.
NESCAC
Wesleyan remained unbeaten in NESCAC play with weekend wins over Amherst and Hamilton. Friday saw a goaltending dual between Wesleyan's Tim Sestak and Amherst's Michael Cullen. Sestak's 47 saves earned him a shutout and the win, 1-0, over the Mammoths. On Saturday, Walker Harris, who scored the only goal in Friday's win, added two more goals as the Cardinals rallied from a 2-0 deficit to down the Continentals, 4-2.
Williams kept pace with Wesleyan with wins over Tufts and Connecticut College by 3-1 and 5-0 scores. Marcus Mollica scored twice to give him 14 goals on the season in the shutout win over the struggling Camels.
In one of the longest standing rivalries in college hockey, Colby downed Bowdoin, 3-2, on Saturday night in a game that featured special teams and excitement right to the final minute of play. Colby's Thomas Stahlhuth scored with the man advantage in the third period to give the visitors the lead, but Bowdoin's Albert Washco answered on a power play in the final minute to pull the Polar Bears within one goal. Goaltender Mack Burton finished with 29 saves to earn his first win of the season for the Mules.
SUNYAC
Geneseo posted wins over Plattsburgh and Potsdam to keep a firm hold on their lead in the standings. Goaltender Devin McDonald recorded his first of back-to-back shutouts on the weekend in Friday's 2-0 win over rival Plattsburgh. On Saturday, Mitch Ferguson scored twice, and that is all the offense McDonald would need in a 5-0 win over Potsdam that tied the Geneseo netminder with St. Norbert's Kyle Jones for the single-season shutout record.
After Josh Zizek's third-period goal gave Oswego a 2-1 win over Morrisville on Friday, the Lakers opened the offense up on Saturday behind two goals and an assist from Anthony Passero and three points from Joseph Molinaro in a 7-2 win over the Mustangs.
UCHC
League leaders Wilkes split two games over the weekend to tighten things up further in the UCHC. The Colonels eked out a 1-0 win over Chatham on Friday night before dropping a 3-2 overtime game at Stevenson on Saturday. Stevenson's Mark Bowen scored his first of the season with the extra attacker on the ice in the final minute of regulation to tie the game, 2-2. Teammate Nick Gray scored just 33 seconds into overtime to give Stevenson the win.
Elmira swept two games with Manhattanville and Neumann over the weekend to move into second place, just a point behind Wilkes. After Friday's 5-2 win over the Valiants, Elmira broke open a scoreless game in the second period on goals from Adam Eby, Marty Kapoian, and Connor Powell to give the home team a 3-0 lead. Neumann scored a pair of power-play goals in the third period, but Jake Sabourin wouldn't allow the tying goal in the 3-2 win.
Utica moved to within two points of Wilkes with Friday's 5-0 win over Nazareth. The defense provided most of the offense as Justin Allen, Brandon Young, and Zach Borsoi all scored to pace the Pioneers to the win. On Saturday, Utica downed Cortland in nonconference play, 3-0, behind two more goals from Borsoi and the game-winner from Conor Landrigan.
Three Biscuits
Stevie DeForge, Babson: DeForge scored a hat trick and added an assist in Babson's 8-3 win over Suffolk on Saturday. The win helped the Beavers remain just two points behind conference leading Massachusetts-Boston.
Steve Beck, Western New England: Beck's hat trick helped WNE earn its first conference win in an upset win over Salve Regina on Friday night. Beck helped jump-start the Golden Bears with two goals in the first eight minutes of the opening period.
Tim Sestak, Wesleyan: Sestak stood tall in the net for the Cardinals in a 1-0 win where he stopped all 47 shots he faced against Amherst. Sestak made 23 of his saves in the first period alone to help Wesleyan remain atop the NESCAC standings
One coach told me this week that he is focused on making sure that his team is doing what it needs to do on the ice to be successful, but as soon as the opportunity permits after the game is over, he is checking his phone to see what everyone else did and if he got some help anywhere in the conference. That is a common theme around now, as the weeks on the regular season schedule are dwindling.
Thanks to Russell Jaslow for Geneseo and NCAA stats from the weekend.