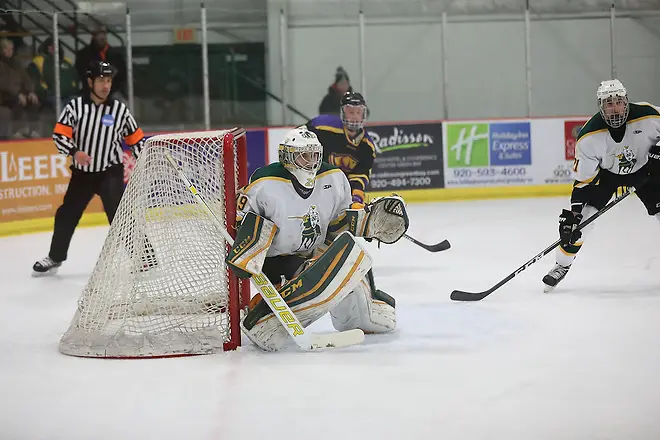 St. Norbert has found its groove. The reigning national champion crushed NCHA rival Adrian, 7-0, Friday night at Cornerstone Community Center. It's the third consecutive game in which the Green Knights scored at least seven goals. They are now 13-4-3 overall and 9-3-1 in the conference.
The win by St. Norbert also marks the first time in the all-time series that a team has recorded a shutout win. Friday's game was the 19th meeting between the two teams. St. Norbert is now unbeaten over its last 36 games at home.
Kurt Black gave the sixth-ranked Green Knights a 1-0 lead, and Timmy Nicksic scored to make it 2-0 in the second period. St. Norbert scored its final five goals in the third to put away the seventh-ranked Bulldogs. Peyton Frantti scored twice, and Roman Uchyn, Nicksic, and Black also scored in the win, which happened to be the 300th in program history. The Green Knights are 300-80-33 all-time. Black also tallied a pair of assists in the win.
T.J. Black was sensational in goal. He stopped 22 shots to earn the 18th shutout win of his career. St. Norbert took 39 shots in the win.
Lions quiet the Thunder
Finlandia continued its surprising season with a 3-1 win over Trine Friday. The Lions improved to 8-10-2 overall and 6-5-2 in the NCHA, alive and well in contention for a conference tournament berth.
Paul Lochner, Hunter Kero, and Kendall Bolen-Porter all scored for Finlandia. Teddy Randell came through with two assists.
Michael Meisenbacher scored the lone goal for Trine.
Santeri Seppinen made 19 saves. He and Trine goalie Brett Young combined for 35 saves in the first two periods.
Falcons soar past Forresters
Concordia stunned South Division leader Lake Forest, 2-1, in overtime Saturday. The Falcons improved to 7-11-3 overall and to 5-7-2 in the conference. Connor Hogg delivered a clutch goal just eight seconds into overtime to lift the Falcons to the win. Stefen Seel had the assist on the play.
Brandon MacKinnon scored the other goal for Concordia, and Bo Didur racked up 30 saves.
The Falcons killed off seven penalties and end the month of January with a 4-2-2 record. They have won their last two games overall.
Josh Giacomin had the lone goal for Lake Forest.
Yellow Jackets sting Blue Devils
Wisconsin-Superior edged Wisconsin-Stout, 3-2, Friday night to push their win streak to three games. It's the first three-game winning streak for the Yellow Jackets since starting the 2015-16 season with a 3-0 mark.
Troy York led the way for Wis.-Superior with a pair of goals. Levi Cudmore added a goal as well.
Oscar Svensson stepped up in goal and made 35 saves in his third consecutive start. He is 3-0 during the stretch and improved to 3-2 overall on the year. The Yellow Jackets won despite being outshot, 37-27.
Blugolds close out month with a win
Wisconsin-Eau Claire nailed down a 4-2 win over Wis.-Superior Saturday to earn their 18th win of the season. The Blugolds trailed 1-0 early before scoring the next three goals to take control. Andrew McGlynn scored two goals during that stretch. Zach Dyment made 26 saves to earn his 18th win of the season and the 26th win of his career.
The Blugolds improved to 18-3-2 overall and are 4-1-1 in the WIAC. They have won two consecutive games and are now off until Feb. 8, when they play Wis.-Superior again.
Auggies sweep Oles
Augsburg capped off a perfect weekend with a 4-2 win over St. Olaf Saturday night. Tied 2-2 entering the third, the Auggies scored twice to put the game away and improve to 16-3-2 overall and to 10-1-1 in the MIAC.
Alex Rodriguez gave the Auggies the lead for good at 3-2 with his 17th goal of the season, the most in the MIAC and third most in the nation. Gavin Holland finished off the scoring with his second goal of the year.
Austin Dollimer and Luke Dietsch also scored for Augsburg, which held a 42-24 advantage in shots. Nick Schmit made 22 saves to pick up the win in goal.
Ranked fifth in the country, the Auggies have outscored the opposition 80-47 this season. They have won their last two games and are firmly in first place, holding a six-point lead over second-place Concordia in the standings.
Augsburg opened the weekend with a 4-1 win over St. Olaf behind a hat trick from Rodriguez. It's his third hat trick of the year.
Royals roll over Pipers
Bethel turned in its best outing of what has been a tough season, cruising past Hamline, 7-1, Friday night. Nick Ketola came through with two goals and two assists, while Charlie Haugen also punched in two goals as Bethel ended an eight-game winless streak.
Johan Kling came through with a pair of assists and also scored a goal.
Kade Brannon scored a goal and dished out an assist as Bethel improved to 2-16-2 overall and 1-7-2 in the conference.
Tommies survive thriller
St. Thomas closed out its series against Concordia with a 5-4 win Saturday. Elijah Latimer scored the game-winner for the Tommies, who improved to 11-4-4 overall and to 5-1-4, but remain four points behind the second-place Cobbers in the standings.
Jack Christensen, John Peterson, Brett Gravelle, and Cullen Willox also scored for the Tommies. Peterson and Willox dished out two assists as St. Thomas wrapped up an unbeaten January. The Tommies are unbeaten in their last 10 games.
Cam Buggrabe stopped 28 shots and improved to 8-0-3 on the year.
Jacen Bracko scored twice for the Cobbers. Matt Donnelly and Aaron Herdt also scored for Concordia, which is now 11-7-3 overall and 7-3-2 in the MIAC.
Friday's game was just as tight as the two teams, played to a 1-1 tie. Concordia prevailed in double overtime to pick up a second point in the standings. Herdt scored the goal in double OT, which featured a three-on-three matchup.
Buggrabe stopped 31 shots and Jacob Stephan made 39 saves.
Gravelle scored in the final minute of regulation to tie the game. He has nine goals and five assists over the last eight games. Beau Wilmer punched in the lone goal for the Cobbers