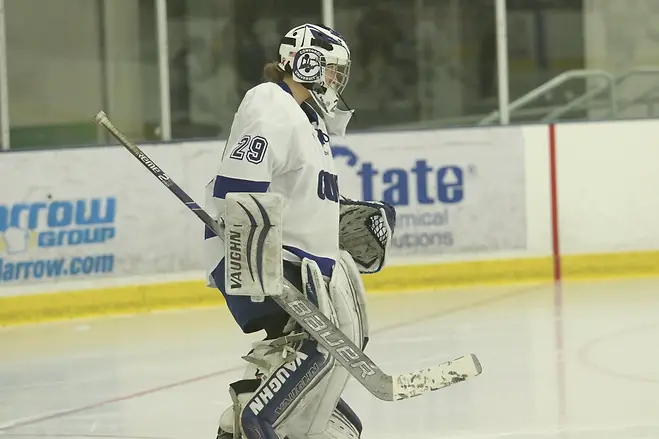 Lake Forest versus No. 4 Adrian: Lake Forest 2-0, Tie 2-2
Adrian got shut out for the second time this season, and it came against their conference rival, Lake Forest. After coming off a weekend of playing the number four team, the Foresters' home-ice advantage gets stronger with a record of 6-1-4 at home. Adrian remains first in the conference, and Lake Forest is tied with St. Scholastica for second. For the Foresters or the Saints to jump Adrian in the standings, they will need to have the Bulldogs lose at least two games. In the overall rankings, Adrian will fall to the lower half, and Lake Forest has potential to be ranked 10th, but my guess is that Wisconsin-Eau Claire will stay in that position for now.
Williams versus Amherst: Williams 4-0, 5-2
Williams needed to win this series to remain on top in the NESCAC standings, and that is exactly what they did. The Ephs share first place in the standings with Middlebury, even though Middlebury has played two games less than Williams. These two teams will meet in the last weekend of the regular season, and that very well could decide the regular season championship.
No. 1 Elmira versus William Smith: Elmira 4-0, 5-1
This weekend, Elmira furthered their chance at being the UCHC regular season champions with two solid wins. The only team I see that could give the Soaring Eagles some trouble is Utica. Elmira will compete against Utica Feb. 8-9. As for William Smith, they will most likely be competing against Utica for the second-place spot in the standings. William Smith just so happens to play Utica February 2-3. There are some important and intense games yet to come in the UCHC.
St. Scholastica versus Concordia (Wis.): Concordia (Wis.) 5-2, St. Scholastica 3-1
Concordia (Wis.) is sitting fourth in the standings. It will be hard for the Falcons to surpass Lake Forest or St. Scholastica and move up in the conference. However, the results in the NCHA have been so volatile this year, anything could be possible. The loss by St. Scholastica Friday night hurts the Saints' campaign to be in the top two of their conference. St. Scholastica has their work cut out for them for the remainder of the season, because they cant lose and they have to face Lake Forest in their last regular season series.