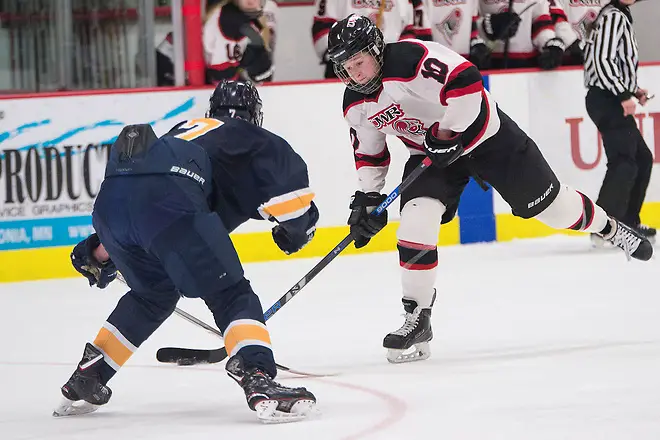 Wisconsin-River Falls's program is arguably one of the best in the West, with a history of participating numerous times in the NCAA tournament, producing many All-Americans and one Laura Hurd Award winner. As an underclassman, sophomore Callie Hoff leads the Falcons' offense with 20 goals and seven assists. During her freshman year, Hoff scored 20 goals and 17 assists. Hoff is quick to give credit for her breakout freshman year to former Falcons player Carly Moran.
"I owe a lot of my last year's success to my former linemate, Carly Moran, who took me under her wing right away and pushed me to succeed and become better every time I touched the ice. She showed me what it takes to be one the of the best in the nation and also what I need to do to hopefully get there."
Although Moran has now graduated, Hoff admits having a year behind her has helped with her building confidence and growing as a player.
"The biggest difference for me this year is having more confidence when I have the puck to make plays and to make decisions to shoot or not. Having a year behind me and knowing what it takes has pushed me to become even better as well."
A good majority of teams that compete against Wisconsin-River Falls acknowledge the speed that the Falcons bring to the game. Therefore, when asked how coach Joe Cranston keeps his program successful year after year, Hoff's response was simple: the team outworks every opponent.
"I think what makes us unique is our work ethic and drive to want to be successful. From the moment that we chose River Falls, our coaches stressed hard work both on and off the ice. Every person on our team wants us to do well collectively, and I think that makes a huge difference."
Hoff also said. "In my season and a half, I have noticed that coach Cranston is a 'work hard' kind of guy. We do work on skills and special teams, but we focus a lot on conditioning and getting our legs moving during our practices. This gets us ready for games so that we can beat teams in the second or third period when they are tired and we still have good energy. We have played many teams where this has been the case, where our opponents are struggling and we are going strong with four deep lines and seven defense that are all energized and ready to go."
Wisconsin-River Falls competes in the WIAC and that conference's postseason tournament does not have an automatic bid to the NCAA tournament. The Falcons must rely on a pool B bid or a pool C bid. Pool B is reserved for teams that compete in conferences that do not have an automatic bid. A pool C bid is for any team that did not win their conference tournament or receive a pool B bid.
With that being said, the Falcons' entire season is the deciding factor if they compete in the NCAA tournament or not. This is not the same for some teams who could have an average season but have an amazing conference tournament run and get into the NCAA tournament with an automatic bid. Hoff said the team acknowledges that this is their situation, so every member on the team understands the importance of each game.
"At the beginning of the year the bid situation is addressed to the newcomers, so they are aware that we don't get an automatic bid. But everyone knows how important every game is, and every win we can get will only help us in the end to reach our goal. We take every season game by game and focus specifically on who is our opponent and those things that will give us the best shot to win. Last year, we let too many games get away from us. As a result, we look back at last season as an example and have done things differently this year."
Hoff said the seniors' experience and their desire to get back to the NCAA tournament helps the entire team to do their best to win the whole thing.
"Our goal is like many other teams I would assume, and that is to win a national championship. Our seniors were on the team when they took second in the nation, so they know what it is like to play in a national championship and be that close. To be able to get them back there and to win it with them would be incredible. They have shared some stories about what it is like to participate in the tournament, and it sounds like an unbelievable experience."
Wisconsin-River Falls' lost to their rival Wisconsin-Eau Claire last year in the WIAC conference tournament, and as a result the Blugolds received a bid to the national tournament over the Falcons. Hoff said playing against Wisconsin-Eau Claire is thrilling and extremely competitive.
"The rivalry between River Falls and Eau Claire is very intense, but fun. We know that no matter what, every game we play against each other is going to be close, and you are going to have to fight for it. It comes down to who wants it more. It's going to be a hard-fought, 60-minute hockey game, and if you don't start and finish with intensity then it might not go your way."
Wisconsin-River Falls continues their campaign for a national bid by playing St. Thomas Feb. 6. Hoff said her team is looking forward to delivering the Tommies their first loss of the season.
"I think we should approach it like we know it's a big game. We need to go in and start strong and have intensity and then keep that going for 60 minutes. We had a few breakdowns the first time we played them, so we worked on cleaning those things up and improving. Beating St. Thomas would be huge because it would snap their undefeated streak."