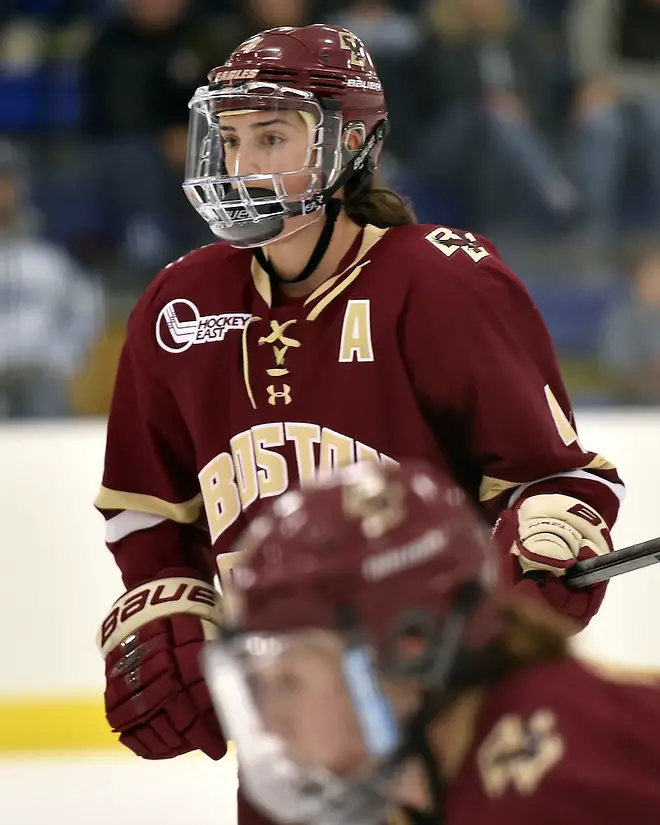 There aren't many records for defenders that Megan Keller hasn't broken. Over her entire career at Boston College, she has set new benchmarks, overall and for blueliners. She was the fastest defender in program history to reach 50 points (60 games), 75 points (77 games), and 100 points (102 games). She's the program's career leader in defender scoring (147 points), goals (40) and assists (107). She's also in the Eagles' top 10 for career points and points per game, as well as in the top five for career assists.
`
In Hockey East, she already held the Hockey East defensemen record for career assists after three years of league play. This past weekend, she rewrote more of that record book when she tied the single-season goals record for a defender and broke the record for single-season Hockey East points recorded by a defenseman. She also has the most career points by a blueliner.
That all adds up to an impressive career, but she's also having a stellar senior season. Keller now has 32 points on the season, which is tied for 10th in the country. She leads all defenders nationally in points (32), goals (14), assists (18), and points per game (1.28), and is tied for first in power-play goals (5) and game-winning goals (4). Overall, Keller is tied for first in power-play goals and is in the top 15 in the country in points, goals, assists, points per game, and power-play points.
In an interview before the season, Keller said her year of experience with the U.S. National Team and winning an Olympic gold medal was a year for her to grow as a person. On the ice, she played at a speed and scale that she hadn't experienced before — at least not for that a prolonged period of time.
"I mean, those girls come ready to play every day. There's really no off day for them. That's the thing that pushed me to be a better player," she said.
One of the younger players on the U.S. roster, Keller said she soaked in what she could from her more experienced teammates, learning every day from their knowledge and experience. When she came back to Boston College, she was a senior captain. It was a role reversal, but she said she was able use what she saw in the leaders of Team USA in developing her own leadership style for the Eagles.
"That year of just hockey was great, but I'm so excited to finally be back at BC and be a part of a bigger community," Keller said before the season. "There's really nothing like college sports and college hockey and being part of a school and everything that goes with it."
Though there are distinct statistical measures to show the growth in Keller's game, there's also a poise and a way that she carries herself this season that wasn't as evident in years past. The inevitable confidence that comes from a gold-medal winning year with the national team shows in how she reads the ice, calling out instructions and help to teammates.
Perhaps the most tangible measure of the maturity she gained during the Olympic year is how much less time she's spending in the penalty box this season. After taking 21 penalties for 45 minutes her sophomore season and 28 penalties for 56 minutes her junior year, Keller has just nine penalties for 18 minutes thus far this season.
The impressive statistics have been there throughout much of Keller's career, but her latent talent has combined with all the intangible skills she learned in the past year to make her one of the most impressive and dominant defenders in recent memory.
There has only been one defender to ever win the Patty Kazmaier Award. Angela Ruggiero won in 2004 with an impressive 55 points and 1.72 points per game. The change in the game over the last 15 years makes it difficult to directly correlate Keller's stats to Ruggiero's. What I think is important to note is that there did not seem to be a far-and-away obvious choice for an offensive player in 2004. As we're seeing in 2019, there was a solid group of women with similar statistics, and no one player separated herself from the pack.
I wasn't necessarily sold on Keller as a Patty Kaz candidate earlier in the season, and I didn't set out writing this column with this goal, but consider this my endorsement.
For me, the award should go to a player who has a season that stands out above the rest. We'll be talking about the Patty Kaz-winning seasons of Amanda Kessel, Kendall Coyne, Ann-Reneè Desbiens, and Daryl Watts for years into the future. They were that memorable and amazing. I'm not sure we'll be talking about the season Loren Gabel or Elizabeth Giguère is having next year, much less in five or 10 years. You may be able to make that argument for Jesse Compher, but I'm not entirely sold.
I do think that what Keller has accomplished this season is the measure to which all other blueliners will compared for years to come. It's been quite a while since a single defender has had such an impact.