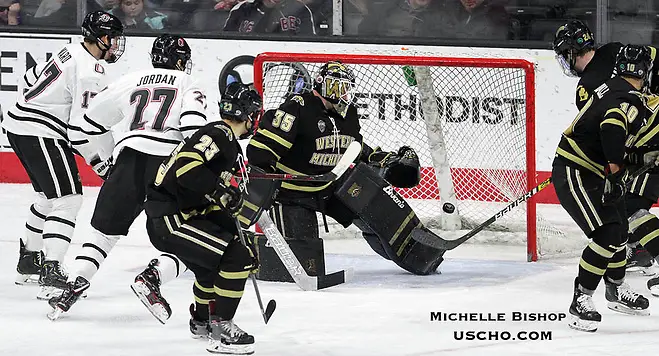 Each week, USCHO.com picks the top 10 moments from the past weekend in our Monday 10 feature.
Yours truly was sorely tempted to make the Super Bowl No. 1 on this list if New England won. Yours truly would have been totally insufferable. (Even more than usual.)
This piece was submitted before the Big Game to avoid that temptation. But if the Patriots do prevail (which they did), please use your imagination and fill in unbounded jubilation right HERE.
Onward to college hockey's weekend top 10.
1. It was (mostly) a great week for top teams
Of the nation's top six teams, only third-ranked Minnesota-Duluth failed to sweep or win their only contest this weekend.
No. 1 St. Cloud swept Miami; No. 2 Massachusetts defeated Boston University; No. 4 Ohio State swept No. 11 Notre Dame; No. 5 Quinnipiac defeated No. 10 Clarkson and St. Lawrence; and No. 6 Minnesota State swept Alabama Huntsville.
Duluth salvaged a road split with unranked Colorado College, bouncing back from a Friday night 4-1 loss with a 6-0 win.
2. Vermont takes three of four points from No. 9 Providence
Vermont, which had recently been mired in the Hockey East basement, dealt an almost certainly fatal blow to Providence's chances of winning the Hockey East regular season title. The Catamounts recorded their third straight league win on Friday night, 3-1, and followed that up with a 1-1 Saturday tie. Both contests were played in Providence's barn.
The results also delivered a broadside to the Friars' NCAA tournament chances, though a rebound there remains very much possible. Providence dropped from a tie for 10th in the PairWise to a tie for 17th.
That is one brutal fall.
3. Ohio State takes a dominating position atop the Big Ten, Notre Dame drops out of contention
Ohio State's sweep of Notre Dame (noted above) gives the Buckeye's a commanding eight-point lead atop the Big 10 standings.
Notre Dame's title hopes are now dashed, and it has also dropped out of an NCAA tournament berth (for now). The Irish sit at 16th in the PairWise.
4. Western Michigan might have been lucky to split with Omaha
No. 8 Western Michigan's disappointing weekend, a split with next-to-last-place Omaha, could have been worse. The Broncos dropped the Saturday night contest after a nail-biter on Friday night in which they scored the winning power-play goal with 14 seconds remaining in regulation.
The gotcha? Josh Passolt assisted on the game-winner even though he arguably should have previously been thrown out of the contest. Passolt was assessed a two-minute minor for contact to the head and nothing further.
After the win, however, the NCHC issued a one-game suspension for Passolt for the hit based on viewing additional camera angles of the play (even though the referees watched replays on the hit after it happened). Since the referees are supposed to have all camera angles available to them, it begs the question of why they didn't see what the league later saw and then give Passolt a game misconduct?
Michael Weisman, NCHC director of communications, replied to an inquiry with this response:
"It's based on what the video replay technician is providing during the review process. If other angles are not being sent through the system during the review there is obviously no way for the officials to view those other angles."
So apparently the video replay technician didn't provide all the angles during the review or Baxter Arena wasn't giving that person all the angles it had in venue.
It does seem that the Broncos are lucky they had Passolt at their disposal for the game-winner in those closing seconds, especially since the snafu benefited them, the visiting team.
5. Kuffner breaks Princeton record for career goals
Ryan Kuffner scored first-period goals in both Princeton games this weekend with Saturday's against Clarkson giving him the school career record with 68. He broke a 56-year-old record held by John Cook.
The achievement proved bittersweet, however, as the Tigers lost both games.
Kuffner ranks second in the country in goals per game. Max Véronneau, who assisted on the record-setting goal, has assisted on 63 percent of Kuffner's career goals.
6. Arizona State sweeps RIT, moves from 12 to eight in the PairWise
Arizona State (19-10-1) took another step to becoming the first Independent since 1993 to earn an NCAA tournament berth. After a 6-1 win on Friday, the Sun Devils needed strong goaltending by Joey Daccord to finish off the sweep.
Daccord stopped two second-period breakaways, and 14-of-15 shots in the third period. The only exception came off Jake Hamacher's conversion of a penalty shot to tie the game. Gvido Jansons scored the game-winner and an empty-netter sealed the important win.
Now only two-game sets with American International College and Minnesota stand between the Sun Devils and the NCAA tournament.
"We've got a good team," Arizona State coach Greg Powers said after the sweep. "We've got a lot of big wins. We just beat Boston University, we swept Boston College, we swept Michigan State. We've got some big wins. We're a highly ranked team.
"We're adjusting to now having a little bit of a target on our back. Our guys are handling it great."
Top scorer Johnny Walker tallied two assists on Friday and a goal on Saturday, but Powers also likes the rest of his firepower–10 players with double-digit points and a host of others close behind.
"Johnny is a goalscorer," Powers said. "After Johnny, we're really balanced. You won't find many teams that have the balance of scoring that we have."
With only the two series over the next four weeks, scoreboard-watching will prove tempting.
"We're going to worry about ourselves," Powers said. "We just have to hold serve and keep winning games."
7. Bentley-Air Force fireworks in Bentley sweep
This key battle for position near the top of Atlantic Hockey saw a Friday night second-period explosion with three goals in 52 seconds.
Over the second and third periods, Air Force took a one-goal lead three times only to see Bentley draw even each time. After never leading the contest in regulation, Bentley got the game-winner in overtime off the stick of Brendan Hamblet.
One night later, the Falcons dispensed with the dramatics, finishing off the sweep, 4-0.
8. UMass Lowell continues to shoot up in PairWise, Hockey East standings; Northeastern drops
With its 3-1 win over Northeastern, UMass Lowell moved into 14th position in the PairWise, just one spot below the Huskies, and into third place in the Hockey East standings, four points behind first-place UMass.
The win continues a red-hot streak in which the River Hawks have gone 7-0-1 in their last eight, vaulting them up in the standings and from 38th in the PairWise to a (far from safe) berth in the NCAA tournament.
On the flip side of that coin, Northeastern has now lost three in a row and four of five. The Huskies are now just barely holding on to the final Hockey East home ice slot, a mere point ahead of Boston University and Providence, who also had disappointing weekends.
9. Beanpot teams split games going into the Battle for Boston
If momentum means anything for this most unique of tournaments, played on the first two Mondays in February, then Boston College and Harvard have it, and Northeastern and Boston University don't.
On Friday night, BC defeated Connecticut 5-3, while Harvard beat Dartmouth 4-1. The Crimson have now moved up to 12th in the PairWise. However, as noted above, Northeastern lost to Lowell 3-1. Boston University also lost to UMass 7-5.
Fortunately, the Friday night "losers" will face each other in the Beanpot late game, giving them equal footing in the momentum department, while Friday's winners face off at 5 p.m.
As noted elsewhere here at USCHO, Harvard and Northeastern have never met in a championship game even though they only face each other in the first round once every three years.
10. Minnesota State all but clinches the WCHA
It isn't yet a statistical certainty, but Minnesota State's latest sweep has effectively ended the WCHA race (if it wasn't already over). Yes, the Mavericks could lose all six of their remaining games while Northern Michigan wins all of its eight.
But it's over.
Minnesota State has won four straight and eight of nine to make a WCHA title a certainty in everything but a statistical sense.
Thanks to Todd D. Milewski, Russell Jaslow, Dan Rubin and Nate Owen.