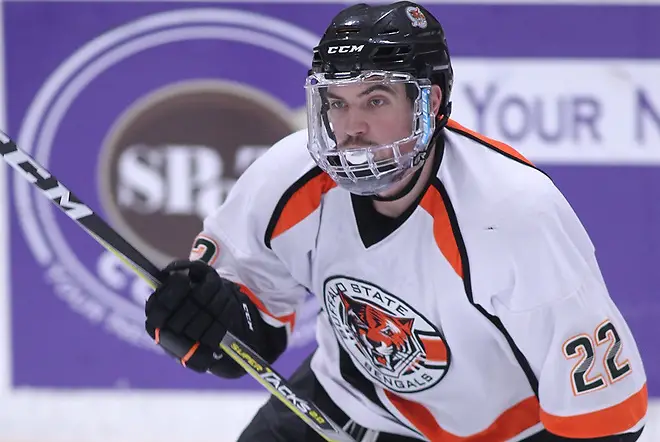 There aren't many weeks left in the regular season, and for every big winner this weekend like Wesleyan, Trinity, Massachusetts-Boston, Norwich, Salve Regina, University of New England, and Plymouth State, there are losers on the scoreboard and in the standings. This week, the downside victims included ranked teams like Oswego, Williams, and Endicott, among several others in highly contested league battles. Here is this weekend's recap of some of the great action in the East.
CCC
With five teams within three points of each other entering the weekend and key competitors playing each other, the stage was set for some movement at the top of the standings. Curry, Salve Regina, and the University of New England all took weekend sweeps at the expense of Wentworth, Nichols, and Endicott, respectively.
Salve Regina jumped to the top spot as they took two games from Nichols. After a 4-2 win on Friday, led by Kyle Moore's goal and assist and three assists from Matthew Dillon, the Seahawks doubled down with a big road win on Saturday. Paul Boutoussov scored a pair of goals, including a short-handed tally into an empty net, to seal a 5-2 win. Goaltender Blake Wojtala stopped 32 of 34 shots in the win.
Endicott hoped to keep pace with Salve Regina, but ran into a hot UNE squad that swept the Gulls to jump into second place. Brett Mecrones scored twice around a power-play goal from Austin Morgan to give the Nor'easters an early 3-0 lead on Friday that led to a 6-2 win on home ice. On Saturday, UNE scored seven times in a 7-0 rout of Endicott. Morgan and Brendan Donohue each scored a pair of goals, and the visitors outshot the Gulls by a 43-19 margin.
Curry kept pace behind the leaders with a weekend sweep and four-point weekend. On Friday, Kasper Kjellkvist scored to break a 1-1 tie with Wentworth in the third period, and Zachery White tallied his fifth empty-net goal of the season to seal a 3-1 win. On Saturday, White was the offensive star in a 9-5 home win as he recorded a hat trick and picked up an assist for a four-point game.
Independents
After a three-game losing streak, Post broke out the offense in a 5-1 home win over Franklin Pierce on Tuesday night. Jake Raleigh led the way with a goal and two assists, and four other players scored in the Eagles' second win of the season over the Ravens. In their weekend series at Southern New Hampshire, Post managed a split with a solid 3-2 win on Saturday. After dropping a 6-0 decision on Friday, Post and SNHU exchanged a pair of power-play goals each over the first two periods before Matt Moreschi's even-strength goal in the third provided the winning margin for the visitors. Joseph McLeod made 33 saves in picking up his third win of the season.
The Anna Maria Amcats finished their inaugural season with a 7-0 loss to Manhattanville on Tuesday night. Despite finishing the season on a seven-game losing streak, the Amcats finished their season with a 4-16-4 record on a schedule that saw them play only seven official home games and included two weekends of three games in three days. It is tough to be a first-year program, particularly as an independent, but kudos to coach Dave MacCauley and his staff, who certainly didn't shy away from scheduling the best teams from the NEHC, MASCAC, NESCAC, SUNYAC, and UCHC. Look for bigger and better things next season from Anna Maria.
MASCAC
Plymouth State moved back to the top of the standings with a pair of key overtime wins over close rivals. On Thursday, Plymouth State downed Worcester State, 4-3, in extra time. The Panthers rallied from one-goal deficits three times before J.R. Barone won the game in overtime for PSU's only lead of the night. On Saturday, it was the Panthers who gave up a 3-0 lead to Fitchburg State before Drake Longaker won it for the visitors, 4-3. Goaltender Evan Morelli picked up his 10th win of the season for the Panthers.
Massachusetts-Dartmouth also picked up four big points with wins over Fitchburg State and Salem State to move into second place. On Wednesday, Mason Nichols scored the only goal, 31 seconds into the third period, in a 1-0 win for the Corsairs over the Falcons. On Saturday, the offense made sure of the win over Salem State as Steven Leonard and Jonathan Ruiz each scored a pair of goals in an 8-1 romp.
NE-10
Assumption moved to the top of the standings on the strength of a 4-4 tie with Southern New Hampshire on Tuesday and a pair of weekend wins over Stonehill. On Friday, Devan Sheth scored a goal and added three assists in a 6-2 win over the Skyhawks. Saturday saw the Greyhounds needing a full 60-minute effort in a 5-4 win. John Piggott scored a pair of goals, and Brendan Philippon added a goal and three assists for the home team.
NEHC
Massachusetts-Boston took three of four points over the weekend to increase its hold on first place in the NEHC. On Friday, the Beacons got early goals from Bryan Carter and Zack Bross for a 2-0 lead that was extended in the third period by Jeffrey Skinner and Nick Albano in a comfortable 4-1 win over Skidmore. Saturday saw a great physical battle between UMB and Hobart in which the Beacons couldn't hold on to a pair of one-goal leads. Tanner Shaw's goal for the Statesmen with just seven seconds remaining in regulation tied the game at 3-3, and overtime could not provide a winner.
While Babson dropped a 5-0 decision to Hobart and tied Skidmore 1-1 on Saturday, the Norwich Cadets extended their unbeaten streak to 12 games with wins over Suffolk and Johnson & Wales. On Friday, Felix Brassard led the way with a goal and three assists in an 8-1 win over the Rams. Saturday afternoon saw the Cadets down the Wildcats, 5-1, behind Brett Ouderkirk's pair of goals. Ouderkirk picked up four goals on the weekend as Norwich moved into a second-place tie with Babson in the league standings.
NESCAC
Wesleyan and Trinity both helped themselves with big wins over Williams this weekend as part of four-point weekends. On Friday, Adam Anderson's third-period goal broke a 2-2 tie to give the Bantams the key road win over the Ephs. On Saturday, Wesleyan kept its unbeaten conference record alive in a 2-1 overtime win over Williams. Nick Altmann's goal for Williams stood until the final 64 seconds of regulation, when Walker Harris scored an extra-attacker goal for the Cardinals to tie the game at 1-1. Andy Espinoza ruined the weekend for the home team as he scored with just 10 seconds remaining in overtime to give Wesleyan the 2-1 win.
Jason Brochu single handedly launched a comeback on Saturday for Hamilton in its game with Bowdoin. Trailing 3-0 in the second period, Brochu scored twice to bring the Continentals within a goal. He completed his natural hat trick in the third period with a short-hand goal to tie the game at 3-3 before assisting on Nick Ursitti's game-winning, power-play goal in the 4-3 road win.
SUNYAC
With league-leading Geneseo idle in conference play, Oswego had the opportunity to pull within one point of the top spot if the Lakers could defeat Fredonia and Buffalo State at home. On Friday, the Lakers jumped out to a 2-0 lead on goals from Max Novick and Josh Nenadal. After Fredonia halved the deficit, Novick and Nenadal each scored again for the 4-1 win. On Saturday, Buffalo State was ready from the opening puck drop and quickly forged a 3-0 first-period lead on goals from Ben Butcher, Connor Zak, and Braeden Doust. The teams exchanged two goals apiece in the second period, sending the Bengals to the final period with a 5-2 lead. The Lakers came out strong in the third period and tied the game at five off two goals from Joseph Molinaro and the tying goal from Mitch Emerson with just over six minutes remaining in regulation. Zach Remers was the hero for Buffalo State, as his goal at 14:49 gave the Bengals a 6-5 win and an important two points in the standings.
Geneseo played independent Canton on Saturday and won handily, 5-0. Devin McDonald picked up the win and his 11th shutout of the season, establishing a new single-season NCAA record for D-III goaltenders.
UCHC
There is a literal logjam at the top of the UCHC standings with Utica, Wilkes, and Elmira all sitting with 32 points. Wilkes downed King's on Thursday night, 4-0, outshooting King's, 47-11. Brendan Logan, Tyson Araujo, Tyler Barrow, and Phil Erickson were the goal scorers in the win. On Saturday, the Colonels beat Bryn Athyn, 5-1, in a nonconference game, but were clearly scoreboard watching to see if they would get any help against Utica and Elmira.
On Friday night, Elmira and Utica skated to a 1-1 overtime tie. Saturday, the Pioneers jumped out to a quick 4-0 lead against Lebanon Valley and cruised to a 6-2 win. Shawn Lynch scored his first of two first-period goals on a penalty shot, and Conor Landrigan and Brandon Young chipped in to give Utica an insurmountable lead.
In a penalty-filled game against Nazareth on Saturday, Elmira's Nick Ford scored twice in the first period, and Connor Powell scored his 17th and 18th goals of the season in the third period to break open a close game and give the visitors a 4-1 win and share of first place.
Manhattanville downed Chatham, 6-4, on Friday night and found a way to overcome Nick Gray and Stevenson on Saturday night. Gray scored a natural hat trick for the Mustangs, who overcame an early 2-0 deficit to lead 3-2 late in the third period. Casper Dyrssen scored for Manhattanville with the goalie pulled for an extra attacker at 19:44 to tie the game at 3-3 before Joel Knight scored in overtime to give the Valiants a big win.
Three Biscuits
Zachery White, Curry: White led Curry to a weekend sweep of Wentworth with a clinching goal on Friday followed up by a four-point game on Saturday, including a hat trick.
Jason Brochu, Hamilton: Brochu's natural hat trick, including a short-handed goal, rallied the Continentals back from a 3-0 deficit at Bowdoin before he set up Nick Ursitti's game-winning goal for a 4-3 conference win.
Steven Leonard, Massachusetts-Dartmouth: Leonard finished his game against Salem State with two goals and two assists as the Corsairs downed Salem State, 8-1, on Saturday.
Everything is on the line, and playoff races are tight in every conference. It looks like the playoffs have already begun for some teams, and that means we should see some great action over the remaining games of the regular season.