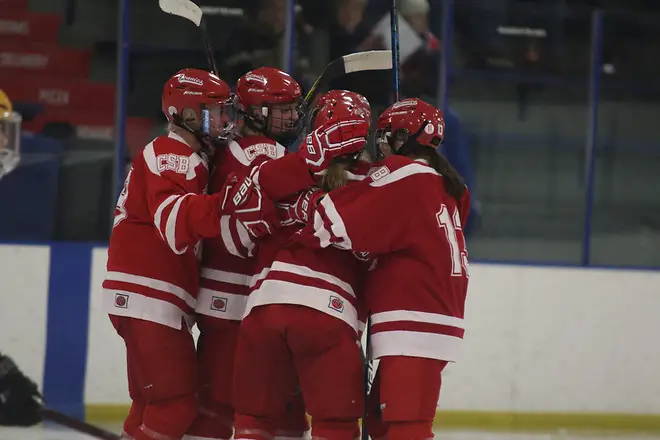 No. 6 Middlebury versus Wesleyan: Middlebury 3-2, Wesleyan 1-0
For the second time this season, Middlebury was upset by an opponent inside their conference. Although the Panthers took a loss on Saturday, they are still tied for first in the NESCAC standings with Williams. Middlebury should be expected to fall in the rankings to number seven or eight. However, they will have their chance to climb back up the rankings when they play Norwich Tuesday night.
No. 9 Williams versus Trinity: Tied 0-0, Tied 3-3
The women of Williams are probably kicking themselves after they tied Trinity twice over the weekend. The Ephs could have snagged the lead from Middlebury in the NESCAC standings if they could have won at least one of the two games. Nevertheless, to succeed at this level teams need to have a short memory, and I'm sure this is what the women on Williams roster will do. As a result of the weekend, Williams could possibly be taken out of the rankings or move to number 10.
Augsburg versus St. Benedict: Augsburg 3-1, Tied 1-1
I believe I have said this before, but I will say it again: the MIAC is extremely competitive, and every point a team can earn is important. Augsburg remains third in the MIAC standings, but the gap between the Auggies and the fourth-place team, Gustavus Adolphus, become closer with the tie that Augsburg endured. It's also important to note that Gustavus Adolphus has played one game less than Augsburg.
William Smith versus Utica: Tied 3-3, William Smith 2-1
More than likely, this series determined who will end up second in the UCHC, and William Smith came out with the victory. Utica plays Elmira next weekend, which could dethrone the conference leader, but that is highly unlikely. Because of Friday's tie, Elmira has a pretty good grip on the UCHC regular season title.