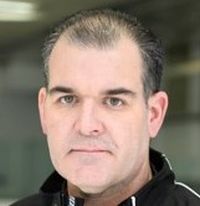 Merrimack announced Wednesday the passing of men's director of hockey operations Lance Brady.
Brady died on Feb. 5 at the age of 48 after battling cancer.
"Today we lost a great teammate in Lance 'Duke' Brady," Merrimack coach Scott Borek said in a statement. "Lance was an incredible 'hockey guy' and he truly loved the game and cherished the people that he met through the game. He always saw what we had and never focused on what we did not. He was a gentleman and friend that will be missed on our campus and well beyond. His impact on our staff and locker room will be felt for years to come.
"Today, our locker room and our entire campus community is thinking of and praying for Lance's family."
Brady joined the coaching staff last September and was invaluable, overseeing a number of day-to-day responsibilities that assured a smooth operation. He assisted with practice planning, film breakdown, analytics and travel logistics.
Brady arrived in North Andover after serving as the head coach at Assumption for a decade. He led the Greyhounds to their first-ever Northeast-10 conference championship in 2017-18, and his teams won at least 11 games in five of his 10 seasons, highlighted by a 15-win campaign in 2017-18 that was the team's highest winning percentage in 25 years. Brady was honored as the NE10 Coach of the Year on three occasions and coached three players who went on to play professionally.
Born in Lynn, Mass., on Nov. 30, 1970, Brady graduated from high school at the Canterbury School in New Milford, Conn., before earning a scholarship to play hockey at Holy Cross, where he was a four-year letter-winner. He graduated with a bachelor's degree in Economics and was a standout for the Crusaders, where he was named an ECAC East Second Team All-Star and a New England Hockey Writers All-Star, as well as serving as the team's captain as a senior.
Brady played professional hockey for five years after his graduation from Holy Cross, ending his career as a player-coach with the ECHL's Birmingham Bulls.
After finishing his playing days, he started his coaching career as an assistant at Marlborough (Mass.) High School and during his two years there, he helped the team capture the Roy Conference title. He joined Steve Hoar in the rebuilding of the Division III program at Becker, serving as associate head coach and helping the team improve from a two-win season to a 12-win campaign in just one year. That success led to his hiring at Assumption.
Visiting hours for Brady will be 2 to 5 p.m. Sunday, Feb. 10, at Callahan Fay Caswell Funeral Home, 61 Myrtle St., Worcester, Mass.