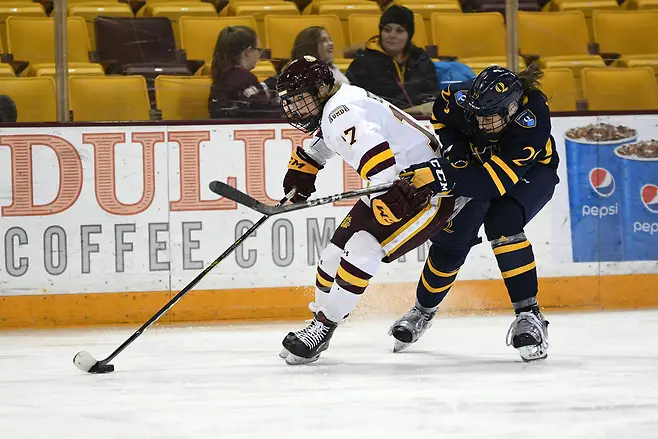 Nicole: Most of the top teams had a stumble or scare this weekend. I'm sure they'd all say they'd rather that happens now, but it's also a little bit late in the season for a gut check moment, as there's not a lot of time for adjustments and improvements. Most everyone should be on autopilot and playing their best hockey right now.
Wisconsin lost to Bemidji State on Friday and found their curse of being unable to find the back of the net again. The Beavers are a difficult team to come from behind on, and the Badgers scored once on 30 shots on goal and 67 attempts.
Minnesota lost in overtime to Minnesota Duluth on Saturday and needed a power-play goal with 3:23 to go to edge past the Bulldogs on Sunday. UMD gave them all they could handle all weekend. Northeastern had to come from behind and then beat Connecticut in overtime. Princeton needed overtime to get past St. Lawrence before Clarkson handed them their first loss in 20 games.
Which results did you find most interesting this weekend?
Arlan: The most interesting result had to be Boston College defeating Holy Cross; hey, that one made Sport Center! I almost felt sorry for Daryl Watts. We've all seen her score more dazzling goals than the one shown, where she split the D and tucked the puck inside the post on a frozen goalie. It was like the rodeo bull rider who draws a dud of a bull, and there's no way he can produce a big score no matter how well he rides. The best goals I saw this weekend were Maggie Connors' snipe at the end of OT for Princeton and Gabbie Hughes' shredding the Minnesota defense and finishing upstairs to give UMD a 2-1 lead on Saturday. It's too bad more people didn't get to see those efforts, because both were big-time, coming against quality opponents with the game on the line.
It isn't exactly the question that you asked, but I think that the most significant result was Clarkson's weekend. The win at Princeton gives the Golden Knights a very realist shot at defending their ECAC crown. If they win out, they will win the league outright, but that wouldn't have been possible without also fighting past Quinnipiac on Friday in a very competitive contest.
It feels very familiar, as it is now February, and Clarkson is one of the hottest teams in the country. Surprise! Senior Loren Gabel had a monster weekend, producing a hat trick to decide Friday's game and adding two more goals and an assist on Michaela Pejzlová's game-winner against the Tigers. That may have pushed her into the lead in the Patty Kazmaier Award race. It certainly cemented her lead in points and goals over the rest of the country.
The Golden Knights have work left to do. Rematches with the Tigers and Bobcats await on the final weekend of the regular season. Next up, Clarkson gets another shot at Cornell and Colgate, teams that shut down its offense in a sweep late in 2018. However, all four of those games will be played in Potsdam, so it isn't out of the question that Clarkson could sweep to the finish.
You mentioned Northeastern needing late heroics to survive UConn. A week earlier, it had a similar outcome versus Vermont. Would you say that the wobbles from the Huskies and the Tigers are due to needing to rely so heavily on rookies, a case of teams that aren't used to wearing a target and trying to close out a championship, or something else?
Nicole: Before I answer your questions, I wanted to double down on your point about Gabbie Hughes' goal. We had friends over on Saturday and had the Minny/UMD game on without sound, sort of a background to our afternoon, and all of us lost our chill at that play. It would have been impressive in most any context, but against the Gophers, it was just really special and impressive. I'm about to talk about the youth of Princeton and Northeastern, so such a play from another rookie in a huge game was just incredible to watch. I'm so glad I got to see it as it happened.
I hadn't thought about the fact that the Tigers and Huskies are two of the younger teams as I wrote this up. It's something we've talked about before, but in this instance it wasn't on my mind. It almost certainly does play into their struggles right now. Every team starts to hit the wall as the calendar turns to February, and it usually takes having been there and knowing what the payoff can be to help a player mentally and physically will themselves past the wall. We compare the season to a marathon, and we're at about mile 21 or so, with the end in sight but still far enough away as to feel impossible.
So far, Northeastern has had the pure talent to overcome their stumbles as they've come against teams below them in the standings, but if I were them I certainly wouldn't want to hang the season on having to do that in a one-and-done situation against a postseason opponent. It's a bit talent and a bit luck, and they should be thankful for that, but not reliant on it. It's a double-edge sword, I think, in that you gain the confidence of having pulled it off, but having done so twice now can leave you with a false sense of security about it.
In a few weeks, I have a feeling Princeton will be looking back at that loss and feeling thankful it happened when it did. It was unlikely they'd win out the year. It can be a bit of a wake-up call and really set them right for the final weeks. They have another crack at both Clarkson and St. Lawrence, so they also control some of the destiny, and preventing Clarkson from winning out is the current number one goal on that list. Every team goes through a spot like this, and getting shaken up a little with time to fine-tune and make corrections is the ideal situation.
On both these teams, the leaders that have emerged are rookies, and that will be difficult in this part of the season. They can lead in talent, but not experience. Both teams will need some of their more experienced members to step up in the locker room and in practices and share some of that responsibility as they fight the mental and physical fatigue of the last few weeks.
Clarkson has what looks to be the toughest route to the end of the regular season, with Cornell, Colgate, Dartmouth, Harvard, Quinnipiac, and Princeton over the final three weeks. Cornell and Princeton each have a pair of games against Clarkson and St. Lawrence, but their other four remaining games are against teams in the bottom half of the conference. You mentioned how Clarkson seems to have put it all together and reached February in peak condition, but who do you think wins the regular season ECAC crown?
Arlan: My answer will likely reveal why I was never much good in the weekly picks contest. I'm going to say Clarkson, but put an asterisk on that. It doesn't seem to make much sense to pick the team with fewer points and the toughest schedule; I'll admit that. I don't see Cornell winning at Clarkson. The Big Red have been outscored 26-5 in Potsdam over the last three years in posting a 1-6 record there. Princeton has done even worse; the Tigers have gone winless in four games over that time at Clarkson with a 14-1 aggregate.
My asterisk is Colgate. The Raiders won't win the league, but they'd likely relish the opportunity to play spoiler against the team that denied them in the championship game of both the ECAC and NCAA tourneys last year. Colgate gets its chance to do that less than 24 hours after the Golden Knights play a crucial game versus Cornell and a week after their big win over Princeton. If Clarkson lets down in the least, then that is the game that I'd most expect it to lose.
Why do I like Clarkson? In some ways, I don't. It is in the top 10 in penalty minutes, but not in penalty kill. It has the great first line that will likely wind up with around 220 points by season's end. T.T. Cianfarano has provided a steady second producer, but she's about it up front. The only other players on the team with double-digit points are defenders. If Pejzlová's line doesn't get on the score sheet in any of the next six games, then the odds are pretty good that Clarkson is going to lose that tilt. However, that unit has been getting the job done, and the Golden Knights have been averaging 4.5 goals per game during their current eight-game winning streak.
There are other games that could shift the balance of power. For example, Princeton hosts Rensselaer for its final home game six days before the trip to the North Country. If the Tigers are looking ahead or get caught up in the emotion of that weekend, then Lovisa Selander and the Engineers could take advantage. Primarily though, I'm focusing on Colgate versus Clarkson on Saturday as the gauge for who takes the ECAC.
Do you expect to see a different winner or winners in the ECAC? And because you asked me to unravel that league, I'm going to ask you for your current thoughts on the winner in the CHA. Will Mercyhurst be buoyed by its overtime win after a third-period rally at RIT and leapfrog the Colonials? Or did Robert Morris profit more from getting a final week of rest and hold on to its one-point lead over the final eight games?
Nicole: Despite this weekend's loss, I'm sticking with Princeton for the ECAC. As much as we talk about Clarkson's high-powered offense, the Tigers have actually scored more goals in conference play. They have the capability of being as strong, and I think the loss will be a big turning point for them. They'd possibly over-achieved thus far, and I think might have been a bit caught up in that ride and their own hype. Being brought a bit back to Earth at this point might be the best-case scenario for them and be the kick in the behind they need.
As for the CHA, we talked about the possible fatigue of the late season for other teams, so I would think that late week off would be a mental and physical advantage for Robert Morris. They also have what looks like the easier path to the finish line, with games against Penn State, Lindenwood, and Syracuse in addition to the game with Mercyhurst. The Lakers don't have Lindenwood and do face a tougher RIT team, which may be the thing that holds them back.
I would think the team that wins the head-to-head weekend will ultimately take the title. The problem with that theory is that neither team has been consistent in taking care of business. I don't think we can assume either one will win out their other games, leaving it all a bit up in the air and difficult to figure out.
That's a lot of not answer, so I guess I'll take Robert Morris, but reserve the right to adjust that outlook as we get more results in the next few weeks.
Do you have any better thoughts on how to divine which team will win the CHA?
Let's talk WCHA. Wisconsin opened the door a bit for Minnesota with their loss on Friday, but the Gophers responded with a defeat of their own. The Gophers have a four-point lead in the standings, but will not be in action this weekend. However, Minnesota has an easier path to the end of the season, with series against Minnesota State and at Bemidji State. Wisconsin has Minnesota State this weekend, but finishes with a trip to Duluth before hosting Ohio State.
What are your thoughts on how this one plays out?
Arlan: For me, attempting to predict what is going to happen in the CHA is like trying to walk across lake ice in late spring. It may seem like a solid foundation, but there are some very dark spots, and one may soon be floundering in deep water. At first glance, it's an advantage for RMU to have games remaining against the last-place team, but neither the Colonials nor the Lakers were able to sweep the season series versus Lindenwood. There just aren't series on the CHA schedule that automatically get filed in the sweep category. So I agree with you: Robert Morris. Or maybe Mercyhurst. Okay, I have no idea.
In the WCHA, I think that Minnesota has been presented with its opportunity to win the league and blew it; the Gophers shouldn't hold their collective breath waiting for another chance at the title. I don't see Wisconsin losing at home to Ohio State even if the Buckeyes were to break out their black-on-black uniforms. OSU has never won in LaBahn Arena; its last win in Madison came in February 2012. I'm not expecting that will change on Senior Weekend.
The Badgers will also sweep Minnesota State this weekend to move two points ahead of idle Minnesota. I'm less confident that they'll be able to sweep in Duluth — the Bulldogs have looked very good whenever I've watched them. However, even one win and a shootout win will be enough to freeze out the Gophers. If that happened and both teams won out, it would be a strange twist for UM to lose the trophy to Wisconsin for the second time in four years on the basis of a shootout loss to a third team coupled with the Badgers winning a shootout from the same opponent.
Anyway, shootouts are Minnesota's Achilles' heel in the WCHA standings. For a team with offensive talent, the Gophers are totally inept in them. They even lose them at the end of exhibitions to teams that they beat by eight goals. There is always a decent possibility of a shootout when playing the defensive-minded Beavers, and you can bet that some fairly anonymous BSU player with three career points has a better chance of putting a puck in the net than does the most prolific Gopher.
Speaking of prolific, the aforementioned Hughes has now scored a goal in each of the five games UMD has played against Minnesota, she scored in both contests at Clarkson, and while the Badgers shut her down in one game, she had a goal and a helper in the other. For me at least, she has definitely cemented herself as a candidate for our USCHO awards and someone to watch throughout her career.
For the Gophers, even though they fumbled away their chance at winning the league, I saw growth from them over the course of the weekend. They are now 23-0 in games where they score three or more goals, compared to just 2-4-1 when they don't. That makes it all the more important to have as many people producing offense as possible. Sarah Potomak scored in both games after being stuck on four goals since mid November. Kelly Pannek didn't score, but her compete level was much better than it has been in a while. Just as important is the type of goals that Minnesota was scoring – brutally ugly ones that only a coach would love and Sports Center wouldn't touch. Maddie Rooney was on her game, so they had to resort to scoring from shallow angles along the goal line, and even behind the goal line. The power play that at one point was near the bottom of the rankings leads the country after capitalizing on both opportunities to win Sunday's game.
As you've said, the Badgers have had struggles of their own when it comes to burying pucks in recent years. Are there positives to take from their rebound victory in Bemidji on that front?
Nicole: I would think so. Sam Cogan scored twice on Saturday and after the game made a comment about how the team had sort of been on autopilot and needed to be reminded that just because they're Wisconsin or the number one team doesn't mean they don't have to take teams seriously. That seems obvious, but it was probably a good smack upside the head for Wisconsin, as well. They've not faced much adversity this season — just the losses to Minnesota and Ohio State — so getting hit with that harsh reality can only do good things for them, I'd think. Bemidji is a team that's really difficult to come from behind on, and frankly the Badgers never looked like they had the drive or capability to do so once the Beavers tied the game up on Friday. They were flat and lackluster. I'd bet Mark Johnson would have preferred that his team came out and scored in the first period in game two, but not getting in their own heads and scoring later in the game is its own kind of lesson.
The Badgers have been consistently very good over the past few seasons — maybe the most solid-looking heading into the postseason for about five years running — but they haven't been able to win a title. Two years ago they made it to the title game, but each of the other four times they've been knocked out in the semifinals. There's no textbook or glaring reason why those very talented teams weren't able to cross the last hurdle or two. and you can bet this year's squad is definitely hoping to buck the trend. It's hard to find fault with a team that's averaging four losses a year, but obviously they have to find something to help propel them. A late-season, mental lapse loss is as good a spark as any to re-energize a very good team whose biggest road block right now might be their own mental hangups about not being able to bring home a title.
Not to detract from the very good teams that have beaten them in the postseason in the past few seasons, but it definitely feels like the Badgers haven't been able to get out of their own way. I don't know what it'll take or if this year's Badgers have it, but getting clutch scoring from not-the-usual sources and responding to a poor showing in an emphatic way is probably a good start.
The only conference standings we haven't talked about so far are in Hockey East. It still seems like Northeastern's title to lose, as they've got a six-point lead and a game in hand over Boston College. To be honest, I'm less interested in how the regular season will play out and more interested in what chaos their tournament will bring this season. It was a bit crazy last season, and I think the odds of upsets are probably even higher this year.
Do you have any early picks for a likely Hockey East tournament upset?
Arlan: Not much of an upset, but I'm expecting BC to win the HEA tournament. Call it payback for last year, when the Eagles won the season title, but Northeastern took the tourney. The regular season title will definitely go to the Huskies, because they only need three more points out of their remaining five games, which are all versus the Friars and Warriors. The Eagles had their own issues earlier with getting in their own way, but they look to be out of the dangerous downward spiral that propelled them into 2019.
Much of the bracket is still in flux, but I expect Northeastern and BC, obviously, to advance to the semifinals as the top two seeds. The most likely teams to enter as the third through six seeds are Boston University, Providence, Merrimack, and New Hampshire in some sequence. I doubt that the exact order will have much ultimate impact on the final, which will be the Eagles over Northeastern, but it does play into who advances through the quarters.
Congratulations to Merrimack on being in this position, where we're discussing the Warriors as a possible home-ice team for the quarters. The 14 overall wins and 10 in conference are both program highs, and Erin Hamlen and her players, especially the inaugural senior class, should be commended for making the team competitive so quickly. Can they finish in the top four? The Warriors have two remaining home games versus UConn, a team that they beat on the road in October. A trip to UNH remains, and they've already suffered a pair of one-goal defeats at the hands of the Wildcats. The biggest problem is that all three games with Northeastern remain. A rough estimate would say that Merrimack can add about four to six more points, which likely won't be enough to pass a Providence team with a two-point lead and the tiebreaker that has games remaining that include Maine twice and Holy Cross. Still, it is nice to be in this conversation, rather than the in-or-out discussion. Ties with BU and Providence in the two most recent games suggest that Merrimack is a team that nobody will want to face in a quarterfinal.
Speaking of tournaments, Northeastern and BU got the Beanpot started with a game in which the Terriers never led, but advanced nonetheless. Three times Northeastern took one-goal leads, and BU answered each time. A scoreless overtime produced a 3-3 tie and our favorite way to decide a hockey game: a shootout. Again, the Huskies took the lead when Alina Mueller showed off some nice hands in the second round. Chloé Aurard had a chance to put it out of reach in the third round, but she was denied, setting up a tying goal on a nice fake by Nara Elia. Reagan Rust scored the deciding goal in the next round when she fired a shot high inside the post. There's no denying that a shootout can make for a dramatic end, but sorry, I still hate them. What are your thoughts on the Terriers getting back to the Beanpot final for a second-straight year?
Nicole: I said in my picks this week that I thought the BU/NU game was a toss-up, and the Huskies inadvertently made me sound quite smart a ways up where I talked about their need to be better in close games and worry about needing to come from behind or pull away in one-and-done situations.
There's so much talent on that squad that's only going to get better as they age, but every so often we're reminded how young they really are. Their inability to shut the door on BU left the Terriers with room to make that comeback again and again and ultimately get the win.
Interestingly, rookie goalies ended up being a big story in today's two games. Harvard's Lindsay Reed had a banner day, absolutely stonewalling Boston College while Maddy McArthur gave up some goals on the other end that she'll be wishing she could take back. Could Aerin Frankel's youth have been the different in that shootout?
The Terriers have just one Beanpot title, and it happened about when these players' parents were born. BU wouldn't move to the NCAA for another 14 years after that, making that title even more impressive.
I love a good underdog story, so I suppose I'd be happy with either win, but I think I'll be pulling for the Terriers to get that long-awaited second Beanpot. I can only imagine the stories the coaches could tell future teams about this squad's tough start and then resurgence and how it was capped off with a Beanpot title. The script nearly writes itself.
Though I thought the first two teams were evenly matched, it's still probably a bit of an upset for Boston University to have taken down higher-ranked Northeastern. The second game, however, featured an even bigger upset. Boston College seemed to have that game under control, and it all sort of fell apart as the game went on. How did you see that game play out?
Arlan: In the second semifinal, BC had far more skill. One such side-by-side comparison came late in the first period. Harvard picked up the puck in the BC zone, and fed a player who had found a soft spot in the slot. The pass hit her for a one-time shot, but she put herself off balance and her attempt sailed harmlessly over the net. The Eagles survived that threat without actually having to do anything, as the Crimson stopped themselves.
The puck quickly gets down to Boston College's attacking zone, Caitrin Lonergan sends the puck to Watts much higher in the slot, Watts hammers a shot, and it deflects a couple of times and beats Reed. Sure, the Eagles were a bit lucky on the goal for Makenna Newkirk, but they did everything correctly, as opposed to the Crimson, who didn't even give themselves a chance to score. The net result is that it is 1-0 Eagles heading into the first intermission, and a Harvard team that only scores a couple of times a game is forced to battle uphill.
That's what I wrote after the first period.
I expected that to be it, especially once the Crimson came out and misfired on their next two chances. A whiff on another one-time attempt, and then a player carries the puck into the slot and puts a flubbed shot several feet wide. BC had a chance to go up two on a power play, but they kept putting passes right on the sticks of Harvard players. Finally, after the successful PK, Harvard made a nice entry pass and Brooke Jovanovich got a shot on net and an equalizer. Five and half minutes later, Dominique Petrie took advantage of an Eagles defenseman getting caught up ice to find open ice in front of the net and finished upstairs for an unlikely 2-1 Harvard lead after two periods, despite being outshot, 38-12, after 40 minutes.
I still thought, well good for Harvard, and BC is making this look awfully hard, but the Eagles are still going to win. I thought that right up until they fell behind by two goals when Lexie Laing put an innocent-looking shot through Maddy McArthur's legs nine seconds into the third period. As it turns out, double bankers were the only thing getting by Reed this night, and BC didn't have any of those left. Reed stopped the other 52 shots sent in her direction.
McArthur tried to atone by getting enough of a nice attempt at a penalty shot to get a save from her left post, but Jovanovich netted her second goal a few minutes later, and Harvard won, 4-1. BC gets to do some more soul searching and had best not overlook UNH on Friday in anticipation of a collision with Northeastern that will occur earlier on Tuesday than we expected.
To its credit, Harvard improved visibly over the course of this game. The weak passes to nobody became less frequent, and pucks were sent in a particular direction with more of a purpose.
So if one is rooting for an underdog, does one hope that BU wins its first Beanpot since what, 1981 or some such year from ancient times? Or do we pull for Harvard, the only unranked team in the event? I think I'll just watch and see what happens.