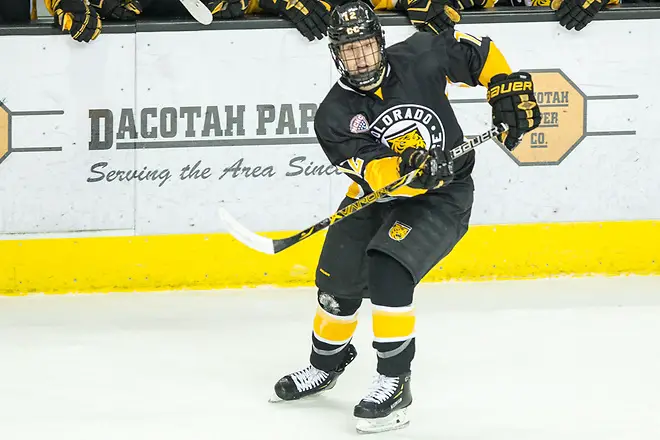 When Colorado College announced on Jan. 10 that leading scorer Nick Halloran was lost for the season to a lower-body injury, it seemed that any chance for the Tigers to advance to their first NCHC Frozen Faceoff was gone.
Certainly the team's results immediately after the announcement didn't help, as CC lost two overtime games to North Dakota, one of which they led in the third period, and then settled for a 4-4 tie with arch-rival Denver in a game that they led 4-2 going into the third period.
Yet CC kept after it, and gained confidence from that stretch of overtime games. Subsequently, they traveled to Ohio and swept Miami, and this past weekend, split with Minnesota Duluth, winning 4-1 Friday before falling 6-0 on Saturday.
The sweep against Miami marked the first time since December 2015 that CC had swept an NCHC weekend series, and only the third time in the history of the league the Tigers managed the feat. Interestingly enough, CC last did so against Miami.
"We're playing the right way, and what I mean by that is we're managing the puck, we're playing a more simple game, we're playing a game of being above the puck a lot," said Tigers coach Mike Haviland. "We're in the right spot and have more attention to the details in our game and more structure, and I think it's getting results."
While CC doesn't have any point a game scorers, some players have stepped up in Halloran's absence, including Trey Bradley and Westin Michaud.
Overall, Haviland is happy with the depth of scoring CC has.
"I think we have more depth if you look at the scoring," said Haviland. "A lot of guys have double digits. We don't have the 40-something point guys this year like we did last year, but we have more depth of guys in the teens, and I think that's kind of what you need in this conference to be successful. You need that depth. You look at teams throughout the conference, that's what they have. I think when you have that scoring or ability to score, it really helps you.
"The big thing is I think our guys have really committed to defending the right way and are managing the puck."
Another player who has been important to CC of late has been transfer Chris Wilkie, who was injured for much of the first half of the season. Wilkie has 13 points in 15 games for CC, the highest points-per-game average of any player on the team. Wilkie had an assist in Friday's win over Minnesota Duluth.
"Chris, he's a kid that obviously brings a different dimension," said Haviland. "I think he's a threat to score every time. He's got a real NHL release, and I think he brings that threat. We missed him when he was injured. He started off great, and we lost him and then he came back, and I think Chris is a guy that can kind of lead this team each and every day in the right way. If Chris is skating and playing a hard game like he has been, he's going to help us win games. We need that from Chris. He needs to be that leader."
The other strength of CC is in net, where Alex Leclerc has played 26 games and sports a 2.69 GAA and .913 save percentage. In the win against Minnesota Duluth last Friday, Leclerc was the team's best player, making 40 saves.
"I think he gives you a chance every night to win, I really do," said Haviland. "I think he's a competitive guy, he's an athletic guy, he competes, he's making the saves that you need to be made to give yourself a chance. He's a guy that's been through a lot, and he's played a lot of games here. He's very driven, and he's a guy that wants to win. You need goaltending, and he's a guy that gives us a chance every single night. You're going to make your mistakes, but he's there to balance it out."
After winning three of its last four games, CC faces a stout test this weekend when the Tigers travel to Minnesota to take on top-ranked St. Cloud State. In November, the Tigers hosted St. Cloud and had leads in both games, but couldn't hold them and ultimately ended up losing both. Haviland thinks his players can take a lot from last weekend's series against Duluth into this coming series with the Huskies.
"It doesn't get any easier in this conference to go from Duluth to St. Cloud," said Haviland. "Everybody could probably tell you that it doesn't matter who you play. I'm sure the guys know what went on back early in the year when we played them, but I'm sure they're a different team, we're a different team. They are the top-ranked team in the country, and for me it's two things. We've got to manage the puck, and we've got to play a simple, disciplined hockey game on the road. Managing the puck is probably the biggest thing. If you're turning it over to them, they're going to make you pay. They've got a lot of weapons, and if you run into the box, their power play is extremely good. So those are the two things we're going to focus on.
"When we played that way on Friday night, a simple, structured, direct game against Duluth, we found a result. We have to kind of take that mentality going into St. Cloud, because I look at them as the same team. If we turn things over, they're going to make you pay."