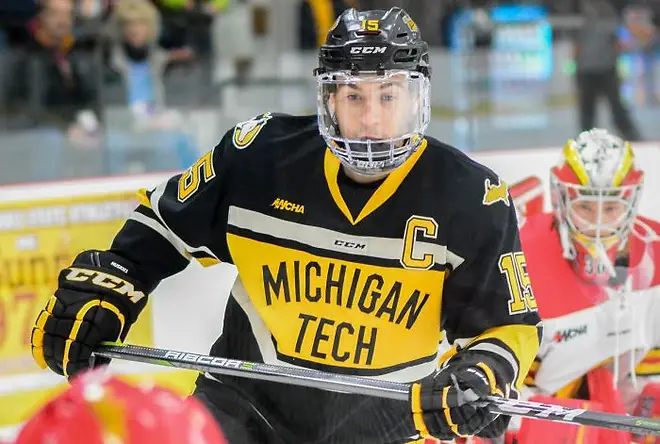 Jake Lucchini binge-watched "Conversations with a Killer: The Ted Bundy Tapes" on Netflix, and Seamus Donohue made a special trip to Joey's Seafood and Grill for dinner with his pals.
Snow days are rare for college students, but Michigan Tech had two of them last week, so that's how two of the Huskies' top hockey players spent their recent free time.
And, to be honest, those days off school couldn't have come at a better time. The Huskies went 10-7-1 before the Christmas break and was battling Minnesota State, Northern Michigan and Bowling Green for the top spot in the WCHA standings. Then the wheels fell off. Since then, they've lost six games, tied in two others and pulled just two wins – once each against BGSU and Alaska Anchorage.
January just didn't go well for them, so when they returned home from Anchorage, both a bye week and two snow days was just what they needed to hit the reset button on their season and refocus on the goals at hand. Namely, Tech wants home-ice advantage in the upcoming playoffs. From there, they want to win the WCHA championship and earn a berth into the NCAA playoffs.
That doesn't sound too tough, seeing as MTU topped BGSU in the WCHA championship and made it all the way to the regional semifinals last year.
"Our schedule just got less friendly," said coach Joe Shawhan, whose Huskies are 12-13-3 overall and 11-7-2 in the league with No. 6 Minnesota State coming to town this weekend. "The first half of our schedule was friendly to us. We did a pretty good job with that schedule. Then we played a good Lake State team at the GLI, and they're a very good team that has gotten better since the start of the season. We've played the top teams in the league, like Bowling Green.
"So it's been a tougher go. We've seen more of who we really are, and that's given us some perspective on what we need to do to get better."
Shawhan thinks a lot of the Huskies' problems can be solved with better offensive play. Tech has 73 goals through 28 games, which is tied for fourth in the league. It's averaging 2.61 goals per game. It averaged 3.05 last year.
"If you take a really honest look at it, we're where we should be with our schedule," Shawhan continued. "We've gotten good play from our defensemen, which is much more inexperienced, and they've done better with our goals against from a year ago. Our goaltending has been better, too.
"We just need to get more scoring from guys who put up points for us last year. But between injuries and various other reasons, that just hasn't happened."
MTU hasn't played well enough in the "dirty areas," Shawhan said. It needs to battle hard for the puck in the offensive zone and fight for more scoring chances.
"I agree with him because we're not producing like we want to," said Lucchini, who leads his team with 22 points (seven goals, 15 assists). "We've got to get to the net. In practice, we've worked hard on getting to the dirty areas and getting pucks to the net. We need to keep jamming away. It's not pretty, but we just need to get to the net and put the puck in, and then we'll take it from there. We just need to start scoring nicer goals. We've got to bang things home.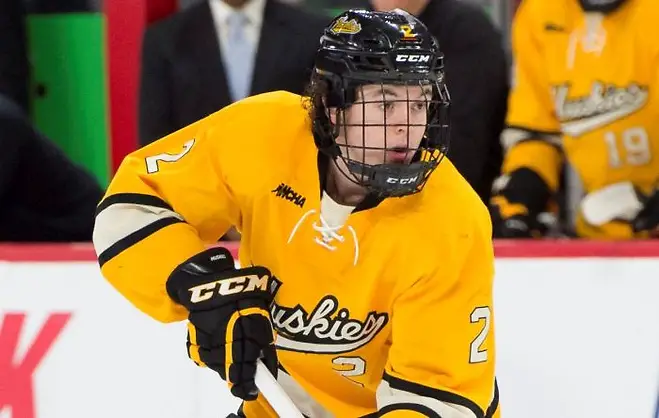 "Starting off the year, we were doing well. We won a bunch of games. But after Christmas, we haven't been ourselves, especially in January. We've had trouble scoring and couldn't get stuff going offensively, just not getting the favorable bounces.
"So in these two weeks of practice, we worked on the details, doing the little things we haven't done well and preparing for Mankato this week. Those two weeks off were big for us."
While the defensemen are playing better than they were last year – from a goals-against standpoint – Shawhan and Donohue both believe the unit could do more to help the offense out.
"We look at it like this: A big part of our success is how well the forwards come back and help, and they've done a great job of that," Donohue said. "So, on offense, we've got to help the forwards by getting good transitions from the defenders. It's not like it is with football with an offense and a defense. There are five guys on the ice working together at the same time, and all the guys in the dressing room are working together as one.
"We need the defense to score more, and that's where those dirty areas come into it. Our defense is defending the dirty areas, and we've been working on all that in practice. We've gotten a lot better the last two weeks."
That was pretty much MTU's focus in practice the past two weeks.
"We've been coming to the rink every day to get better," Shawhan said. "If we have a disappointing year and guys don't perform as well offensively as they did last year, we at least know we're going to practice and working hard. Our goal is to get playing our best hockey by the end of the year. We're practicing better. We just still have to put that into our games."
Aside from a series with Anchorage, the Huskies have tough matchups with Minnesota State, Bowling Green and NMU to end the season. It's time to put those snow days behind them and collect as many points as possible down the stretch to get that home-ice advantage. They're currently in fifth place.
"Those snow days made it easier to focus on hockey even more," Donahue said. "We had practice at 10:30 and 2, and we got more sleep and didn't have to go to class. Me, personally, I didn't have a lot of homework because even that was pushed back until we had class again, so I didn't have anything extra to do, so I got to spend extra time at the rink, and I was fired up about it."