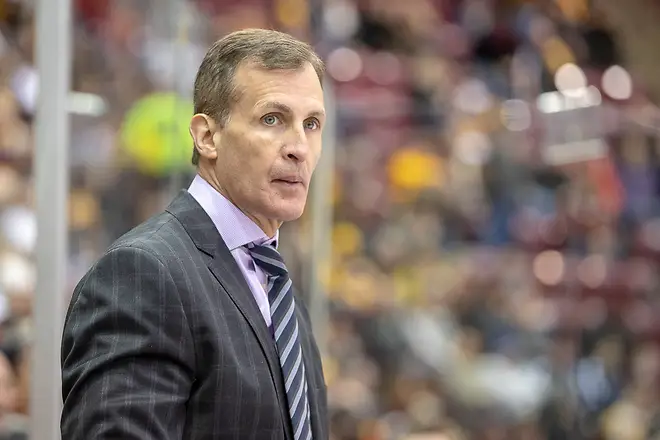 Wisconsin is a team caught between two realities, between then and now, past and present, Friday and Saturday.
It's a moment in time that coach Tony Granato understands. It's a situation that Granato intends to use to his advantage this weekend at home against Ohio State, the team atop the Big Ten standings, a team that allowed just one goal when the Buckeyes swept the Badgers in Columbus in mid-November.
"It was a learning weekend for us," said Granato at this week's press conference. "We were playing a much more experienced team that was better pretty much in all facets of the game that weekend. At the end of the weekend our message to our players heading into that week was [that] we get them again in a couple of months."
Granato said that he looked at the 4-0 and 3-1 losses to Ohio State as an "opportunity to grow" and that the Badgers had to be "fast learners" and "grow as a team," something Granato said he's seen in the two months since the team last faced the Buckeyes.
"We've positioned ourselves to give ourselves an opportunity to see where we're at and we're obviously real excited about the challenge and I think we're in a pretty good spot to be ready to play well against them," said Granato.
Last weekend, the Badgers salvaged a road series against Michigan State with a 2-2 tie and extra point secured by Max Zimmer in the first round of the shootout. The Spartans had beaten the Badgers handily 4-1 Friday night, and the weekend seemed to imitate so many from Wisconsin's season so far.
The Badgers have played 13 games on Friday nights with nine of their 12 overall losses coming in those contests.
Additionally, Wisconsin has had four weekends in which it's lost Friday and won Saturday, one weekend in which it's lost Friday and tied Saturday, one weekend in which it's tied both Friday and Saturday but lost the extra B1G point Friday while gaining it Saturday, and two notable nonconference series against tough teams – Denver and North Dakota – in which the Badgers were swept but took the Saturday games to overtime.
Granato said that last Friday's loss in East Lansing was different than the previous Friday losses, and the difference was disappointing.
"We weren't skating," he said. "When you don't jump and don't have energy, it's tough to get through all three zones.
"We've played well on Friday nights and lost. We obviously didn't play well. The other team was better than us. They did what they had to do to win the game. We just didn't respond."
Wisconsin captain Peter Tischke said that there have been Fridays when the Badgers need to give a more complete effort, but added, "We've been playing well in most of the games this first half of the second semester. I think there's just times when we sit back a little bit and let the other team take it to us, so I think that we're going to need to focus on that."
Saturday, said Granato, was a different story – different from Friday, that is, but not different from the effort he's seen from his team all season, and certainly similar to many Saturdays following Friday losses.
"The bottom line is we played a great game," said Granato after Saturday's tie. "We deserved three points, and we got two. We didn't get any breaks. We made great plays. We played the game the right way."
The Badgers are a young team, with seven freshmen regularly in the lineup and a rookie goaltender, Daniel Lebedeff, who's played in 17 games with a record of 6-6-2. Wisconsin's six regularly starting defensemen are freshmen and sophomores. It's a team that has a lot to learn, but a team that is anything but stagnant.
"Our team hasn't gotten the results we've wanted, but I've loved the way we've played," said Granato. "That Friday night game…we slept through it. We responded Saturday again. The two Minnesota games were great, the two Notre Dame games were great, the Denver games – we're in every game, we're close, and we've got to just keep pushing forward to try to find ways to win the games when they're on the line."
In his third year behind the Wisconsin bench, Granato is tasked with rebuilding a program that had three conference wins in 2015-16, the season before he arrived. The Badgers captured second place in the Big Ten with 12 wins in Granato's first season but last year, Wisconsin finished in sixth place in the seven-team league, exactly where the Badgers are as they head into the last month of play.
The Badgers have made 26 NCAA tournament appearances, with 12 Frozen Four appearances and six national championships, the last coming in 2006. There were 16 years between the last two Wisconsin national titles (1990, 2006) while the first five championships for the Badgers came in a 17-year span, between 1973 and 1990.
That is a past that Granato, who played for Wisconsin from 1983 to 1987, would like to revisit, one that he is conjuring this weekend to inspire current players for whom 2006 is a distant memory and 1990 is prehistory.
When the Badgers host the Buckeyes Friday night, they'll be honoring Grant Standbrook, who served as an assistant coach at Wisconsin from 1976 to 1987. Then on Saturday, Wisconsin will honor alum Mark Johnson (1976-79) and retire his jersey. Johnson scored two game-tying goals for the U.S. against the Soviet Union in the 1980 Winter Olympics and assisted on the game-winning goal in the gold-medal match against Finland. In three seasons in Wisconsin, Johnson had 125 goals.
"The thing that makes me so excited," said Granato, "is right when I got back here and we were talking to all the alumni and trying to figure out what they wanted and what would make them excited and to a man, every single one of them said, 'Shouldn't we try to get Mark's up there?'
"That was their big push. You talk about our entire program, from the start of it through our current players, that jersey, that player, that man has represented us and exemplifies what Badger hockey is. He put us on the map."
Granato said that the idea to honor Standbrook came from alumni as well. "All of the players that were here and were fortunate enough to either be recruited by Grant or play for him all said the same thing. 'What can we do to give Grant a night?' I think that's the voice of the alumni speaking on what he meant to them."
The current players know what these men have meant to Wisconsin hockey, said Granato, and many of his players have studied Johnson's contribution to the team. "To finally have this night is really special for our team," said Granato. "It's been a long time and it brings back the excitement of what Badger hockey was back then.
"To have this special event makes it exciting for all of us. They're all lucky enough to be around to watch it and be part of it."
Wisconsin hosts Ohio State at 7 p.m. Friday and Saturday night at the Kohl Center. Granato called Ohio State "smart" and "confident" and said that they "don't get caught."
"It'll be a great challenge," he said. "The experience that we had getting our butts kicked in Columbus a couple months ago was a message to us on what we needed to do to get better and hopefully in these last two months, we've done a lot to improve to give ourselves – we've got the opportunity."
Friday and Saturday. Past and present. November and February. This year, February brings a chance to revisit a glorious past and redeem an earlier part of the season.