With Arizona State on the brink of the first independent at-large bid to the NCAA tournament in over 25 years, USCHO is revisiting the last program to accomplish this feat – the 1989-92 Alaska Anchorage teams. This two-part recounting of the historic Seawolves teams was told by over 15 players, coaches, administrators, opponents, and journalists. Part I focuses on the makeup of the teams from the late 1980's and the 1989-90 season.
Here is their story, in their own words.
Kelvin "Brush" Christiansen, Alaska Anchorage head coach, 1979-96: "I moved to Anchorage in 1969. Ever since I was 13, I always wanted to get to Alaska. A friend of mine ended up going [to Alaska Methodist] in 1969 and received a scholarship, so I wrote to the university and they offered me a little scholarship, and I said, 'I had to go.' I thought that was my chance, otherwise I thought I'd probably never get the chance to go up there. And I've been there now for 50 years."
Doyle Woody, Anchorage Daily News sports reporter, 1983-2017: "[Brush] was, and remains to this day, a guy who could be very intense but can be super fun-loving, and he just has a really good soul. The longer I got to know him, the more I began to appreciate him. And one of the things I began to appreciate, even back then, was that he was a terrific evaluator of talent.
"Most of these guys that ended up at UAA during that period, if they weren't hometown guys, they were guys that all the Division I teams in the Lower 48 passed on for some reason. 'Maybe he's too small. Maybe we don't think he skates quite well enough. Maybe our cupboard's already stocked up.' But Brush really grabbed some guys who turned out to be real players in that era of the late '80s and early '90s."
Brian Kraft, UAA forward, 1989-92: "You had a bunch of guys there that just wanted to play. And Coach did a really good job of harnessing that and capitalizing on it. We'd go into a Denver or a Minnesota, Providence or something like that, and he'd say, 'These guys give us no respect whatsoever.' Coach would always play off of that. 'These guys don't even think you belong on the ice with them.' So on that emotional side, he would really get a lot out of us."
Derek Donald, UAA forward, 1988-92: "He was that coach that, years later, you look back and you realize why he did what he did. It made you a better person, it made you a better hockey player. Brush is still one of the greatest people in my life. He cared about his players a lot more than we realized at the time we played for him."
Dean Larson, UAA forward, 1988-92: "There was a big class that came in [in 1988], and we were all real close and real tight, and we all got along. Going through that first freshman season together, we were extremely excited for that next season. We thought that we belonged playing against top-notch Division I teams, and we were excited because we had a few real good teams coming that we were going to play that next year."
Christiansen: "Not only did I know that they were a special group, a lot of the top-tier teams in the country knew it and were afraid of them."
The 1989-90 season started, and a 2-0 UAA team traveled to Minnesota Duluth (6-0) for a weekend set in early November. Duluth won by scores of 5-2 and 7-1.
Keith Morris, UAA forward, 1989-92 & 1993-94: "We were going to play a national-caliber program in Duluth, and I think it was a deal where we were on the road early and we had to find out what type of team we were going to be. It was an easy opportunity to re-evaluate where we were at and what we had to do moving forward in the season."
Donald: "That was just one of those ones where we didn't play the way we wanted to play, and we knew we could play better. And especially because Brush's brother Huffer's name is hanging in the rafters at that arena."
Larson: "They were a good team, but there wasn't a sense that this was going to be a long season. We knew the type of guys that we had in the locker room, and we took those losses very, very hard. That definitely was an eye-opener. We sure weren't happy with it."
UAA finished the calendar year of 1989 at 12-5, and they welcomed Shawn Walsh's vaunted Maine team (16-4-1) to Anchorage at the start of the new year. UAA won both games, 4-3 and 6-5 (OT).
Lew Freedman, Anchorage Daily News sports editor & columnist, 1984-2001: "Maine was in town at a time when Maine was really special. 'Maine is here in Anchorage? How cool is that!' It was a thing like that, because they represented big-time college hockey."
Rob Conn, UAA forward, 1988-91: "I knew there was a kid from Anchorage, and I didn't know him, but Tony Link was on that team, and that was one of the biggest things I remember because that was kind of the talk of the town. A lot of the local guys knew him, and with the prestige of their program at the time, a home game against a quality team like that, I think that was a big red circle on everyone's calendar, looking forward to playing that."
Donald: "That Maine series was the biggest series of my life. That was just a juggernaut program, and you look through their roster and it's just littered with guys that went on to play in the NHL."
Larson: "I think there were 6,400 people there when we won the first night. But that second game, when we scored in overtime, that place just went bananas. I played eight years with the [WCHL's] Anchorage Aces at Sullivan Arena, and it was never as loud as that one night we played Maine and beat them in overtime. I think at that point, not only did we know and expect to beat any team that we played, but now the fans were behind us, and we really got that ball rolling with the support."
Kraft: "I've got a picture of all of us after we swept them, we're all up against the boards. Derek Donald scored the game-winner. The sense of, 'Hey, we just not only beat but swept the number two team in the country'…yeah, it was on our home ice, but Coach Walsh, at that time, had that reputation of being the guy, and to be able to beat them was, 'OK, we can beat anybody now. We're seriously legitimate.'"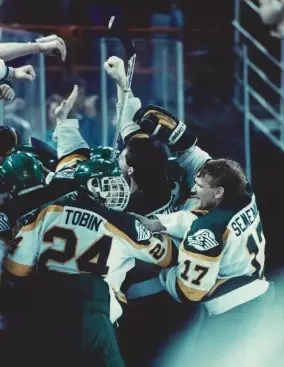 At the beginning of February, UAA (18-5-1) took a road trip to Minnesota (19-8-2) and Michigan (18-10-4), leaving with an overtime win at Mariucci and a tie at Yost.
Freedman: "When they were going to play Michigan and Minnesota, there was no sense particularly in town, other than blind faith, that they were going to win games on a road trip like that. Every time they did that and beat a team like that, it was a special occasion."
Morris: "We had a lot of Minnesota guys on our roster, and it was a special thing for them to go back home and play against a team that they had grown up idolizing and watching. And I think that brought a certain energy and a certain opportunity for us to play such a traditional hockey power like Minnesota. It was an unbelievably physical series, very emotional. Playing a tough, in-your-face type of hockey was a trademark of what I think our program in the early days there was based on."
Conn: "With Minnesota, the thing I remember playing in the old Mariucci, that atmosphere was just about as big a zoo as you could be in. I just remember being up and how tough it was to play in that place because it seemed like everyone was hanging on you and the crowd was all over you."
Larson: "We played Maine hard, but now to go into Minnesota and play them in their home rink and beat them in overtime, that just kind of added to the momentum that we felt that we had rolling."
Donald: "Everybody said, 'Oh, the Maine series was a fluke,' and that win in Minnesota was one of those things that proved it wasn't. But [Yost] was one of the toughest buildings I ever played in, college or pro. They were, at that time, a big, strong, physical team. And for them, after what we had just done to Maine and Minnesota, they wanted to pound us. They didn't want to be another team that got beat by a little school."
Kraft: "There's a few of us that still live here in Anchorage, and we talk about that series – that particular series in Michigan was probably the most physical series that any of us had ever played in. It was an all-out battle."
Christiansen: "Red Berenson and I went out for a beer together after the second game, and even Red said, 'My god, we're going to need new uniforms. These kids were killing themselves out there.'"
Red Berenson, Michigan head coach, 1984-2017: "I had [Brush] over to the house after the series, and we had a good visit and I appreciated what he was doing up there. It was a whole different world up there, but I appreciated that. And I was a big fan of the coaches and the job they did, and Brush in particular."
After an independent tournament at the start of March, UAA sat at 21-9-2. The Seawolves earned a bid to the NCAA tournament, and travelled to CCHA at-large Lake Superior State (31–8–3) for the first round.
Woody: "Back then, Frank Anzalone was the coach [at Lake Superior State], and he was probably the most intense person you'd ever meet in your life. There was no way his teams were going to be unprepared for anybody. I don't care if they were going to play a bunch of bantams, they were going to try to steamroll them."
Conn: "At that time, they were a premier team, and again, it's one of these things where there was a guy from Anchorage, Kord Cernich, that was on that team, and all these guys knew him, and that was one of the biggest things. I don't think we were overly worried about the scores, but that was one of those things where I don't think we fell short of expectations. They were just a pretty damn good team at the time. They pretty much hammered us that week."
Donald: "I actually had played in juniors with a couple guys that played for Lake State, and Krafty had as well. At that time, Lake Superior State was pumping all these guys into the NHL as well, and you look back at that roster and how stacked they were. It was a tough place to play. We played a team in Lake Superior State that every time we made a mistake, it cost us. And I think earlier in the season, we had poked the bear a little bit with some of those big schools, and Lake Superior State was well-coached and they put the boots to us."
Christiansen: "They were a very tough team, and I don't think we were ready for it. It was a tough road trip, very tough. We got stuck in an airport for about eight hours at one time, and then we get in there and you don't have much time to prepare. We just weren't in the right frame of mind, and maybe it was my fault."
Jeff Jackson, Lake Superior State assistant coach, 1987-90: "We were built that way. When I took over as assistant coach, I had a pretty good idea what Frank [Anzalone] was looking for, for the types of players, and I just tried to sustain that when I became head coach. There's no question that we were built big up front and had smaller, more mobile defenders. We were all about cycling and forecheck."
Kraft: "We weren't even remotely ready to take on a team like that. And I think that was part of our journey. Part of it was we had to learn what it took to succeed in the tournament. And it parlayed into some success the following year."
Part II will be published on Tuesday, March 5, and will focus on the 1990-92 seasons, Christiansen's exit, and the years that followed in the WCHA.