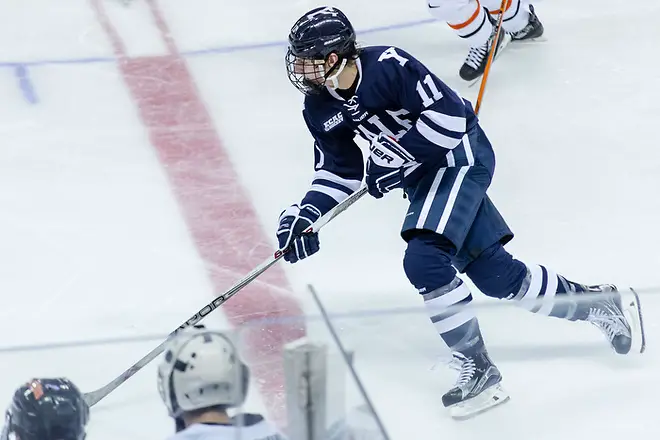 What a difference a week makes.
After getting swept on the road two weeks ago by a cumulative score of 8-1, Yale beat Colgate and Cornell at home last weekend to take sole possession of third place in ECAC Hockey with four games left in the regular season.
The Bulldogs shut out Colgate 3-0 Friday, and then beat first-place Cornell 5-2 on Saturday. The five goals were the most allowed by the Big Red this season.
With the wins, Yale has 23 points in conference play, two behind Cornell and one behind second place Quinnipiac. Harvard and Clarkson are right behind the Bulldogs with 22 points each.
It was an important turnaround for a Bulldogs team that entered last weekend with a 4-6-1 record in the second half. Yale went 7-3-2 prior to the holiday break.
"Our league is so tough if you look at the league everyone has kind of alternated wins and losses," Bulldogs coach Keith Allain said. "You'd like to play your best game every night, but that's not possible."
The Bulldogs played well in all three zones Friday against Colgate, as the Raiders were unable to get much going offensively.
On Saturday, Yale took advantage of several defensive miscues by Cornell to open up a 3-0 lead, and then put the game away once the Big Red pulled to within one goal.
"The guys were ready to go. I think we wanted to redeem ourselves after last weekend," Yale senior captain Anthony Walsh said after Friday's game.
The Bulldogs top line was major reason why Yale was able to sweep the weekend. Senior Joe Snively is averaging more than a point per game, but it was his linemates who did much of the damage.
Center Robbie DeMontis was named the league's player of the week after finishing with four points in the Bulldogs' two games, while Curtis Hall was the rookie of the week after scoring twice against Cornell. He also added an assist Friday against Colgate.
Outside of that top line, it's mostly been offense by committee for Yale. Snively leads the team with 30 points, nearly twice as much as DeMontis, the team's second leading scorer.
As has been the case for much of the year, Yale employed a goalie platoon against Colgate and Cornell. Junior Corbin Kaczperski made 18 saves for his first shutout of the season Friday against the Raiders, while senior Sam Tucker was in net for the win over the Big Red.
"They're both doing their job so there's no reason why not to play them both," Allain said of the pair, who also split time for much of last season as well.
Regardless of who has been in net, the Bulldogs have several talented pieces on defense. Freshman Jack St. Ivany and sophomore Phil Kemp both played for the U.S. National Junior team that won a silver medal last month in the IIHF World Junior Championship.
"Like lots of young guys, they have their up and downs," Allain said of the pair. "They are guys that we rely on a lot so they need to continue to play well."
Yale travels to Dartmouth and Harvard this weekend and then concludes the regular season with home games against Quinnipiac and Princeton.
"We know it's in our hands and we know we can control the outcome of the regular season," Walsh said. "We're more than capable of doing so and we're ready to make a push in the last couple games here."