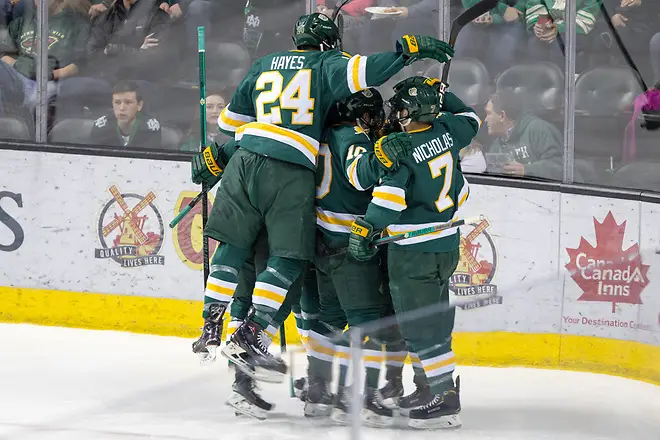 Each week during the season, we look at the big events and big games around Division I men's college hockey in Tuesday Morning Quarterback.
Paula: Jimmy, I don't think we can start this week without talking about Arizona State and the tremendous season the Sun Devils are having — and the weekend that led to what is likely a certain invitation to the NCAA tournament.
With the sweep of visiting American International, ASU is tied with Western Michigan and Cornell at No. 8 in the PairWise and barring some end-of-season hockey gymnastics that we cannot anticipate, the Sun Devils will be the first independent team to make it to the NCAA tournament since Alaska Anchorage last did it in 1992. What Greg Powers has done with a team that is only playing its fourth season is remarkable. It reminds me a little of what Guy Gadowsky did with Penn State in its fifth season as an NCAA team — except, of course, that Gadowsky had all the advantages of competing in conference.
That the Sun Devils beat the Yellow Jackets in overtime Saturday for the sweep after American International came from behind just adds to the story.
We both know that tournament experience can help a program in many ways. What are the Sun Devils building here? Where are they going to land, and when? And this is something I've been thinking about a lot: What does it say about the nature of college hockey when programs building from the ground up, essentially, are becoming competitive quickly?
Jim: I will say that if there are teams who want to find a blueprint for how to elevate a program to Division I, Arizona State's a perfect model. It's a great message for college hockey as it continues to try to expand.
As for what the future brings for Arizona State, I think it has a high ceiling. They will break ground on their new arena this year which can only make them more competitive. I think finding a home in a conference is certainly a goal but having proven that they can be competitive as an independent, maybe the urgency isn't as great. That said, it doesn't seem like the NCHC really wants the Sun Devils and the WCHA isn't the best fit in terms of the size of the current members. To me, that leaves two options. The obvious one would be the Big Ten if the conference desires to add another affiliate member, similar to Notre Dame. The other, maybe less obvious, is Hockey East.
After the failed experience with Notre Dame, people may think that Hockey East is hesitant to pull the trigger on a member outside of New England. But Arizona State is very different than Notre Dame. For one, a majority of the members can get to Tempe via a non-stop flight from Boston. The climate is warm and desirable for teams to trek to in the winter. And from everything I've been told, Arizona State seems like they would be amenable to joining Hockey East and have played many of the league's members in their first four seasons.
Add in the fact that Hockey East could use a team to get it to 12. It may sound crazy, but to me Hockey East might not be a bad fit.
Paula: Who wouldn't want to go to Arizona in the middle of a northern winter?
I think the case for Hockey East is a good one, but you make an excellent point about the Sun Devils remaining independent. If the team doesn't need a league, maybe it just doesn't join a league. Of course, the fear down the road would be that Arizona State doesn't perform consistently well enough to play its way into the NCAA tournament, and then a conference affiliation might come in mighty handy.
I wonder about the Big Ten a lot and not just because it's the conference I cover. Notre Dame is an excellent fit as an affiliate member, and I think that Arizona State would be as well. I don't know enough about the school to know whether the Big Ten would be receptive to that. In the years that I've covered B1G hockey, I get the sense that the conference is a bit picky in its criteria for admitting members and affiliates, and some of that pickiness seems intangible to me. The conference wants to maintain a certain image, but it also doesn't seem keen on defining that outright. I know that the conference is always interested in its footprint, though, and I can't imagine that Tempe wouldn't seem attractive in that regard.
How receptive the Big Ten is to Arizona State may depend on the decision Illinois makes about adding hockey. We shall see.
Speaking of B1G hockey, I am surprised that Ohio State didn't secure a regular-season conference title against Minnesota, and I mean that as no knock against the Gophers. Before last weekend, Ohio State was looking at a top NCAA seed; now the Buckeyes have fallen to seventh in the PairWise.
Jim: A big part of Ohio State's problems may just be the lack of consistency in that league this season.
Maybe back in October and November, a few teams looked like they might be very strong – Notre Dame, Ohio State and Penn State, notably – but since then, none have proven to be overly consistent, the Buckeyes coming the closest. It makes me wonder what that will mean for the national tournament.
If Ohio State wins the conference tournament, it's almost a guarantee that will be the only entrant from the league in the tournament's field. It makes me realize how quickly the mighty can fall in the modern era of college hockey. Last year, three Big Ten teams in the Frozen Four (though none came away with the national title) now may become just a single team making the NCAA field and, quite possibly as a No. 2 seed in the regionals.
I want to go back to the talk about new teams in college hockey and look at the other side of that coin.
It was announced last week that the Alaska legislature will be cutting funds from the state universities which could impact the future for both Alaska and Alaska Anchorage. This is a conversation we had not too long ago when a similar threatening situation arose. At that time, both teams were saved, but each and every time you hear about Alaska's budget deficit, it's worrisome to me what lies in store for future of these two programs.
Obviously, no one wants to seem retraction in college hockey in an era where most believe growth in on the horizon. But worse off, threats like this one, even if the programs survive, are so destructive to recruiting, something that is already challenging because of the geographic location.
Paula: I cringe every time I hear of budget threats to the Alaska teams.
We tend to think of what happens to the college hockey landscape when a program folds, but the effects of losing one or both of these programs would reach far beyond the campuses themselves. Of Anchorage's 13 different sports, four compete at the Division I level. In Fairbanks – the flagship campus for the University of Alaska system – men's hockey is the only D-I sport. The importance of these teams in their respective local communities cannot be overstated.
Ever since the CCHA folded and the WCHA was reconfigured, I've heard rumors of realignment and in large part because of the geographic complications of having both Alaska teams in one conference. Just this season I've heard some pretty serious wishful thinking from connected people about resurrecting the CCHA and an overall of alignments affecting at least two other conferences. I just don't see it happening. It's obvious that there are issues that some associated with the WCHA would like to see addressed, but I can't even begin to wrap my head around a solution.
Jim: I don't want to be too speculative, but I don't think we've seen the end of realignment.
I see more changes being made and it may come faster than one could imagine. What does that mean? I'm not positive, but I do believe the league threatened the most might be the WCHA. The geographic separation of that league combined with the somewhat limited budgets of some of those schools is challenging. Add in the fact that if anything would happen to contract the Alaska programs, that might force other teams in that league to make a change.
That's about all I can say on that topic right now without more facts, but it doesn't take a genius to understand that not every program is the right fit for its current league and more change is likely inevitable.
All that said, we have plenty of great college hockey on the ice right now, so hopefully fans take advantage of the best time of the year.
Until next week!