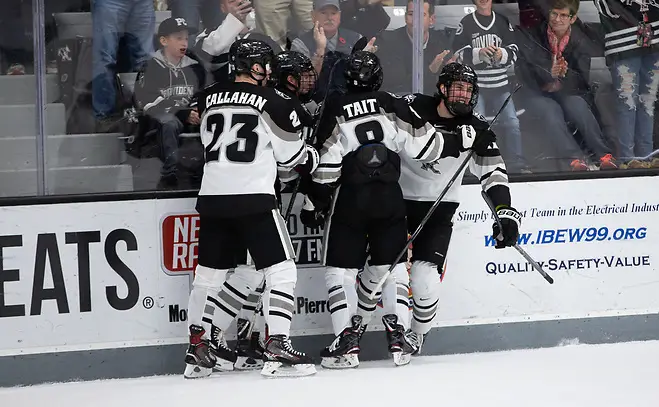 PROVIDENCE – In front of their only sellout crowd at Schneider Arena thus far this season, Providence delivered.
In a heavyweight matchup of nationally-ranked teams, No. 10 Providence got a late goal from Scott Conway and knocked off No. 2 Massachusetts, 3-2, in front of 3,030 screaming fans.
The victory helps solidify the Friars hopes for home ice in the Hockey East quarterfinals and puts on hold the possibility of UMass celebrating its first-ever Hockey East regular season title.
It was also the third time this season these two teams played to a 3-2 final, with UMass winning the first two. On each of those nights, Providence was the better third period team but the Minutemen found a way to win. On Saturday the tables turned.
"Tonight, they were carrying things a little bit," admitted Providence coach Nate Leaman about UMass in the third. "Then one of our pucks found a way in. It's funny how things evened out somehow."
Even the game winner, which was scored on a scrum in front where Conway was about to seemingly shoot a puck through UMass goaltender Matt Murray with 2:56 left, wasn't the best offense chance late in the game. Both of those came at the other end of the ice.
We are down to 1:25 left. Conway's 13th of the season from Thompson and Duhaime gives us a 3-2 lead late! UMass uses its timeout.#GoFriars pic.twitter.com/0Z9dnDY7uX

— PC Men's Hockey (@FriarsHockey) February 24, 2019
With 5:02 left, Brett Boeing was poised for a wrap-around bid only to stop short behind the net and move out front, seeming to have the room at the near post before Providence netminder Hayden Hawkey somehow got his toe across.
A little more than a minute later Bobby Trivigno had Hawkey out of position with a nifty move only to slide the puck across, but not over, the goal line. The rebound at the far post was blocked by Vincent Desharnais diving across the crease.
"We had a lot of scoring chances [in the third]," said UMass coach Greg Carvel. "In these types of games, every puck, every battle counts. Providence found a way to win the game."
HOW DID THAT STAY OUT??? pic.twitter.com/6Kk1ct0nvD

— PC Men's Hockey (@FriarsHockey) February 24, 2019
A major part of the success for Providence on the evening was the ability to take away some of UMass' speed, particularly as the Minutemen crossed into the offensive zone. Though there were still plenty of transition offense, the ability to close some gaps and not allow the Minutemen to find the late man across the line helped significantly.
"I thought our D did a really good job of gaping tonight," said Leaman. "If you let them get over the line, they move laterally and they find drop guys and options. We did a better job of holding our gaps tonight."
For Carvel, whose team plays on an Olympic sheet at home at the Mullins Center, the smaller ice sheet posed a problem.
"It's tough in [Schneider Arena]; there's no ice," said Carvel. "It's a different game than on our ice. We play with a lot of speed because there's a lot of ice to work with.
"If we play like this in neutral buildings the rest of the way, we'll be fine."
UMass jumped on top at 11:04 of the first during a four-on-four situation. Cale Makar read a Friars offensive zone play, picked off a pass and was off to the races, roofing a shot on the backhand after a nifty move to get Hawkey down.
The Friars had a prime opportunity to even the score – or accomplish even more – when UMass defender Mario Ferraro was given a five-minute major and game misconduct for hitting from behind at 13:17. The Friars, though, had difficulty establishing control in the offensive zone and, despite being credited with five shots on the power play, never put forth a grade 'A' opportunity.
That loss of Ferraro was a significant one, though, for the Minutemen.
"Losing a player like Mario Ferraro is like losing two defensemen," said Carvel about the penalty to his best defensive defenseman. He credited the play of Ty Farmer and Jake McLaughlin to take Ferraro's place in the final 40-plus minutes.
Providence grabbed a lead with two quick goals in the second when Jason O'Neill and Josh Wilkins scored just 2:21 apart.
But the Minutemen had an answer at 16:07 when Niko Hildenbrand buried a rebound from the high slot through Hawkey's five hole.
Both coaches said that Saturday's sellout and the related intensity of the game that went along with it was good preparation for the postseason. Though Providence has been to five straight NCAA tournaments, including winning in 2015, UMass will be very much a newcomer when it heads to the big dance next month for the first time since 2007.
"We're still a young team in that we have not played at the Boston Garden, we've not played in an NCAA tournament," said Carvel. "So this was one of those games we could  come into it and know Providence was going to play a playoff style."
For the Friars, Saturday's win has the team at the opposite end of the spectrum from two weekends ago when they lost at Maine and were 1-2-1 in their last four. Since then they've swept UMass Lowell and knocked off the number two team in the nation.
It's been a bit of a roller coaster, but don't tell that to Leaman.
"That's the thing, it can't be a roller coaster. Not at this time of the year," said Leaman. "One of the things I said to the guys after the game was, 'We'll enjoy this tonight. Then it's UConn (Providence's next opponent). UConn's going to be a battle. It's going to be a war.
"That's just what it is this time of year."
Around the Nation
No. 13 Clarkson 5, No. 5 Quinnipiac 3
Clarkson, which had not taken more than two points from a league weekend since January 18-19, upset No. 5 Quinnipiac on the road on Saturday to earn a three-point weekend and pull into fourth place in the ECAC, two points behind first-place Cornell.
Anthony Calling scored twice for the Golden Knights while Jake Kielly made 24 saves to earn the win.
Impressive win on the road keeps @ClarksonHockey1 in @ecachockey title hunt!#LetsGoTech!https://t.co/fK0FhZgfRG

— ClarksonAthletics (@ClarksonUSports) February 24, 2019
Colorado College 8, No. 8 Western Michigan 2
Colorado College scored the game's final six goals, including five in the third period, to rout No. 8 Western Michigan, 8-2, and earn the weekend split.
Ben Copeland broke the 2-2 tie but that was hardly his biggest accomplishment. He finished the game with four goals, nearly doubling his total on the season. Copeland had five goals thus far in his rookie campaign, and had never had a multi-goal game this season.
Trevor Gooch was equally as impressive for the Tigers, earning assists on four of the eight goals.
Ohio State 3, Michigan 3 (OT)
Ohio State's Mason Jobst scored in three-on-three overtime to secure an extra point in the Big Ten standings and clinch the regular-season title for the Buckeyes.
Despite the game being recorded as an official tie for NCAA purposes, Ohio State pulls seven points ahead of its nearest competition with just two games remaining and takes home the regular-season trophy for the first time since 1972 when they captured the inaugural CCHA title.
👑 Kings of the B1G!
Buckeyes hoist conference regular season 🏆 after OT thriller at TTUN #GoBucks pic.twitter.com/T2pQQ21l6r

— Ohio State Men's Hockey (@OhioStateMHKY) February 24, 2019
The Buckeyes will receive a bye in the quarterfinal round of the Big Ten and play the lowest remaining seed at home in the Big Ten semifinals.
No. 1 St. Cloud State 5, Omaha 0
David Hrenak made 30 saves and five different players tallied goals a St. Cloud State shutout Omaha, 5-0, to earn their third NCHC regular season title and second in two years.
The Huskies are on their way to their sixth NCAA tournament appearance in the last seven years and will face the eighth-place team in the NCHC in a best two-of-three quarterfinal series.
St. Cloud is seeking its second NCHC title and third-ever postseason championship.