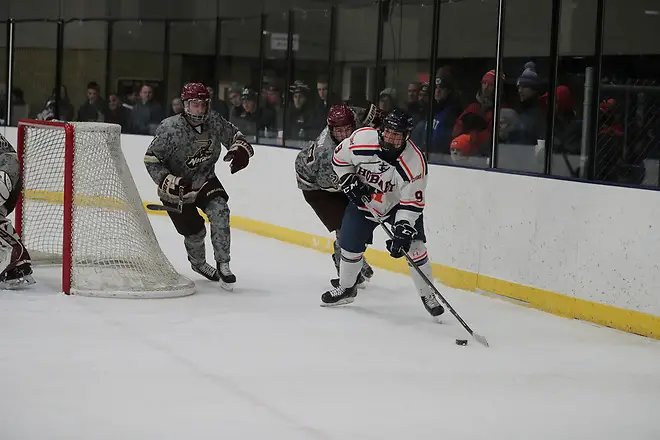 It might be unusual to see a golf reference in the title, but for coach Mark Taylor's Hobart squad, the season has evolved like a round of golf where the challenges and changes have all been within their own team and control. Entering the NEHC championship weekend with an opportunity to repeat as conference champions and return to the NCAA tournament, Taylor is hoping that his team has found their confidence in their shots and ace the game on Saturday so they are not playing golf in early March.
"I thought early in the year was like a round of golf where you are just struggling to hit good shots and be consistent," said Taylor. "In golf, it's the battle within the player, and I think we suffered that some early in the season. It was like we were picking the wrong club or hitting into the trees. There were definite execution and mental mistakes that kept us from playing our best hockey. Starting in December, I think we found our game and began executing on the ice, and now if we can continue that focus on Saturday we will have a chance to be conference champions again, but we will have to beat a very good team to do it."
Since Dec. 1, the Statesmen are 14-3-2, and they are unbeaten in their last nine games, going 7-0-2. The unbeaten stretch includes big wins over Babson, New England College, and last weekend's semifinal playoff win over top-ranked Massachusetts-Boston by a 4-0 score. Hobart is peaking at the right time, and their coach is highly aware of the effort it is going to take to hold on to their NEHC title.
"This league is so good with teams like Norwich, Babson, Massachusetts-Boston, and New England College," said Taylor. "Every night is a battle, and that is why we came to this conference. We want to compete against the best and control our own destiny with a chance to win the league and play in the national tournament. Last week, we knew that we didn't want UMB to catch fire. They are one of those teams that when they get it going, it is really difficult to shut them down, so we were very focused on getting a good start and playing with the lead so we could lock things down and play our game. The two goals in the first period were big, and I thought we executed very well against a very talented opponent on the road. We will need to do more of the same this week at Norwich."
Two of the key ingredients in Hobart's run to the conference final have been sophomore forward Travis Schneider and freshman goalie Liam Lascelle. Schneider (14-7-21) leads the team in goals and has been effective in putting the puck in the net at even-strength, on the power play, and shorthanded. Schneider scored a big first-period goal against the Beacons last weekend, and his combined special teams' goals lead the team overall. Lascelle has emerged as the number one netminder among a strong group on the team that includes junior Alexander Connal and freshman Joe Halstrom. In his 11 starts, Lascelle is 8-1-2 with a 1.64 goals-against average and a .936 save percentage. Last week at UMB, Lascelle stopped all 27 shots he faced in posting his fourth shutout of the season.
"I like all our goaltenders on the roster," said Taylor. "Alex certainly has been great in his time here, and Joe has shown his ability to play at this level. Liam has stepped up his game and has emerged as the hot hand right now, and you just have to go with that confidence in his game right now."
Saturday, Hobart will face a team that may be even hotter than they have been. Norwich is unbeaten in its last 16 games, going 14-0-2 and winning their last 12 in a row, including a 4-2 win on the road against the Statemen on Jan. 11. The season series went 2-0-0 to the Cadets, and both games were close, physical contests.
"They are a very good team," stated Taylor. "They have always been well-coached, and Cam [Ellsworth] has come in and done a nice job in his first year. They are very hot right now, so we are going to have to be disciplined and play our brand of hockey if we want to beat them in their building. It will be a great atmosphere, so the kids will be up for it. Hopefully, we can pull off another big road win, or else we might be playing golf sooner than we want to be."