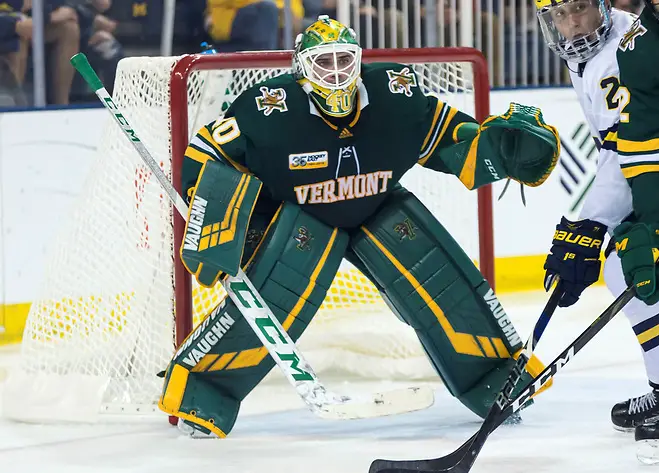 Way back last April, our staff sat around the table in St. Paul, Minn., and we made a conscious decision to change the weekly Division I men's columns.
We realized that despite the fact that we covered many topics and many teams, the reality was the team not covered in the lead story often got overlooked.
So we changed things.
There was a collective decision to make sure that we cover only one topic in a given week. It's worked very well up until now.
As we approach the Hockey East playoffs, I feel the need to go rogue. When I looked back at last weekend, so many strange things happened that I felt the need to mention them all. Thus, I ask forgiveness as I take this column off the rails a bit to address some crazy moments in Hockey East.
The shutout that wasn't a shutout
I will start this the most obvious and strange situation I have encountered in my two-plus decades in college hockey.
Friday night, Vermont and Boston University were engaged in a heckuva game, a scoreless tie in overtime. The reality for Vermont, though, was win or know your playoff hopes were over. Thus, late in that overtime session, UVM pulled goaltender Stefanos Lekkas.
Boston University scored seconds later, creating a turnover and firing home the game-winner from center ice.
The problem of the stats geeks was that Lekkas, holding onto the nation's best save percentage, hadn't allowed a goal the entire game and overtime.
So how do you treat a goaltender who hasn't allowed a goal and wasn't in goal when the game winner went in?
According to Tim Danehy, who runs www.collegehockeystats.net, not well.
Lekkas not only needs to take the loss, he is also not credited with the shutout.
Easily, Lekkas was one of the best players in the league this year, but his season ends next weekend without any playoff hopes.
UMass Lowell is seniored-out
For most teams in an average year, you're going to have to sit through one of your opponent's senior nights, a celebration of the career of those four-year players who matriculate through a program.
On a bad year, you may have a schedule where you have to sit through two of those over the closing weeks of the season.
For UMass Lowell, though, they will endure FIVE senior night ceremonies of opposing teams, a count that borders on unimaginable.
It began back in December when they were Bentley's final nonconference opponent. The Falcons use that night to recognize their seniors when there are not conference games on the line to be a distraction.
A little more than a week ago, Lowell faced Providence on the road on a Saturday and the Friars chose to use that night as their senior night. Last Saturday, Merrimack did the same, not waiting until their final home game this Thursday night.
Lowell will now be the actual final home games for New Hampshire and Vermont, proper senior nights by what one would expect.
The irony is all this is that Lowell coach Norm Bazin, himself, hasn't always interrupted the regular flow of things with senior night celebrations. In years past, he's actually hosted a celebration after the final home game with the parents and friends. This year, his celebration will, in fact, be on ice on Saturday night.
Still, a strange situation for any team to face.
The Heidi Game
Hockey East may have had its own version of football's "Heidi Game," the famous football game between the Jets and the Raiders in 1968. The battle of the two hated rivals was pulled off the air at 7 p.m. ET, so that the broadcast classic, Heidi, could be shown. To say it created a massive upheaval of fans was an understatement.
Last Saturday, there was a similar situation in the Hockey East matchup of Providence and Massachusetts. Easily one of the most compelling TV games of the late-season schedule, the two teams were neck-and-neck throughout most of the game.
Providence scored the game-winning goal in the final three minutes of regulation on a Scott Conway tally, but it was less than a minute later that NBC Sports Boston moved away from the high-end college hockey game to air commercials leading into the Boston Celtics game that night.
There were obvious contractual obligations of NBC Sports Boston to switch to the Celtics, but it didn't mean that the army of fans that were watching, led primarily but the solid bandwagon contingent from UMass that is working hard to raise the average attendance throughout the league this season, didn't explode.
Reports said that NBC Sports Boston eventually told the bad news to the UMass contingent early in the Celtics broadcast.
But this highlights the problem with television in Hockey East right now and the lack of any sort of a league-wide package that at one point served the league so well. Let's hope the same issues aren't created at any point in the postseason.
UMass coach Carvel dislikes small ice
In my many years of covering college hockey, I've heard lots of complaints from coaches. Few, though, have been about ice size.
It seems sensible for UMass, which likes the 200-by-100 sheet at Mullins center to not prefer the smaller surfaces, particularly Providence's 200-by-85 sheet. But the reality is that more rinks in Hockey East are 200-by-85 than any other size.
That made it strange for Minuteman coach Greg Carvel to begin a rant after the game on ice size.
"It's tough in [Schneider Arena]; there's no ice, and the ice got worse as the game went on. They don't sit down," said Carvel. "It's a different game than on our ice. We play with a lot of speed because there's a lot of ice to work with. In these games in this building, neither team can get a power play set up. There's not space, there's not time.
"I enjoy the games in our building because you can make plays. Here, it's just chip and try to chase. You see both teams struggle on the power play because there's not space."
Carvel kept going about the neutral ice when referencing the future of the season.
"This was one of those games you could go into and you know Providence was going to play playoff style. I thought we matched that real well," he said.
"If we play like this in neutral buildings the rest of the way, we'll be fine."