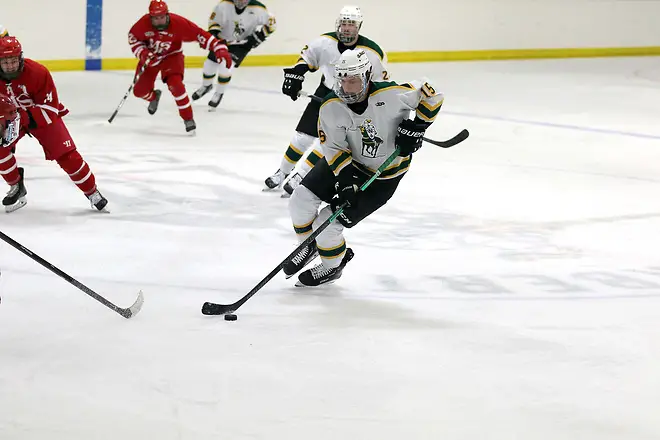 Peyton Frantti is in his first season at St. Norbert and enjoying the ride so far. On Saturday, the freshman standout will experience his first NCHA title game as the Green Knights take on Adrian for the Harris Cup.
"This week has been more special than others. It's the biggest week of the year so far. We are looking forward to playing the game."
The showdown between Adrian and St. Norbert is one of three with a championship on the line Saturday in the West Region of NCAA Division III hockey. Augsburg takes on Saint John's for the MIAC crown, and Wisconsin-Stevens Point battles WIAC rival Wisconsin-Eau Claire for the Commissioner's Cup.
St. Norbert is seeking its eighth title in the last 10 years and hoping to make another run at the national championship after winning it all a year ago.
Frantti is one of six players with at least 10 goals. He leads the team in the category with 14 and has dished out 11 assists as well. The great thing for St. Norbert is the pressure isn't on just one or two players.
"We have four lines that can go at any time," Frantti said. "We have great depth. It really helps when you have great players who make others around them better."
Frantti said the team chemistry has been vital to the Green Knights' success as well.
"Everyone on the team clicks," Frantti said. "This is one of the tightest knit groups I've been a part of. It's a big part of our success."
The Green Knights have won their last 12 games and are once again battling the Bulldogs for the title. The two teams split the regular-season series, with St. Norbert losing 4-3 in overtime and winning 7-0. Their last two NCHA titles have come against the Bulldogs; both games were decided by a goal.
Frantti is looking forward to being a part of the latest chapter of the championship game rivalry.
"It's going to be special," Frantti said. "It's a great rivalry. It's going to be a good time this weekend. We are all excited about it."
Though the expectations are always high at St. Norbert, and the ultimate goal, of course, is to win a national title, the Green Knights are focused on the task at hand.
"We are taking it week by week and are just ready for the next opponent," Frantti said. "But hopefully the run will continue. It's been a blast so far."
Championship Weekend
Augsburg and Saint John's square off Saturday for the MIAC crown. The Auggies are seeking their fourth consecutive tournament title; Saint John's is looking for its first title since 2013.
Both teams have won their last four games. During the regular season, the Auggies and Johnnies tied 2-2 before Saint John's won the shootout, 2-0. Augsburg won the other game, 5-1.
Augsburg coach Chris Brown is excited his team has another opportunity to play for the title again. He gives credit to the players for the accomplishment.
"It's all about the players, past and present, who have put in great effort to building a program to a level where the players set the expectations and then push each other to carry on our tradition," Brown said.
Brown said consistency has been key for the team. As far a playing an opponent the Auggies are familiar with, Brown said it doesn't make things easy.
"Both of these teams know each other really well. I think (Saint John's) is always a well-prepared team who has strength at every position," Brown said. "They don't have any holes in their game. So, as usual, in a championship, I expect it will come down to limiting your mistakes and capitalizing on your opportunities."
Over in the WIAC, the Pointers are the lone unbeaten team in the nation and the No. 1 team in the country as well. The Blugolds are hungry for the upset.
They boast the two best offenses and defenses in the conference, scoring 116 and 85 goals, respectively. Wis.-Stevens Point has allowed 39 goals. Wis.-Eau Claire has given up 51.
Though a conference title is on the line, it's just the next game on the schedule for the Pointers.
"In full transparency, this is just game number 28 for us and a chance for us to get to 26 wins to help our chances to get an at-large bid to the NCAA tournament," Pointers coach Tyler Krueger said. "Because of our situation of our conference tournament winner not getting an AQ, we know we have to be in the top four of the PairWise after the eight AQ's are awarded. So, we are preparing for this game the same way we prepared for the first 27. We are striving to be better than we were in our last game."
Blugolds coach Matt Loen said his team is looking forward to playing for a conference title, though he knows a tough task is ahead for his team.
"Our goal was to get back to the WIAC Championship game, so it is a honor to achieve that. Stevens Point is obviously a tough task. They haven't lost, which is incredible in this day and age with the parity in D-III hockey," Loen said. "We have lost three of our last four, which is bad timing for a goal-scoring slump. This Saturday, we are going to need a lot of luck. Tons of luck. Stevens Point has everything, great goalie, great D, and lots of depth/skill at forward. We will need a perfect game to even have a chance."
As for Adrian, which plays the Green Knights and is seeking its first NCHA crown since 2016, motivation isn't in short supply.
"It means a lot, obviously. We've been in the final each of my five seasons as head coach," Adrian coach Adam Krug said. "In all five instances, it has been St. Norbert, so you could say we're pretty familiar with each other. We haven't won this game the last two seasons, so we're eager to get it done."