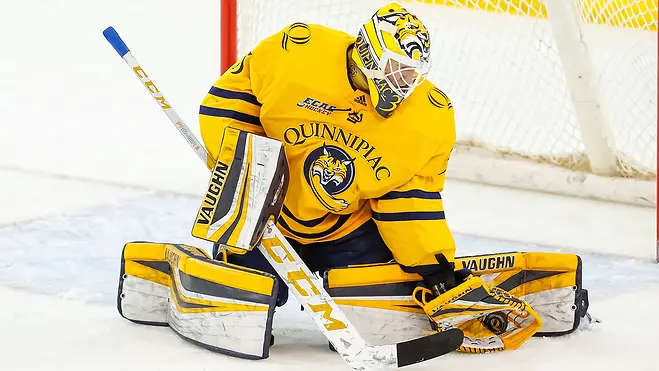 It might be hard to go unnoticed when you're leading the country in GAA and save percentage, but that's how it's gone for Quinnipiac's Andrew Shortridge.
The junior has been outstanding this season for the Bobcats, as he enters the final weekend of the regular season with a 1.43 GAA and a .944 save percentage. That performance has helped Quinnipiac all but wrap up a spot in the NCAA tournament, as the Bobcats enter the weekend sixth in the PairWise rankings.
But in a season when it's possible three east coast defensemen will end up in the Hobey Hat trick, Shortridge's accomplishments have made him deserving of consideration as well.
One of those three is teammate Chase Priskie, who leads all defenseman with 17 goals.
"It's a unique situation, Chase and 'Shorty' could both be in the top four or five in the Hobey right now," Quinnipiac coach Rand Pecknold said. "They've certainly both been instrumental to our success."
In addition to Priskie, there's also Harvard's Adam Fox and Massachusetts' Cale Makar. Both defensemen are having outstanding seasons for contending teams and could end up as Hobey finalists.
Should Shortridge make it to the hat trick, he'd be a longshot to win the award. No goalie has won it since Ryan Miller in 2001, although Quinnipiac's Eric Hartzell was a finalist in 2013.
While he respects the Hobey selection committee, Pecknold maintains that Hartzell should have won it that year.
"I believe they missed the boat on that," Pecknold said. "It's kind of an oddity — there's been some great goaltending over the years."
Shortridge's season has been even more impressive considering he began the year in a timeshare with sophomore and NHL draft pick Keith Petruzzelli. That setup worked for the first half, as Quinnpiac went 14-3 before the holiday break.
"Both 'Petro' and Shorty have won a lot of game for us," Pecknold said. "But [Shortridge] has been hot. He's been on another level. He's ahead of the play always, he gets there, he's big and he moves well."
Petruzzelli started the first game of the second half, a 5-4 loss to Colgate on Jan. 4.
He hasn't started since then.
Shortridge credited goalie coach Jared Waimon with helping him make sure the level of details in practice were where they needed to be in order for him to be successful. Even when he was splitting playing time, Shortridge said he stuck to the process, knowing that the results would come. That hasn't changed even as he has taken control of the No. 1 spot.
"As our practices get harder and harder as the season has gone on farther and farther, it's made it easier for not only myself but for everyone else on the team to hopefully get better," Shortridge said. "If I'm doing better in practice, it's going to challenge them to want to score on me more and that's going to come around and make me better."
Taking hold of the starting job in the second half is nothing new for Shortridge. He and Petruzzelli split time last season as well, but two years ago as a freshman Shortridge came on strong late in the season and overtook Chris Truehl as the starter in goal.
As a veteran this season, Shortridge has been a calming presence for a Bobcats team that routinely dresses a number of underclassmen in important roles.
"He's confident, he makes the simples saves, he makes the big athletic saves that make it on ESPN," Pecknold said. "Our goaltending has been a rock for us all year. When we struggle because of our youth, typically our goaltending has bailed us out."
While Quinnipiac is young up front, it boasts several veteran defensemen, although that group took a major hit with the loss of senior Brandon Fortunato to a season-ending injury last month.
"Our d-core is a very tight-knit group," Shortridge said. "Between Keith and I, and our defensemen there is a 100 percent trust that everyone is going to do their job. They come up with huge blocks in pivotal moments in our game or make a good retrieval under pressure to get it out to the forwards in our zone."
Pecknold has emphasized shot blocking for years, saying in the past that he's not afraid to sit players who won't commit to it.
That hasn't gone unnoticed by Shortridge.
"First and foremost, I get fired up when I see someone stepping into a one-timer or stepping into a guy walking down from the point. I feel the energy permeate throughout everyone on the ice and it gets everyone going. Just knowing that every shot is going to be heavily contested has had a calming effect on me, knowing that [the defense] is going to eat the puck or pick a lane to focus on so I can make the save."
Shortridge's play has gotten the attention of NHL scouts, although Pecknold declined to elaborate on what they are saying about him.
"He's certainly gotten a lot of interest from the NHL, but Andrew has got to focus on the task on hand," Pecknold said.
Quinnipiac enters this weekend looking to bounce back from a 5-3 loss to Clarkson last Saturday and avoid its first losing streak of the season. The five goals were the most allowed by Shortridge this year. The Bobcats travel to Brown Friday and then end the regular season at Yale on Saturday. QU is one point behind Cornell for first place, but there's also the possibility it drops into fifth place and misses out on a first-round bye.
That, not his place among the national leaders or a potential NHL contract, is Shortridge's focus.
"The results will come no matter what as long as the process is there," he said. "Throughout the year, I've just really tried to lay low in that aspect and just focus on my job and going into the weekend feeling confident that I can do it the best of my ability."