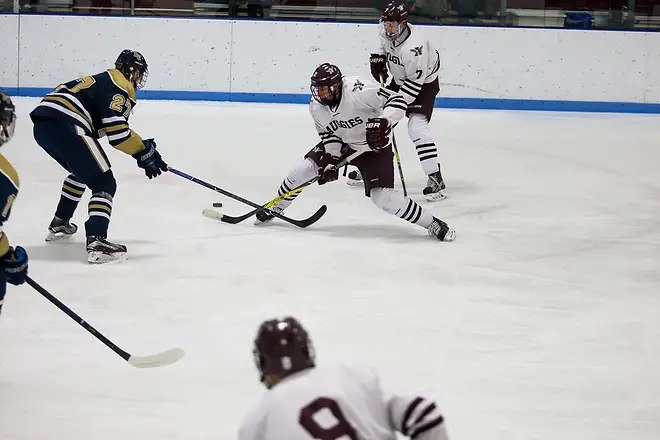 It's championship weekend for NCAA Division III hockey teams. Augsburg and Saint John's battle for the MIAC crown, while Wisconsin-Stevens Point looks to stay unbeaten when it takes on Wisconsin-Eau Claire for the WIAC title. Rivals St. Norbert and Adrian meet again for the NCHA championship. Below is a quick look at those games and my picks.
Saturday, March 2
Augsburg versus Saint John's
Augsburg is seeking its fourth consecutive MIAC tournament title. Saint John's is hoping to win its first championship since 2013. Both teams have won four consecutive games.
The Auggies have a high-powered offense anchored by Alex Rodriguez, who leads the team in goals with 20. He leads the league in that category as well. Rodriguez has 36 points in all. Chandler Madry and Luke Dietsch both have 29 points apiece, with Madry dishing out 19 assists and Dietsch scoring 14 goals.
The Johnnies have gotten a big lift from one of the top playmakers in the game in Kyle Wagner, who has tallied 21 assists.
Goaltending will be key as well. Nick Schmit owns a 2.05 goals-against average for Augsburg, and Andrew Lindgren has a 2.02 GAA for the Johnnies.
Expect this game to be a fight to the finish. Augsburg 5-4
Wis.-Stevens Point versus Wis.-Eau Claire
These two teams are no strangers to each other. The Pointers are looking to stay unbeaten and come into the matchup as the No. 1 team in the country. The Blugolds want nothing more than to pull off the upset. These two teams lead the WIAC in goals scored and goals allowed. The Pointers have 116 goals, and the Blugolds have scored 85. Wis.-Stevens Point has given up 39 goals, and Wis.-Eau Claire has allowed 51.
Tanner Karty leads the Pointers in scoring with 34 points, including 23 off assists. Zach Zeth and Luke McElhenie are fourth and fifth in scoring with 25 and 24 points, respectively.
Lucas Kohls heads up the attack for the Blugolds with 23 points on the year. He has come through with nine goals and 14 assists.
It's hard to imagine the Pointers losing, especially at home, but in a one-game scenario, you just never know. Wis.-Stevens Point 5-3
St. Norbert versus Adrian
St. Norbert is looking for its third consecutive NCHA crown. Adrian was the last team to win a title prior to the current run by the Green Knights. The Green Knights are the reigning national champions and have won 12 in a row. Adrian has won its last two games.
St. Norbert is led in goal scoring by Peyton Frantti, who is only a freshman. He has 15 goals on the season. Riley Christensen is second in the league in points with 31 on the year. Dino Balsamo has come through with 13 goals.
Adrian has the NCHA points leader in Cory Dunn. He has come through with 31 points, with 26 of those points coming off assists. Bryan Yim is tied with Frantti for goals scored, tallying 15.
Both teams are likely to make the NCAA tournament regardless of the outcome, but neither team wants to leave its fate in the hands of a committee. St. Norbert 4-3