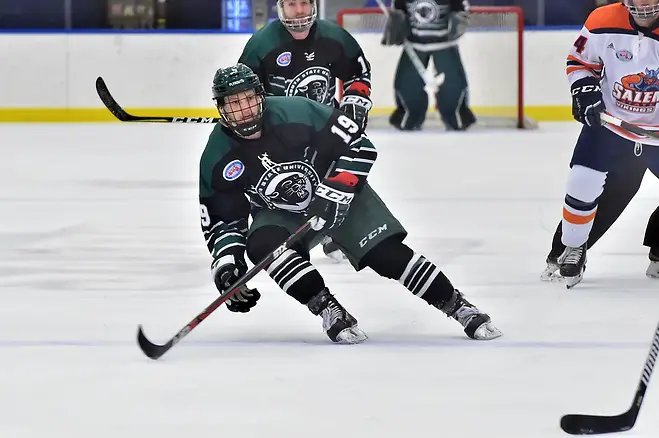 The field is set, and while Geneseo, Norwich, and Oswego await the winners of Saturday's first-round NCAA games to determine their opponents, every team in the 12-team tournament is dreaming about making that magical run to the Frozen Four and hoisting that championship trophy. There are teams with a national stage pedigree and past titles among the entrants from the East, but all know that it will take their very best to beat any opponent in the draw and advance through the tournament. Here is a preview for each of the teams in the East done in alphabetical order.
Geneseo
The Knights (23-1-2) enter the tournament as back-to-back champions of the SUNYAC and are currently riding a school record 22-game unbeaten streak. This is the seventh appearance for Geneseo in the national tournament and their fourth in the past six seasons. In 2016, they reached the national semifinal, falling to the eventual national champions from Wisconsin–Stevens Point. Geneseo is led by the SUNYAC player of the year Conlan Keenan (22 goals, 24 assists), Andrew Romano (nine goals, 40 assists), and defenseman Mitch Ferguson (nine goals, 23 assists). They have a deep and talented roster that also includes senior goaltender Devin McDonald (1.12 goals-against average; .945 save percentage; 12 shutouts) who established a new single season shutout record with 12 on the season to date. The team is experienced and looking to erase the memory of last season's last-second loss to Colby in the quarterfinals. Geneseo will face the winner of the Massachusetts-Boston versus Manhattanville game on March 16.
Hobart
The Statesmen (19-7-2) received an at-large bid for the tournament for their fifth straight appearance and ninth overall for the program. National semifinalists twice in 2006 and 2009, Hobart will be looking to break their current four-game losing streak in the NCAA tournament dating back to the 2015 tournament. The Statesmen have a very balanced team that includes 16 players with at least 10 points and four players with 10 or more goals this season. Leading the way is senior Jonas Toupal (12 goals, 14 assists) who plays in all situations and is dangerous anytime he is on the ice. Tanner Shaw (15 points) and Jack Mcnee (15 points) lead a mobile defensive corps, and sophomore goaltender Liam Lascelle (1.67 GAA; .936 save percentage; four shutouts) has emerged as the number one guy in the crease. This team would very much like to get some positive momentum going in the opening round, where they face Plymouth State on Saturday, March 9.
Manhattanville
The Valiants (17-8-5) pushed the envelope in winning win-or-go-home mini-games against Elmira and Utica to win their first UCHC title inclusive of the NCAA autobid. This is the fifth NCAA appearance for the Valiants and first since they participated in four straight from 2005-2008. The team has a lot of experience with 12 seniors, including leading scorer Matt Lippa (17 goals, 27 assists) and senior defenseman Oscar Arfelt (six goals, 26 assists). Senior Tyler Feaver (2.83 GAA; .899 save percentage; one shutout) has started 23 games for the Valiants, and while his numbers have not been great, he has made big saves and found ways to win games. A 25 percent power play has helped the offense and has been an important factor in their 9-3-3 road record this season. The road prowess will be tested again on Saturday as Manhattanville travels to face Massachusetts-Boston.
Massachusetts-Boston
The Beacons (19-7-1) received an at-large bid and are one of three teams from the NEHC to qualify for the national tournament. This is just the second appearance for UMB and first time ever hosting an NCAA tournament game. In 2016, the Beacons reached the Frozen Four after consecutive road wins over Trinity and Hobart before losing to St. Norbert in the national semifinal. The Beacons have firepower led by junior forward Nolan Redler (15 goals, 19 assists), sophomore Zach Bross (nine goals, 15 assists) and defenseman Nick Albano (six goals, 16 assists). In goal, junior Bailey MacBurnie (1.72 GAA; .931 save percentage; four shutouts) has started in 25 games for the Beacons and is on the verge of setting the school record for goals-against average. Hosting the first-round game may be important as the Beacons are 12-2-0 this season on home ice and have outscored their opponents by a 59-26 margin in those games. They will be tested by a resilient Manhattanville team this Saturday evening in Boston.
Norwich
The champion of the NEHC, Norwich enters the tournament on a torrid streak that finds them unbeaten in their last 17 games and winners of the their last 13 in a row. This is the 18th appearance for the Cadets, who are in search of their fifth national title. First-year coach Cam Ellsworth has continued the Norwich tradition of great defensive play and timely scoring with pressure all over the ice to thwart opponents. Led by goaltender Tom Aubrun (1.68 GAA; .928 save percentage; six shutouts), the NEHC goaltender and player of the year, Norwich has surrendered just 46 goals in 28 games this season. A young group of forwards, including sophomore Felix Brassard (10 goals, 17 assists), freshman Brett Ouderkirk (14 goals, 12 assists) and junior Jordan Hall (11 goals, seven assists) has grown up in the second half and scored some important goals to win games for the Cadets. Norwich is 14-1-1 in the very friendly confines of Kreitzberg Arena, and the rabid fans will be ready for either Trinity or the University of New England as their quarterfinal opponent on Saturday, March 16.
Oswego
The Lakers (19-6-2) not only received an at-large bid following their SUNYAC championship loss to Geneseo, but also received a first-round bye based on their season-long body of work. Coach Ed Gosek's teams have been a fixture at the national tournament, making eight appearances in the past 10 seasons. Josh Zizek (13 goals, 11 assists), Joseph Molinaro (14 goals, eight assists) and Travis Broughman (12 goals, 10 assists) lead the way in goal scoring for a team that has nine players with five goals or more. David Richer (2.17 GAA; .906 save percentage; three shutouts) has started in 21 games for the Lakers and will be a key to their making a run in the national tournament. Just 4-3-1 in games since Feb. 1, Oswego will be happy to start the tournament at home against the winner of the Hobart versus Plymouth State game on Saturday, March 16.
Plymouth State
The Panthers (17-7-3) are the champions from the MASCAC playoffs, where they downed an upset-minded Salem State team, 3-0, last Saturday. This is the third appearance for the Panthers in the NCAA tournament and their first since 2015. They are still looking for their first win in the tournament, having been ousted by Norwich in 2015 and Wentworth in 2012. Teams shouldn't lay back against the Panthers, who boast high-end offensive talent like Michael Covach (12 goals, 28 assists), Michael Volonnino (19 goals, 19 assists), Ryan Stevens (11 goals, 25 assists) and J.R. Barone (12 goals, 10 assists). Defensively, senior Tim Perron (five goals, 16 assists) and junior Victor Bergstrom (nine goals, 12 assists) are key contributors on an effective power play and play well in front of goaltender Evan Morelli (2.30 GAA; .915 save percentage; three shutouts) who has started in 24 of 27 games for PSU. The Panthers are just 1-2-1 against nonconference opponents on the road this season, but are 7-1-0 in their last eight games, including two overtime wins. Hobart will be their host on Saturday night as both teams are looking to break NCAA tournament losing streaks and advance to a quarterfinal matchup with Oswego.
Trinity
The Bantams (19-3-5) enter the tournament as NESCAC champions following their exciting 3-2 last-second overtime win over Amherst. Trinity's appearance in the NCAA tournament is their fourth in the past five seasons and seventh overall. They won their one national title in the 2015 season and lost to Norwich in the national championship game in 2017. Unbeaten in their last 16 games and winners of their last nine, Trinity comes in playing their best hockey of the season that saw them lose to a nonconference foe only once this season. The Bantams featured a balanced attack, including 12 players who have recorded 10 points or more this season. Freshman Lucas Michaud (10 goals, 15 assists) leads the team in scoring, with Taggert Corriveau (10 goals, give assists), Ryan Pfeffer (12 goals, seven assists), and Dylan Healey (seven goals, 15 assists) contributing mightily during the recent win streak. In goal, Tedy Loughborough (1.54 GAA; .940 save percentage; four shuouts) has returned from injury to backstop a defensive group that has only surrendered 15 goals in their last nine games. The Bantams are 5-0-0 at home against nonconference foes, which they hope carries over to Saturday's first-round game against the University of New England.
University of New England
The Nor'easters earned their way into the tournament by winning the CCC title with a 6-2 road win over last year's national finalist, Salve Regina. This is UNE's second appearance in the NCAA tournament in as many years, having lost in last year's first round to in-state rival Colby. The program's all-time leading scorer and CCC player of the year, Brady Fleurent (13 goals, 33 assists) leads a potent offense that has depth and skill. Ryan Bloom (21 goals, 20 assists), Tyler Seltenreich (13 goals, 10 assists) and Brett Mecrones (12 goals, 10 assists) are among six players with 10 or more goals this season. Defenseman Dimitris Jones (three goals, 24 assists) is a force on both ends of the ice, and goaltender Ben Churchfield (2.15 GAA; .920 save percentage; three shutouts) has proven he can win big games for the Nor'easters this season. The special teams are just that, special. They can score in either scenario, and that puts additional pressure on opponents. UNE will travel to Trinity for the first round, with the winner moving on to play Norwich in the quarterfinals.
Not everyone in the East is playing this weekend, but you can be guaranteed that they all will be watching in anticipation of who moves on and who next week's matchups will include. First things first, it is time to play for the big prize, and there are no second chances this time around.